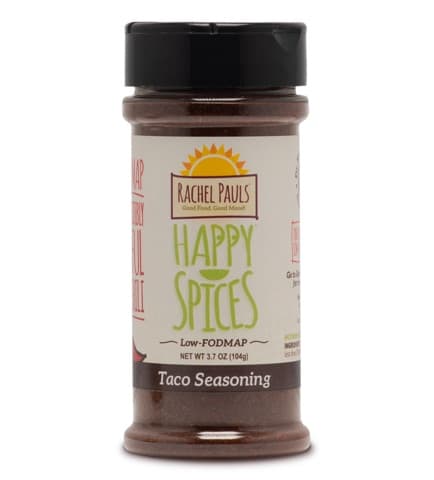 Taco Seasoning
Makes incredibly flavorful tacos and chili! Certified low-FODMAP. Gluten-free. No onion or garlic. Click here for recipe ideas! Net WT: 3.7oz (104g)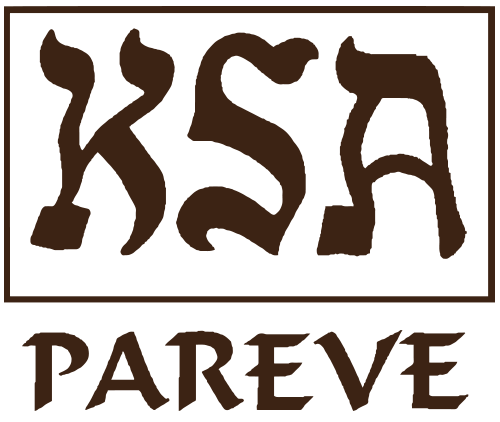 $9.99
If ordered with a box of Happy Bars or pack of Happy Jerky. Free Shipping Included.
OR $17.99
If ordered separate from Happy Bars or Happy Jerky. Free Shipping Included.
Scroll down for ingredients
This item may only be shipped within the U.S.

100% Real Comments & Reviews About Us
"Love, love, love happy bars!!"

~ Alisha S
"Happy Jerky is the perfect snack to throw into your backpack for when you need an easy snack on-the-go."

~ Spoon University
"I love the book!"

~ Elizabeth M
"The steak spice is delicious!"

~ Kamryn H
"I LOVE Happy Bars!"

~ Jack P
"Love your products & so easy to order! I'm just glad I found you, it makes life much happier :)"

~ Patty W
"I just bought a set (Happy Jerky) and it's super delicious!"

~ Andrena O
"I just got another package (Happy Jerky) today. Can't wait to eat more."

~ Terena Y
"I found your 4-week diet/recipe book (Low FODMAP IBS Solution Plan and Cookbook)and it worked SO well for me! Real, simple food that tastes good! My family have enjoyed some of the recipes too. Thank you for being a resource!"

~ Michelle W
"Happy Bars are delicious. Thank you!"

~ Vicki D
"I just purchased your book. Thanks for all the great info on your website."

~ Felicia J
"Your beef jerky is the best thing ever and has helped me stay on track with my IBS diet for the past 6 months. I am so grateful for your product!"

~ Annie D
"We recently discovered Happy Bars and found them to be great for anyone following a low-FODMAP diet."

~ MTHR Nutrition
"Best bar ever!"

~ Chris A
"I've been reading and cooking your cookbook all day. It's absolutely wonderful. Love how simple the recipes are. THANK YOU!"

~ T. Catrina
"These bars are delicious!"

~ Kaitlin C
"The Italian and Taco Seasonings are AMAZING. I'm ordering my second round today!"

~ Sheila R
" I very much enjoy your Happy Soup. It enhances and compliments so many things. A home run!"

~ Jim A
"Just tried the Peanut Chocolate Euphoria Happy Bar and it is FANTASTIC!! I haven't had a granola bar since I started low fodmap and this is so good!! "

~ Hannah L
"Used the chocolate cake mix this weekend to make cupcakes for my son's birthday. They were so delicious! Thank you so much!!"

~ Delilah M
"My son got me your cookbook for Xmas! Love it!"

~ Anne H
"My kids love the jerky- they say it tastes better than Twizzlers licorice! Huge win!!"

~ Austin H.
"I would highly recommend this (Cook)book for any kitchen!"

~ Jaime H
"Peanut Chocolate Euphoria is DELICIOUS!"

~ Claudia D
"My patients love Happy Bars!"

~ Patty G
"Great Products!"

~ Adele B
"Low FODMAP and GLUTEN FREE!!!!! Happy Bars are really good and super convenient!"

~ Nancy W
"My go-to bars, they taste incredible and fill me up! I love them all, but Peanut Chocolate is my favorite."

~ Mary J
"The Happy Jerky was delicious!"

~ Kari M
"I've tried all (Happy Bar) flavors and I LOVE them. Thanks for making such a great snack for those of us with tight dietary restrictions! "

~ Ari E
"I made the fudgy brownies for my sister who has Celiac disease...she said they are the BEST gluten-free brownies she has ever had! Thank you!"

~ Emily A
"Love these bars so much"

~ Jenny P
"OMG! Just got my 1st Happy Bars order. I purchased the variety box and just tried peanut chocolate euphoria...so good."

~ Ronika A
"My new favorite snack bar (Happy Bars). Delish and low-FODMAP."

~ Leah S
"The (COOKBOOK) recipes are delicious and easy on the tummy! My son is a picky eater and he loves everything I have made from the book. "

~ Heather B
"Just tried Happy Bars for the first time and they are fantastic! These will save me!"

~ Drew N
"I love the Jerky!"

~ Nora K
"My 10-year old twins love these bars (Happy Bars)!"

~ Lauren O
"Happy Bars are my go-to energy bar for morning pre-workout fuel!"

~ Jesy H
"The Banana Chocolate is my favorite!"

~ Tiffanie T
"Happy Jerky is delicious!"

~ Kari
"Love the bars and fast shipping!"

~ Nicole B
"Love the orange chocolate Happy Bars!"

~ Bethany M
"I love all your recipes. I bought the book!"

~ Vicky B
"The other FODMAP products I've tried either don't taste good or hurt my teeth to chew. Happy Bars are soft, tasty and full of protein. I'm so glad I found these!"

~ Rochelle S
"Happy Bars are amazing! Easy to grab and go ...we love them!!!"

~ Krista M
"Orange Chocolate Ecstasy is my favorite flavor combo! You are the first to have in nutrition bars that I have seen!!"

~ Rebecca H
"I recently purchased your Low-Fodmap recipe book, and its absolutely great!"

~ Deborah
"Best collection of FODmap recipes around!"

~ Chava K
"My husband loves the Hot Jerky"

~ Kate S
"These are the best brownies I've ever had, so rich and as it states on the box, Fudgy. I will definitely be buying again."

~ Lora S
"Happy bars are delicious! The flavors are all amazing, but the Orange-Chocolate bar is phenomenal! "

~ Donna Z
"Chocolate Chip Delight Happy Bars make both me and my belly happy! Thanks Dr. Rachel."

~ Cornelius L
"Love the chocolate and vanilla cake mix...taste delicious."

~ Amanda M
"They (Happy Bars) were so good."

~ Lexi H
"Thanks for making this (Beef Base Happy Soup) Product!"

~ Ken I
"I'm so grateful to find your recipes and I have your (cook)book as well. This has changed my life and I savor every bite. Thank you!"

~ Jeanne
"Her cookbook is my favorite low-FODMAP recipe book so far. And I have gone through many!"

~ Kaitlyn B
"I have a Peanut Maple Bar for breakfast every day! Love it!"

~ Nicole P
"Orange Chocolate Ecstasy and Chocolate Chip. Love them both!"

~ Elaine Z
"My husband says the Chocolate Chip Delight is the best energy bar he has EVER eaten. Not just since FODMAP."

~ Jenn G
"I love this (cook)book! I stumbled across Rachel's website by accident when looking up solutions for my health problems and it has changed my life!"

~ Riley F
Others also purchased