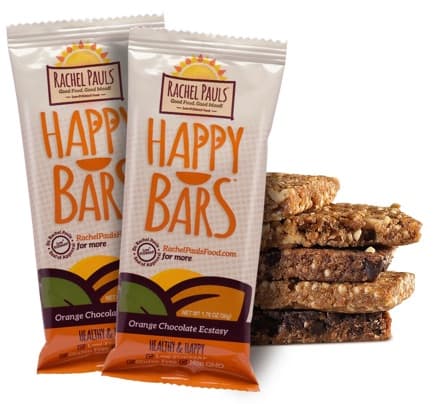 Orange Chocolate Ecstasy
Dark chocolate with notes of orange in a chewy, tasty almond core. A low-FODMAP energy bar that is a healthy source of fiber, antioxidants and protein. Certified low-FODMAP. Certified Gluten-free.
$34.99
First Box of 12 Bars. Free Shipping Included
And $26.99
Each Additional Box Per Order. Free Shipping Included
Scroll down for ingredients
This item may only be shipped within the U.S.

100% Real Comments & Reviews About Us
"I just bought a set (Happy Jerky) and it's super delicious!"

~ Andrena O
"My patients love Happy Bars!"

~ Patty G
"Best collection of FODmap recipes around!"

~ Chava K
"The (COOKBOOK) recipes are delicious and easy on the tummy! My son is a picky eater and he loves everything I have made from the book. "

~ Heather B
"Happy Jerky is the perfect snack to throw into your backpack for when you need an easy snack on-the-go."

~ Spoon University Article
"Love your products & so easy to order! I'm just glad I found you, it makes life much happier :)"

~ Patty W
"I LOVE Happy Bars!"

~ Jack P
"Happy Bars are delicious. Thank you!"

~ Vicki D
"Just tried Happy Bars for the first time and they are fantastic! These will save me!"

~ Drew N
"Peanut Chocolate Euphoria is DELICIOUS!"

~ Claudia D
"Orange Chocolate Ecstasy and Chocolate Chip. Love them both!"

~ Elaine Z
"Happy Bars are amazing! Easy to grab and go ...we love them!!!"

~ Krista M
"Love, love, love happy bars!!"

~ Alisha S
"I just purchased your book. Thanks for all the great info on your website."

~ Felicia J
"Love the chocolate and vanilla cake mix...taste delicious."

~ Amanda M
"The steak spice is delicious!"

~ Kamryn H
"I just got another package (Happy Jerky) today. Can't wait to eat more."

~ Terena Y
"My husband loves the Hot Jerky"

~ Kate S
"Great Products!"

~ Adele B
"I've tried all (Happy Bar) flavors and I LOVE them. Thanks for making such a great snack for those of us with tight dietary restrictions! "

~ Ari E
"Love these bars so much"

~ Jenny P
"I recently discovered Happy Bars and found them to be great for anyone following a low-FODMAP diet."

~ MTHR Nutrition
"Low FODMAP and GLUTEN FREE!!!!! Happy Bars are really good and super convenient!"

~ Nancy W
"Happy Jerky is delicious!"

~ Kari
"These bars are delicious!"

~ Kaitlin C
"Love the orange chocolate Happy Bars!"

~ Bethany M
"My son got me your cookbook for Xmas! Love it!"

~ Anne H
" I very much enjoy your Happy Soup. It enhances and compliments so many things. A home run!"

~ Jim A
"Love the bars and fast shipping!"

~ Nicole B
"Best bar ever!"

~ Chris A
"I recently purchased your Low-Fodmap recipe book, and its absolutely great!"

~ Deborah
"Chocolate Chip Delight Happy Bars make both me and my belly happy! Thanks Dr. Rachel."

~ Cornelius L
"OMG! Just got my 1st Happy Bars order. I purchased the variety box and just tried peanut chocolate euphoria...so good."

~ Ronika A
"Just tried the Peanut Chocolate Euphoria Happy Bar and it is FANTASTIC!! I haven't had a granola bar since I started low fodmap and this is so good!! "

~ Hannah L
"These are the best brownies I've ever had, so rich and as it states on the box, Fudgy. I will definitely be buying again."

~ Lora S
"My 10-year old twins love these bars (Happy Bars)!"

~ Lauren O
"The Happy Jerky was delicious!"

~ Kari M
"Happy bars are delicious! The flavors are all amazing, but the Orange-Chocolate bar is phenomenal! "

~ Donna Z
"Her cookbook is my favorite low-FODMAP recipe book so far. And I have gone through many!"

~ Kaitlyn B
"They (Happy Bars) were so good."

~ Lexi H
"Happy Bars are my go-to energy bar for morning pre-workout fuel!"

~ Jesy H
"The Italian and Taco Seasonings are AMAZING. I'm ordering my second round today!"

~ Sheila R
"My New favorite snack bar (Happy Bars). Delish and low-FODMAP."

~ Leah S
"I love the Jerky!"

~ Nora K
"Orange Chocolate Ecstasy is my favorite flavor combo! You are the first to have in nutrition bars that I have seen!!"

~ Rebecca H
Others also purchased