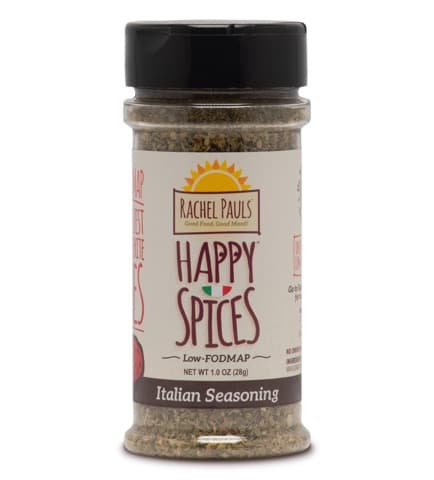 Italian Seasoning
Add certified low-FODMAP Italian zest to your favorite dishes! Goes great with fish, chicken or add to your preferred sauce. No onion or garlic. Gluten-free. Click here for recipe ideas! Net WT: 1.0oz (28g)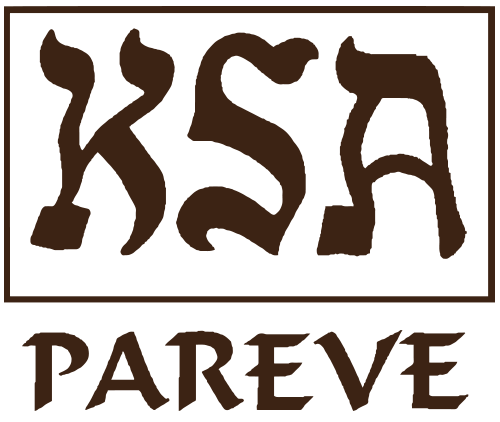 $9.99
If ordered with a box of Happy Bars. Free Shipping Included.
OR $17.99
If ordered separate from Happy Bars. Free Shipping Included.
Scroll down for ingredients
This item may only be shipped within the U.S.

100% Real Comments & Reviews About Us
"The other FODMAP products I've tried either don't taste good or hurt my teeth to chew. Happy Bars are soft, tasty and full of protein. I'm so glad I found these!"

~ Rochelle S
"I have been buying your Happy Bars for several months. The bar is softer and less dense than others I've had. I'm glad to have this Low FODMAP option. "

~ Julie J
"I would highly recommend this (Cook)book for any kitchen!"

~ Jaime H
"My kids love the jerky- they say it tastes better than Twizzlers licorice! Huge win!!"

~ Austin H.
"Your beef jerky is the best thing ever and has helped me stay on track with my IBS diet for the past 6 months. I am so grateful for your product!"

~ Annie D
"Happy Bars are delicious. Thank you!"

~ Vicki D
"Used the chocolate cake mix this weekend to make cupcakes for my son's birthday. They were so delicious! Thank you so much!!"

~ Delilah M
"I'm thrilled to be the owner of your new book. You have been a beacon of hope and information for me, more than you can imagine. Thank you so very much."

~ Francine W
"My husband says the Chocolate Chip Delight is the best energy bar he has EVER eaten. Not just since FODMAP."

~ Jenn G
"Love the bars and fast shipping!"

~ Nicole B
"I love the recipes in "The Low-FODMAP IBS Solution Plan & Cookbook". They have great flavor. Best resource I've found for IBS and low FODMAP. It is my go to book."

~ BMC
"Best collection of FODmap recipes around!"

~ Chava K
"The Banana Chocolate is my favorite!"

~ Tiffanie T
"My son got me your cookbook for Xmas! Love it!"

~ Anne H
"Love your Happy Bars. So nice to have something to grab when needing a snack, especially traveling!"

~ Hollie W
"Orange Chocolate Ecstasy is my favorite flavor combo! You are the first to have in nutrition bars that I have seen!!"

~ Rebecca H
"I just submitted a pre-order for the new cookbook. I LOVE RP's first cookbook and can't wait to get this newest one and start trying the reintroduction plan. The low FODMAP diet has changed my life and it was only by finding RPs first cookbook and a couple other key cookbooks I figured out my enjoyment of food doesn't have to be over and I can still have most of the things I love. Thank you, thank you, thank you, for making that possible"

~ Heather T
"Thanks for making this (Beef Base Happy Soup) Product!"

~ Ken I
"My husband loves the Hot Jerky"

~ Kate S
"I have a Peanut Maple Bar for breakfast every day! Love it!"

~ Nicole P
"I love all your recipes. I bought the book!"

~ Vicky B
"Happy bars are delicious! The flavors are all amazing, but the Orange-Chocolate bar is phenomenal! "

~ Donna Z
"I've been reading and cooking your cookbook all day. It's absolutely wonderful. Love how simple the recipes are. THANK YOU!"

~ T. Catrina
"I use your cookbook every week! Thanks for sharing such great recipes!"

~ S Kelmo
"They (Happy Bars) were so good."

~ Lexi H
"I love the book!"

~ Elizabeth M
"Low FODMAP and GLUTEN FREE!!!!! Happy Bars are really good and super convenient!"

~ Nancy W
"Love these bars so much"

~ Jenny P
"Her cookbook is my favorite low-FODMAP recipe book so far. And I have gone through many!"

~ Kaitlyn B
"Happy Jerky is the perfect snack to throw into your backpack for when you need an easy snack on-the-go."

~ Spoon University
"I just purchased your book. Thanks for all the great info on your website."

~ Felicia J
"Orange Chocolate Ecstasy and Chocolate Chip. Love them both!"

~ Elaine Z
"I recently purchased your Low-Fodmap recipe book, and its absolutely great!"

~ Deborah
"Happy Bars are amazing! Easy to grab and go ...we love them!!!"

~ Krista M
"I just got another package (Happy Jerky) today. Can't wait to eat more."

~ Terena Y
"These are the best brownies I've ever had, so rich and as it states on the box, Fudgy. I will definitely be buying again."

~ Lora S
"Love the chocolate and vanilla cake mix...taste delicious."

~ Amanda M
"Happy Bars are my go-to energy bar for morning pre-workout fuel!"

~ Jesy H
"I've tried all (Happy Bar) flavors and I LOVE them. Thanks for making such a great snack for those of us with tight dietary restrictions! "

~ Ari E
"The steak spice is delicious!"

~ Kamryn H
"I'm so grateful to find your recipes and I have your (cook)book as well. This has changed my life and I savor every bite. Thank you!

Australia's online casino landscape is a treasure trove of excitement, innovation, and above all, user convenience. Among the myriad of payment methods that dot this digital realm, Skrill stands out as a shining beacon. A digital wallet known for its swift transactions and secure interface, Skrill is increasingly becoming the go-to choice for Aussie online gaming enthusiasts. Our review platform extensively covers the pros and benefits of using Skrill, allowing users to make an informed choice https://online-casino-au.com/online-casinos/skrill/ and enjoy their gaming sessions with peace of mind.

But the evolution isn't just digital. Traditional brick-and-mortar Australian casinos are tuning in to the dietary needs of their patrons. The introduction of Low-FODMAP menus at several establishments is a testament to this. Catering to individuals sensitive to certain carbohydrates, these menus offer a range of delectable dishes that ensure gastronomic delights without digestive distress. So, whether you're spinning the reel online via Skrill or dining in style at a bustling casino, Australia ensures your experience is both seamless and satisfying. Dive deep into our reviews and explore a world where modern payment solutions meet culinary consideration.

"

~ Jeanne
"Just tried the Peanut Chocolate Euphoria Happy Bar and it is FANTASTIC!! I haven't had a granola bar since I started low fodmap and this is so good!! "

~ Hannah L
"Love your products & so easy to order! I'm just glad I found you, it makes life much happier :)"

~ Patty W
"Just tried Happy Bars for the first time and they are fantastic! These will save me!"

~ Drew N
"The Italian and Taco Seasonings are AMAZING. I'm ordering my second round today!"

~ Sheila R
"I love this (cook)book! I stumbled across Rachel's website by accident when looking up solutions for my health problems and it has changed my life!"

~ Riley F
"These bars are delicious!"

~ Kaitlin C
"I love the Jerky!"

~ Nora K
"Love the orange chocolate Happy Bars!"

~ Bethany M
"The Happy Jerky was delicious!"

~ Kari M
"I cannot recommend this book by Dr. Pauls highly enough. I purchased it when my doctor recommended I try a low fodmap diet. I was feeling totally overwhelmed and didn't know where to start, and this book helped me understand the process and provided a huge variety of delicious, easy to prepare meals. I feel so much better on the low fodmap diet and I don't feel at all deprived, because the recipes are so good. "

~ Tyler
"Peanut Chocolate Euphoria is DELICIOUS!"

~ Claudia D
" I very much enjoy your Happy Soup. It enhances and compliments so many things. A home run!"

~ Jim A
"I just bought a set (Happy Jerky) and it's super delicious!"

~ Andrena O
"I LOVE Happy Bars!"

~ Jack P
"My new favorite snack bar (Happy Bars). Delish and low-FODMAP."

~ Leah S
"OMG! Just got my 1st Happy Bars order. I purchased the variety box and just tried peanut chocolate euphoria...so good."

~ Ronika A
"My go-to bars, they taste incredible and fill me up! I love them all, but Peanut Chocolate is my favorite."

~ Mary J
"Chocolate Chip Delight Happy Bars make both me and my belly happy! Thanks Dr. Rachel."

~ Cornelius L
"The (COOKBOOK) recipes are delicious and easy on the tummy! My son is a picky eater and he loves everything I have made from the book. "

~ Heather B
"Love, love, love happy bars!!"

~ Alisha S
"My 10-year old twins love these bars (Happy Bars)!"

~ Lauren O
"I made the fudgy brownies for my sister who has Celiac disease...she said they are the BEST gluten-free brownies she has ever had! Thank you!"

~ Emily A
"Happy Jerky is delicious!"

~ Kari
"We recently discovered Happy Bars and found them to be great for anyone following a low-FODMAP diet."

~ MTHR Nutrition
"My patients love Happy Bars!"

~ Patty G
"Best bar ever!"

~ Chris A
"Great Products!"

~ Adele B
"I found your 4-week diet/recipe book (Low FODMAP IBS Solution Plan and Cookbook)and it worked SO well for me! Real, simple food that tastes good! My family have enjoyed some of the recipes too. Thank you for being a resource!"

~ Michelle W
Others also purchased