Top Six Reasons to Love Low-FODMAP Beef Jerky According to Dr. Rachel Pauls (Garlic-Free, Onion-Free!)
March 10, 2018
Printer Friendly Version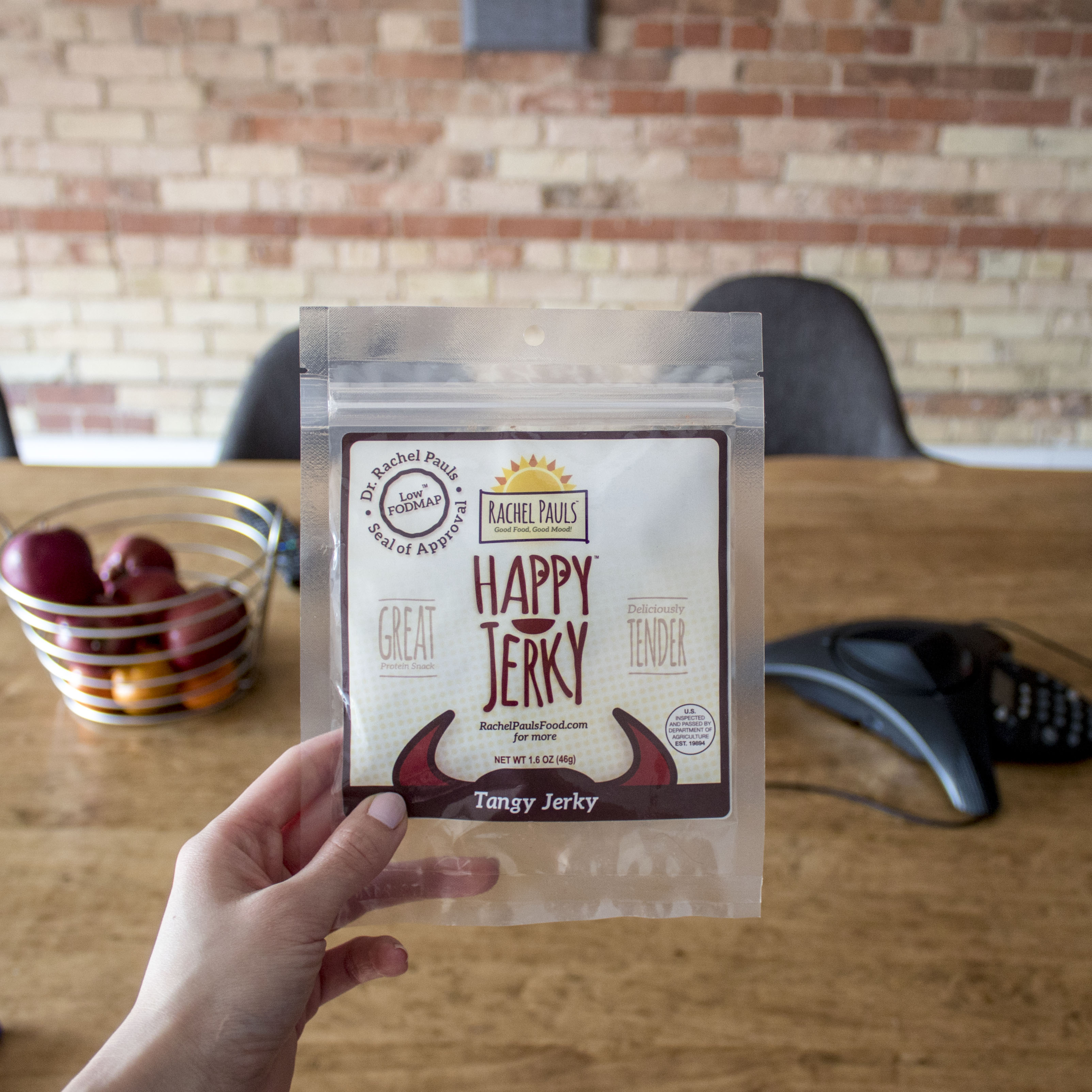 Why I love my low-FODMAP Happy Jerky; by Dr. Rachel Pauls
HAPPY JERKY is BOTH Garlic Free and Onion Free!!
Beef jerky is highly regarded as the best high-protein snack available. Why? Because it tastes amazing, is packed with nutrients, and fills you up… helping curb your cravings for unhealthy sugar-laden snacks.
According to Wikipedia, the word "jerky" is derived from the Quechua word ch'arki, which means "dried, salted meat". Jerky is typically produced through a process of dehydration, as well as addition of salt and/or sugar to inhibit bacterial growth. As a result, jerky can be consumed for many months after production, making it an ideal convenience snack on-the-go.
I'm a 'grazer' and tend to eat several small meals during my day, so I keep a stash of high-protein snacks in my workout bag, carry-on suitcase, and desk drawer. I knew I had to create a low-FODMAP beef jerky that everyone could enjoy.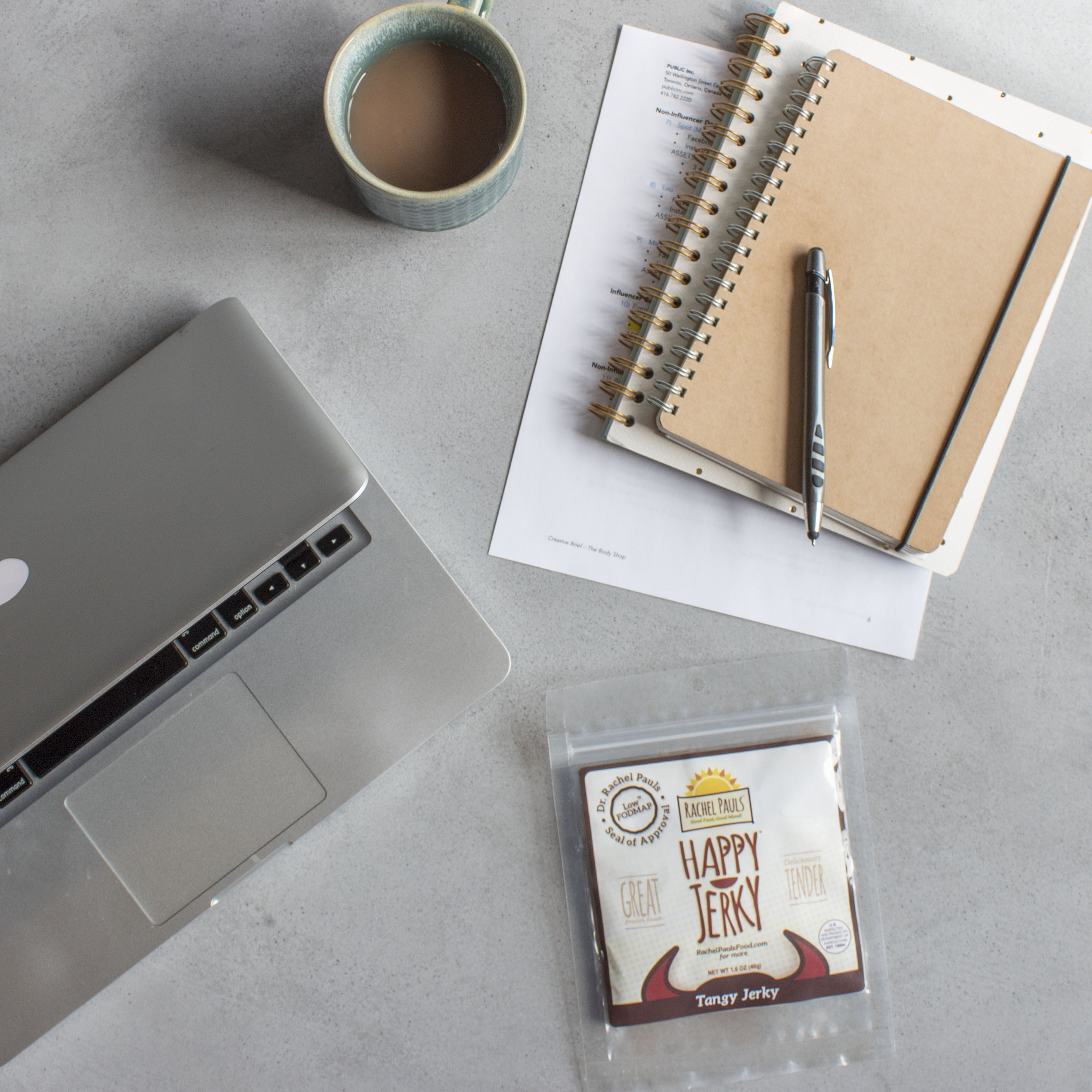 But it had to be a special beef jerky, to make my belly happy. I wanted the best tasting beef jerky around. Tender, succulent, easy-to-chew strips of quality meat. It needed a delicate seasoning, with hints of both sweet and savory, but not too spicy, so that those of us with digestive issues could enjoy it. It had to have a short list of recognizable ingredients. And of course, there could be no MSG.
And we have achieved success! Low-FODMAP Happy Jerky is the most delicious, fresh-tasting beef jerky you have ever eaten.
It is low-FODMAP meaning HAPPY JERKY is BOTH Garlic Free and Onion Free!!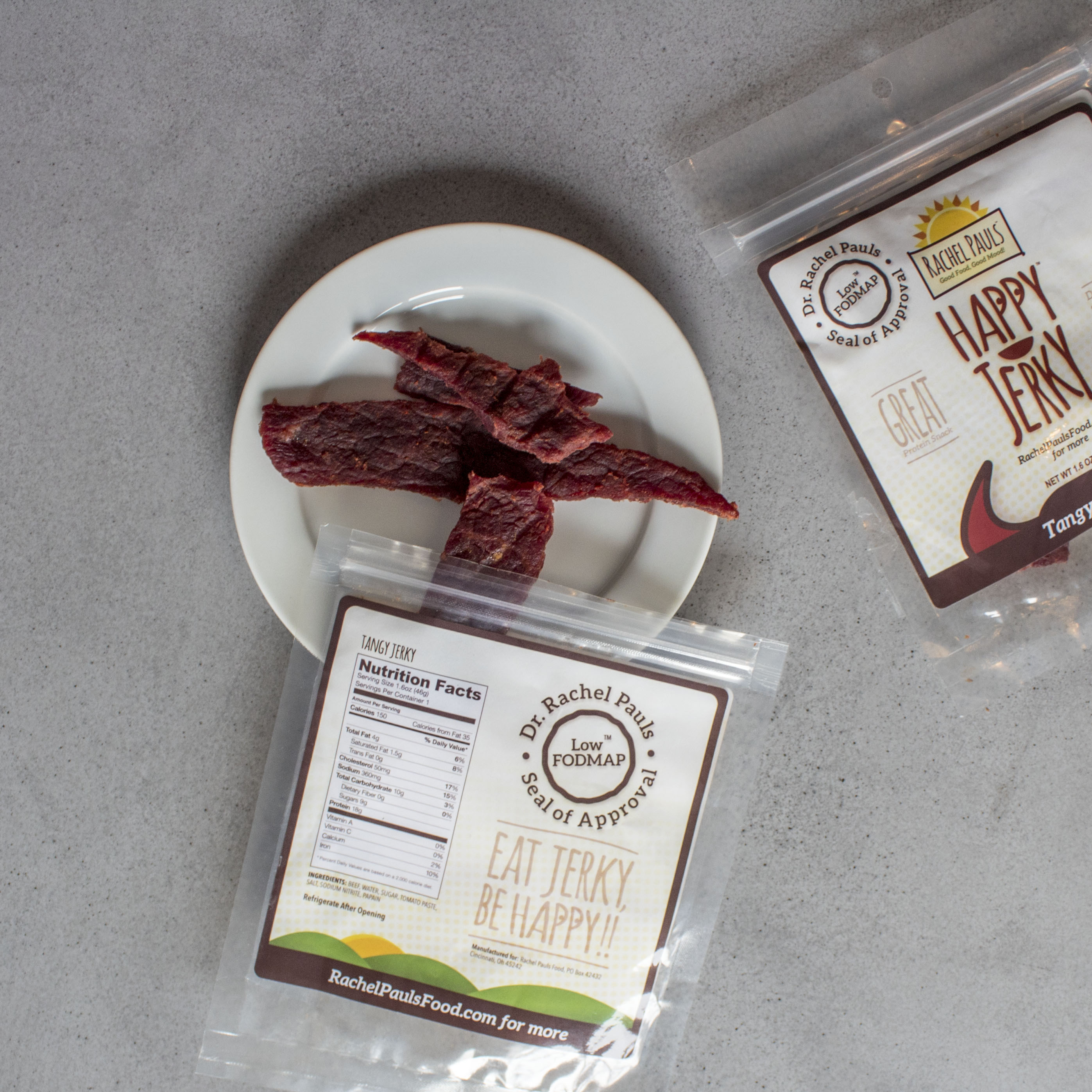 But there's more! Here are 6 reasons why you will love Rachel Pauls Food's Happy Jerky as much as I do:
1.  Both low calorie and low fat: Each convenient serving of low-FODMAP Happy Jerky contains only 150 calories and 4 g of fat.
2. Packed with protein –Rachel Pauls Food's low-FODMAP Happy Jerky contains a whopping 18 g of protein! This also makes it a perfect post-workout fuel to keep you going all day, or a great mid-afternoon snack to keep you from reaching for a candy bar.
3. Relatively low in carbs and sugar- Rachel Pauls Food's Happy Jerky contains only 10 g of carbohydrates and 9 g of sugars, making it less likely to spike your insulin levels after eating and lead to a post snacking 'crash'.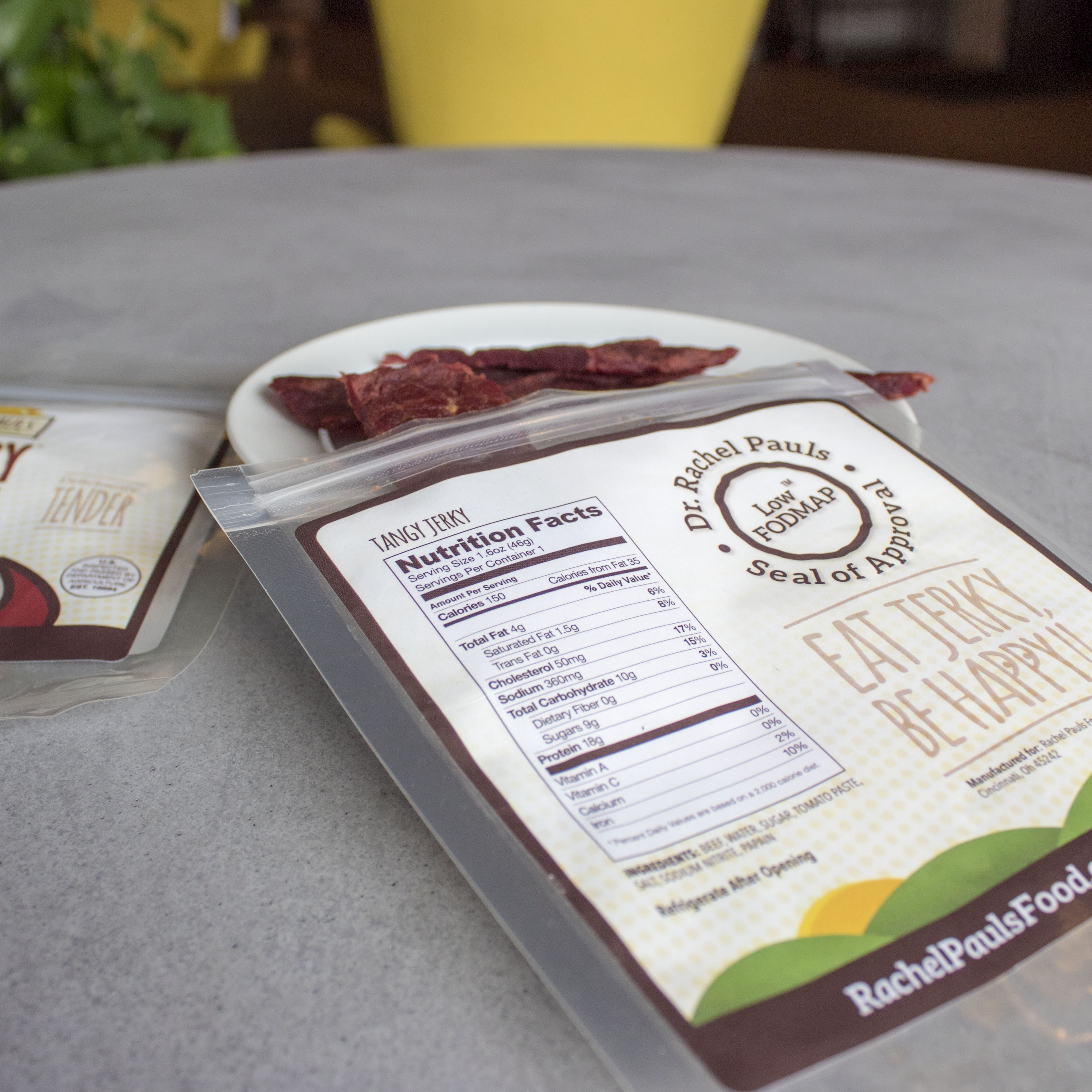 4. Full of nutrients- Happy Jerky is pure, all natural beef. Thus, it contains all nine essential amino acids- the building blocks for muscle mass. Plus Happy Jerky is an excellent source of several other vitamins and minerals including iron, zinc, phosphorous, and vitamin B-12.
5. Convenience- Low-FODMAP Happy Jerky is convenient to grab, a perfect single serving in one pouch, with an extended shelf life. This means it is great for packing for hiking, camping, traveling and any other activity.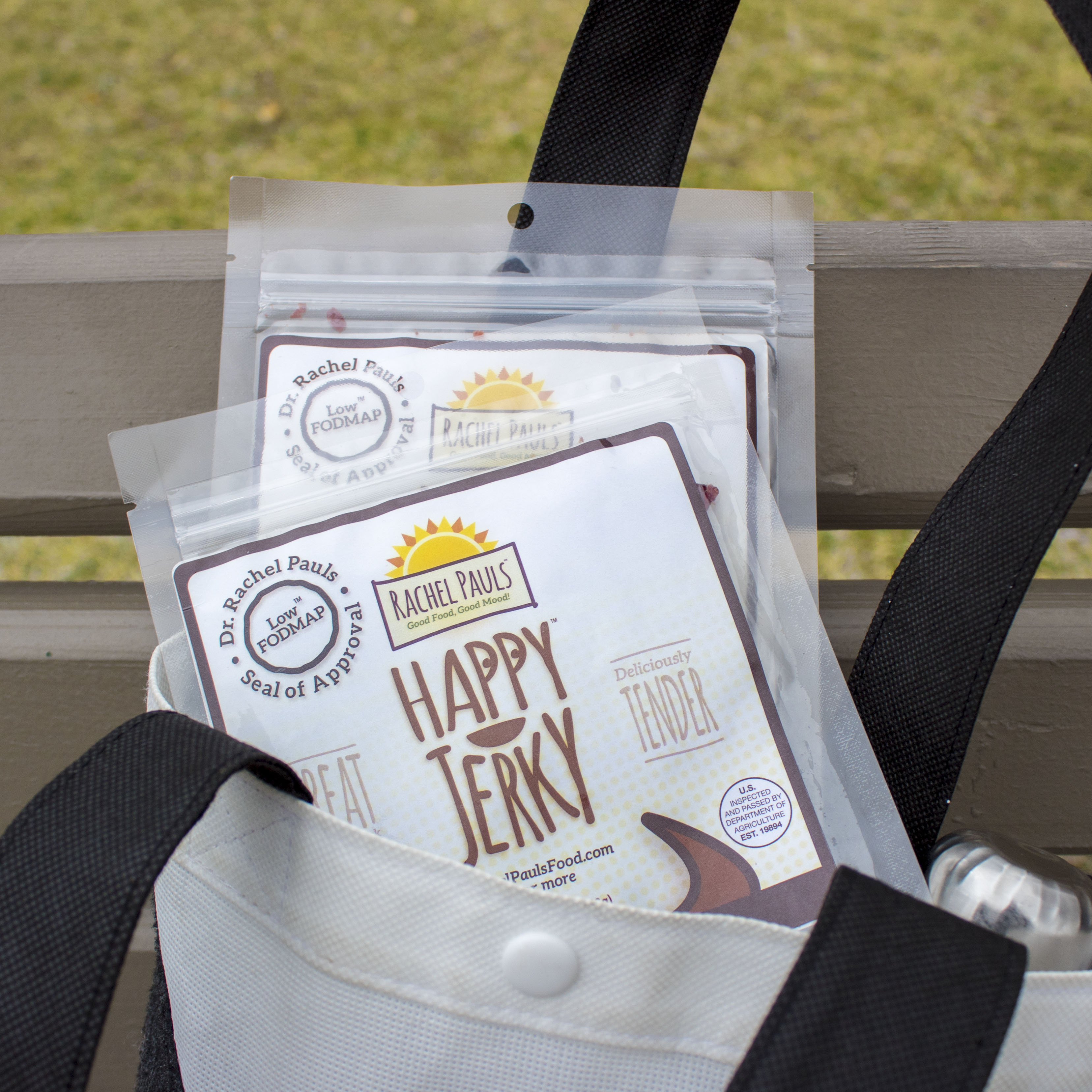 6. Peace of mind: Low-FODMAP Happy Jerky has been fully certified as low-FODMAP by Rachel Pauls Food's laboratory analysis and bears the Dr. Rachel Pauls Seal of Approval.  This means it contains less than 0.5 g of FODMAPS per serving. So you can be comfortable knowing it won't flare up your IBS.
P.S. Did I mention HAPPY JERKY is BOTH Garlic Free and Onion Free?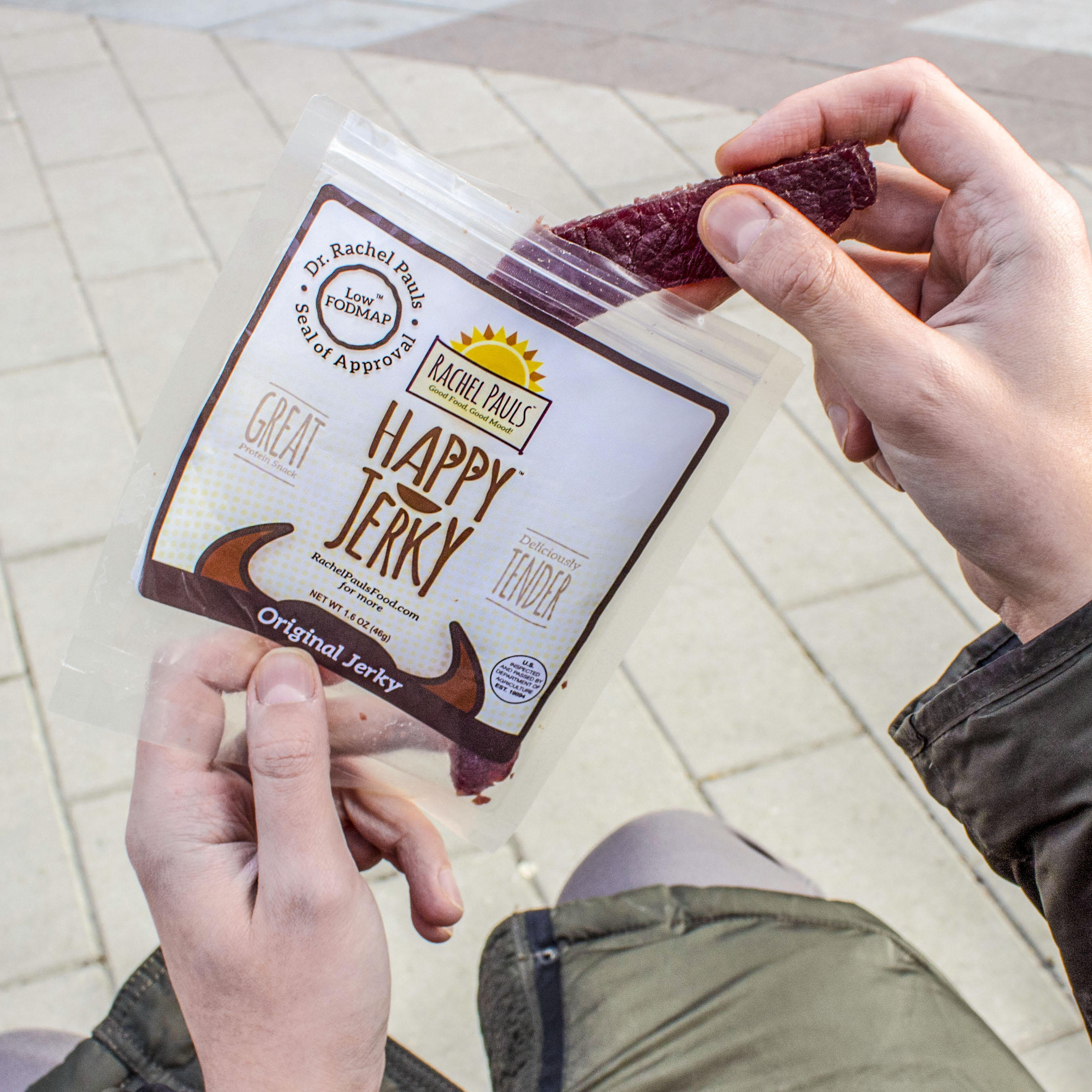 But you've heard that beef jerky is high in sodium. What about that? This is the best news! While typical jerky may contain about 600 mg of sodium per serving, Rachel Pauls Food's Happy Jerky has only 360 mg per serving. Compare that to these common foods:
½ cup of spaghetti sauce: 490 mg
1 bag of pretzels: 450 mg
½ bag of microwave popcorn: 400 mg
1 container of 'easy' macaroni and cheese: 530 mg
½ can of chicken noodle soup: 1300 mg (I know that is crazy, right?)
It's clear why I love my low-FODMAP Happy Jerky. And I guarantee you will too! Plus it comes in three amazing flavors – Original, Tangy and Hot! Which is your favorite?
Take a minute to check out over 350 low-FODMAP recipes on my blog, and read about the BEST low-FODMAP Energy Bars here!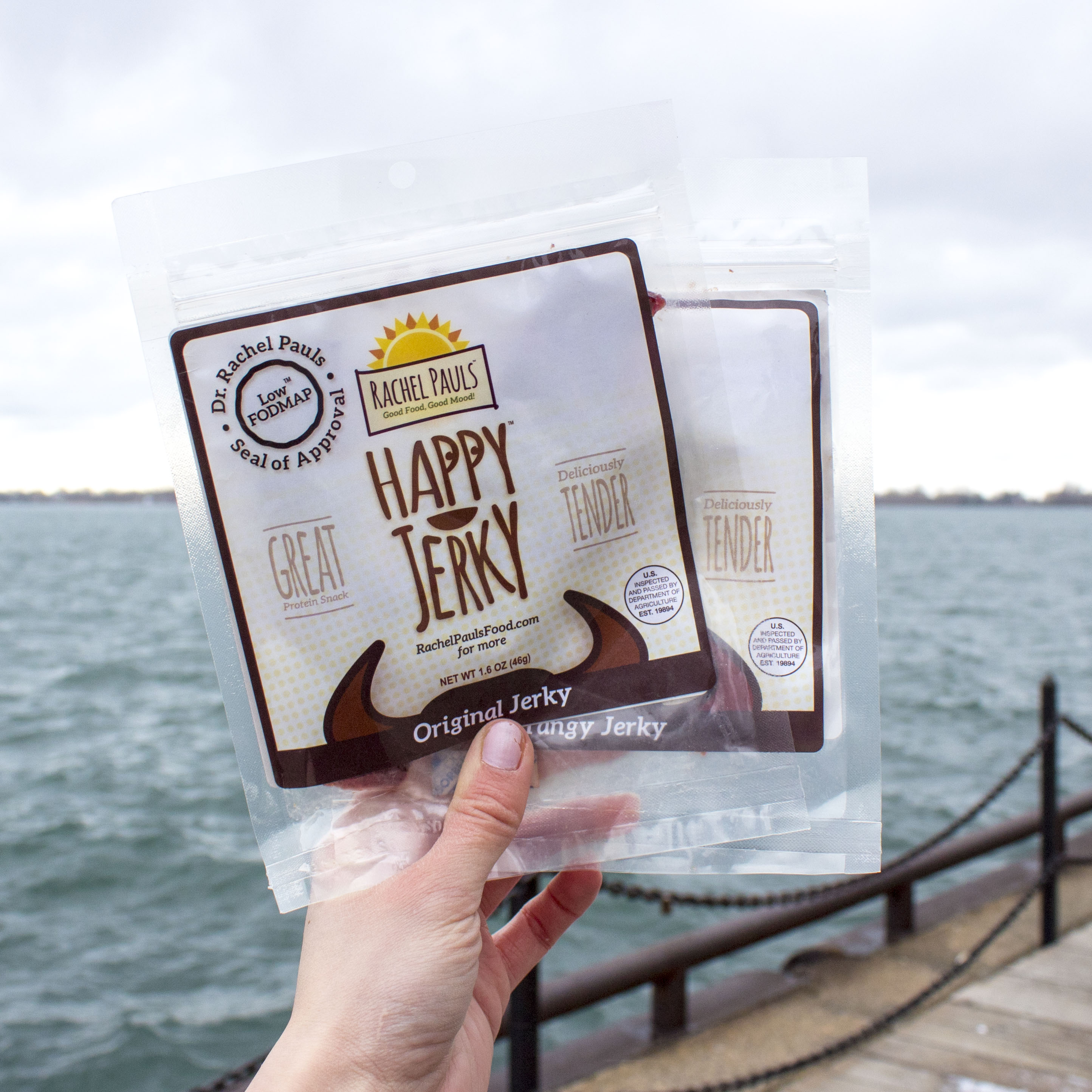 Click here to visit our products page, and remember shipping is always free!
Also download our free low-FODMAP guide here.
Be healthy and happy,
Rachel Pauls, MD
P.S. Did you know that I have a COOKBOOK ?!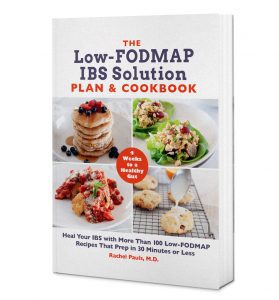 This is the BEST resource for low-FODMAP diet know-how, a 4 week meal plan and more than 100 low-FODMAP Recipes that prep in 30 minutes or less and have NEVER been published on the blog!  Click this link to learn more!!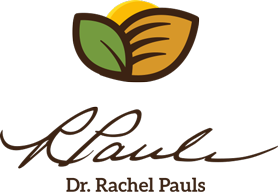 Printer Friendly Version
Comments Rating
( reviews)