The BEST Low-FODMAP Red Velvet Brownies / Blondies; Gluten-free, Dairy-free
December 25, 2020
Printer Friendly Version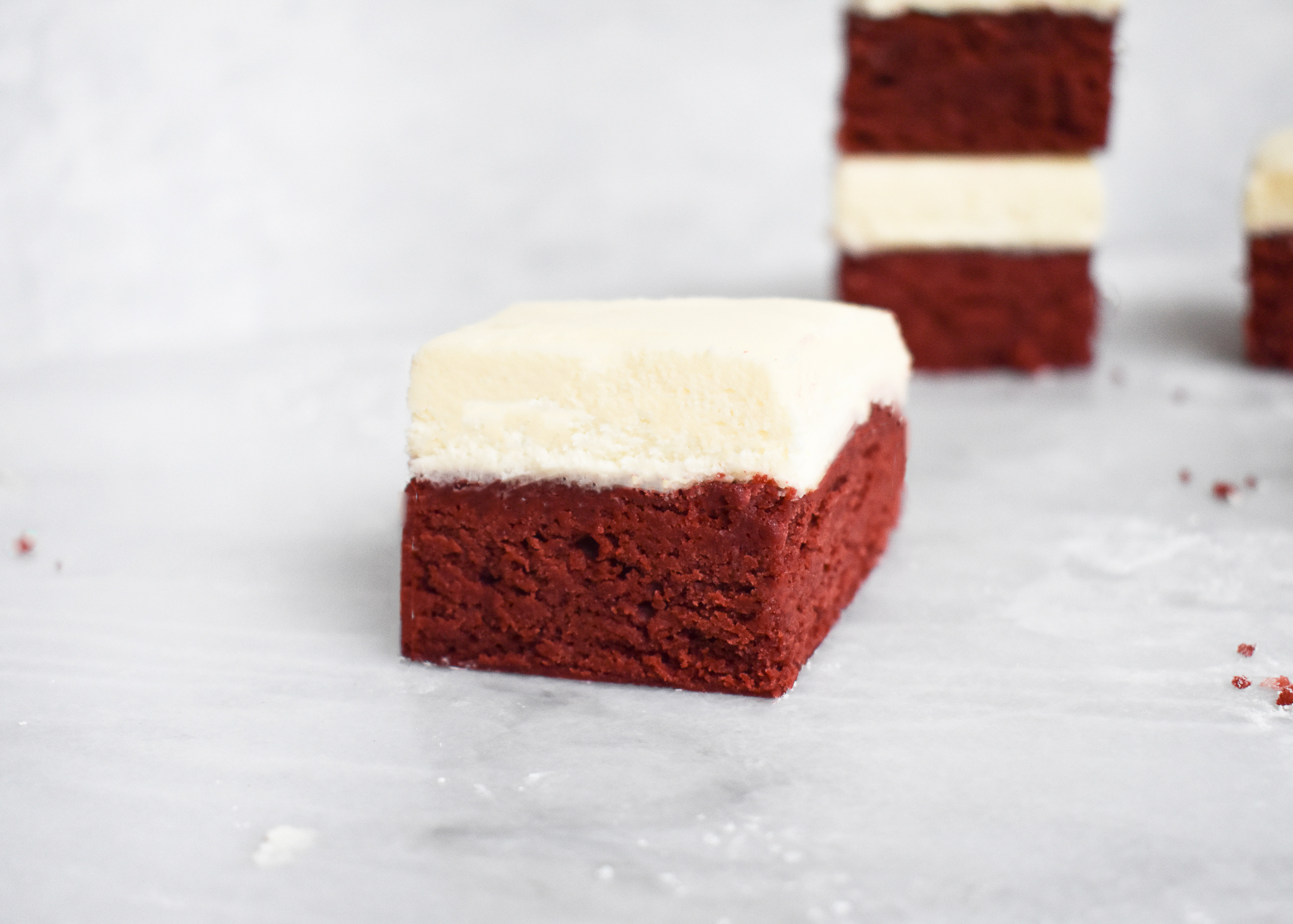 Low-FODMAP Red Velvet Brownies/Blondies were calling my name!  I was recently whipping up a batch of my low-FODMAP Red Velvet Cupcakes and was imagining an easier way to enjoy these delicious, light and tangy chocolate treats.
My low-FODMAP creation is a bit of a cross between a brownie and a blondie.  Can they be a 'browndie"?  A "blownie"?  Hmmm.
These beautiful red squares are moist, deep with flavor and have a soft, chewy texture.  I used real chocolate for that rich flavor, and vinegar to give the characteristic 'tang' of red velvet.  Sooo good.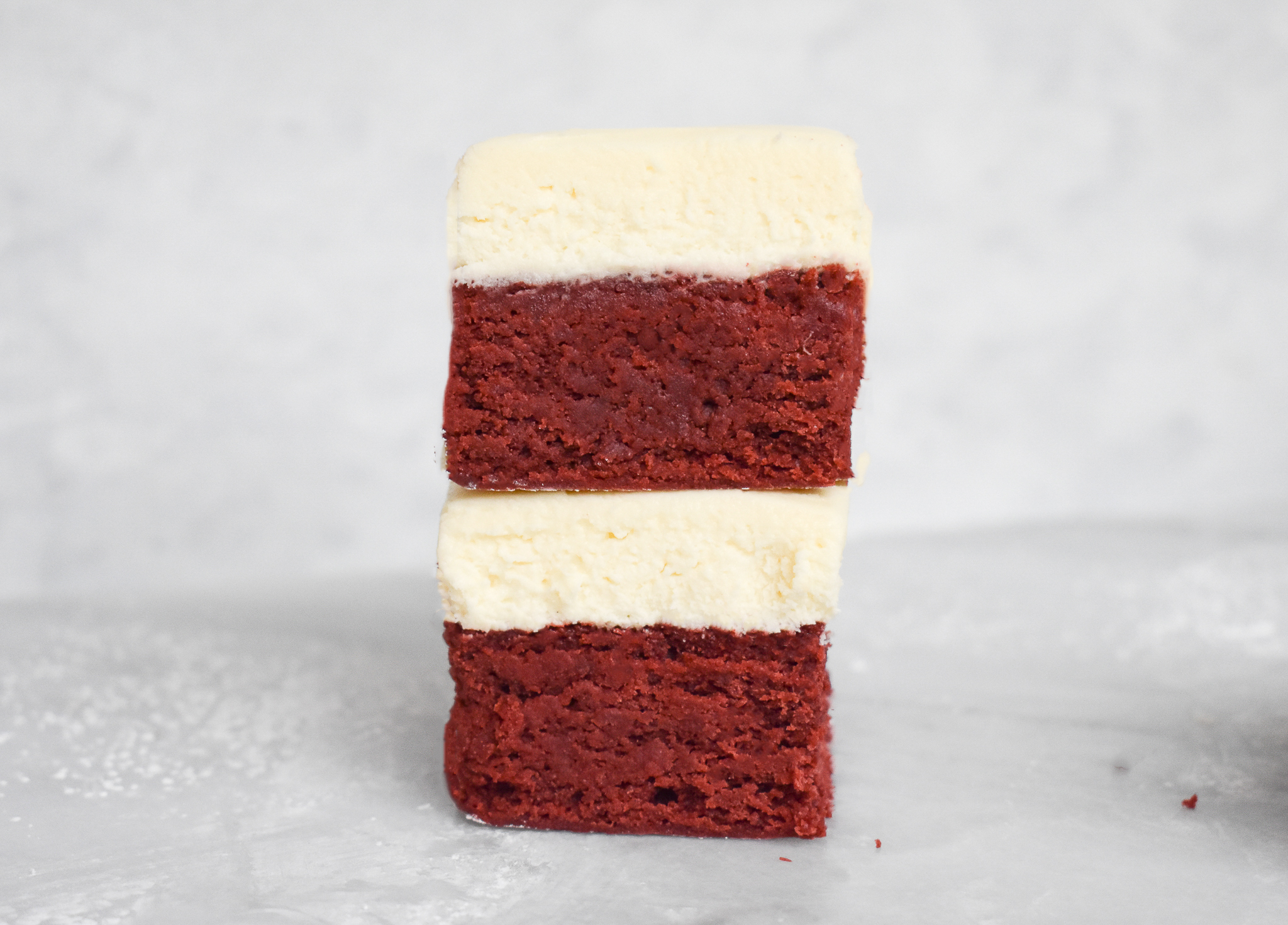 Although I am positive that I could modify my low-FODMAP Fudgy Brownies with some food coloring to be 'red',  I wanted to come up with a scratch way to prepare low-FODMAP Red Velvet Brownies as well.
These low-FODMAP Red Velvet treats are gorgeous with white chocolate chips (25 g is one low-FODMAP serving), or semi-sweet chocolate chips.  Enjoy them topped with your choice of low-FODMAP cream cheese frosting or opera cream/ermine frosting (dairy-free).
You may also love:
Check out over 400 more low-FODMAP recipes on the blog! IBS-friendly
Be healthy and happy,
Rachel Pauls, MD
P.S Check out my new COOKBOOK for over 100 low-FODMAP recipes, low-FODMAP Meal Plan, FODMAP Tips and everything you need!!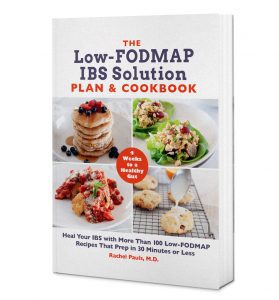 Although this recipe has not been tested, a single serving should be low-FODMAP based on the ingredients
Bake 350 F
Serves 16
Equipment: 8 inch square baking pan
Prep time: 15 minutes
Bake time 25-30 mins
Ingredients
2/3 cup low-FODMAP gluten-free flour blend (I used Authentic Foods GF Classical Blend flour -this is my favorite flour for baking- check out my low-FODMAP Bake Off!)
½ tsp salt
½ tsp baking powder
½ tsp xanthan gum, if not in your flour choice
4 ounces semisweet chocolate, dairy-free if necessary
¼ cup low-FODMAP milk (such as lactose-free or almond milk for dairy-free) mixed with 1 tablespoon apple cider vinegar to create 'buttermilk' (can also use distilled white vinegar)

This may seem like a lot of vinegar, but it gives the red velvet the characteristic 'tang' you expect 🙂

½ cup (8 tablespoons) unsalted butter or low-FODMAP vegan margarine (such as Earth Balance, for dairy-free)
½ cup granulated white sugar
½ cup light brown sugar, packed
2 teaspoons vanilla
2 large eggs, room temperature
1-2 teaspoons red food coloring (titrate as needed to your product)

I used the full 0.25 ounce vial of McCormicks brand

Optional: ½ cup white chocolate chips, or dairy-free semisweet chips (about 40 grams)

25 g is one low-FODMAP serving due to lactose if using the white chocolate or semisweet chips with dairy

Vegetable shortening for greasing
Frosting: Use this delicious LOW-FODMAP CREAM CHEESE FROSTING for my combination, or try low-FODMAP Opera Cream/ Ermine Frosting or low-FODMAP Buttercream for dairy-free options
Directions
Preheat oven to 350 F, place rack in middle of oven
Grease brownie pan with vegetable shortening and line with 2 long strips of aluminum foil or parchment (in order to lift out when done), coat these with vegetable shortening as well
Combine low-FODMAP flour, salt, baking powder and xanthan gum in bowl, set aside
Melt 4 ounces semisweet chocolate and butter (or vegan alternative) in double boiler gently so it doesn't burn
Remove from heat, whisk in sugars and vanilla
Transfer chocolate mixture to a large mixing bowl
Whisk in eggs, one at a time slowly to temper the eggs
Continue to blend until completely smooth
Add low-FODMAP 'buttermilk' and mix, scraping down sides as needed
Add flour mixture and stir until just incorporated (you can mix this completely by hand, do not overmix)
Add food coloring
Stir in white chocolate chips or semisweet chips, if desired
Pour batter into pan and bake in center of oven for 25-30 min

As ovens vary, yours may need more or less time (check 5 minutes prior to end for doneness)
Toothpick should be clean, top should be slightly firm to touch

Place pan on wire rack and cool completely in pan (about 2 hours),  then gently lift out with foil to cut and serve

If you prefer a slightly gooey middle, then remove from pan after about 5-10 minutes

Frost with my low-FODMAP cream cheese frosting or other desired frostings
Dress them up for your favorite occasions!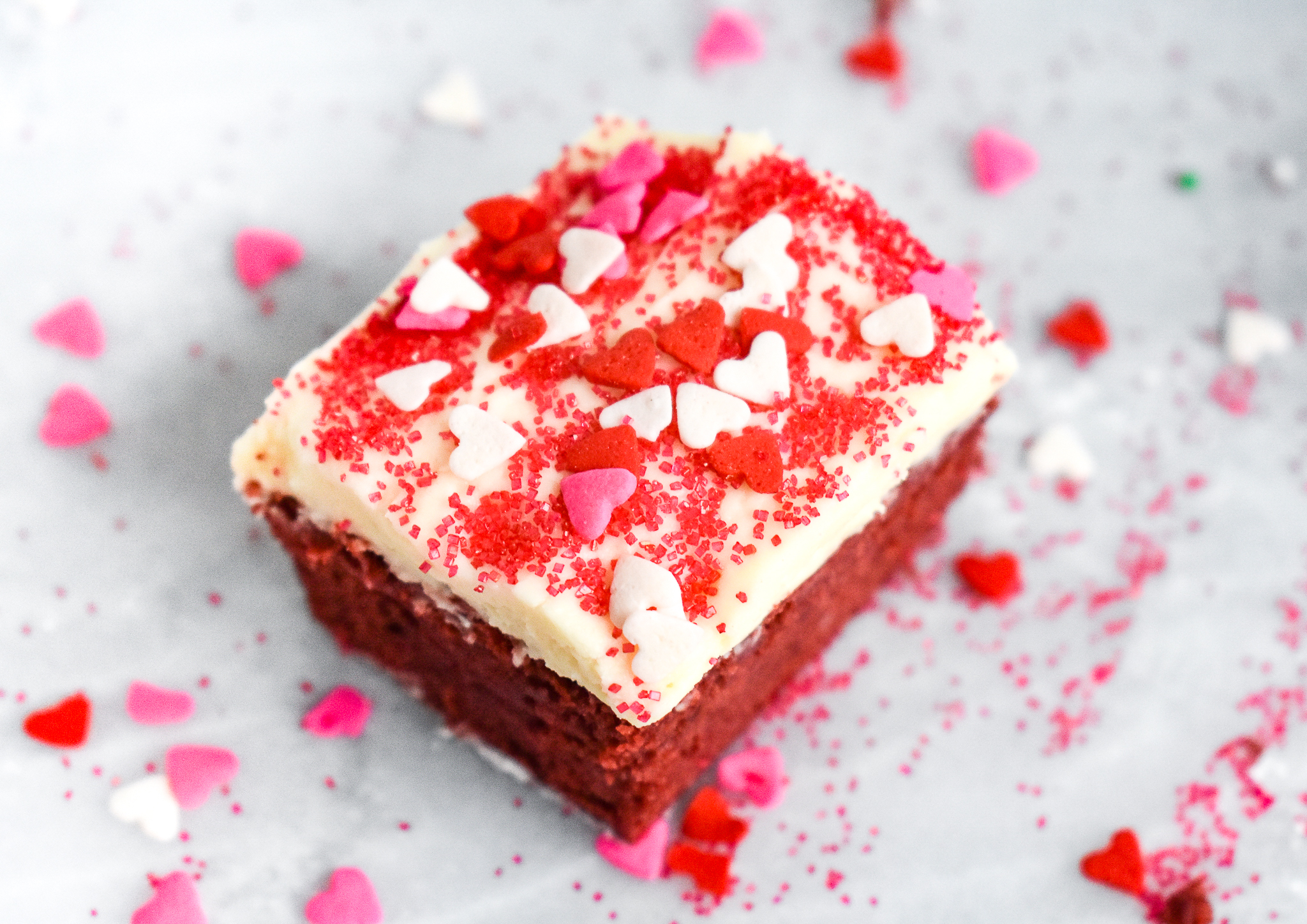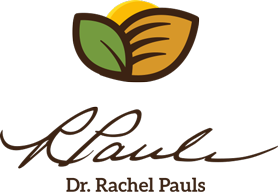 Printer Friendly Version
Comments Rating
( reviews)