The Best Low-FODMAP Chicken and Dumplings; Gluten-free
February 17, 2023
Printer Friendly Version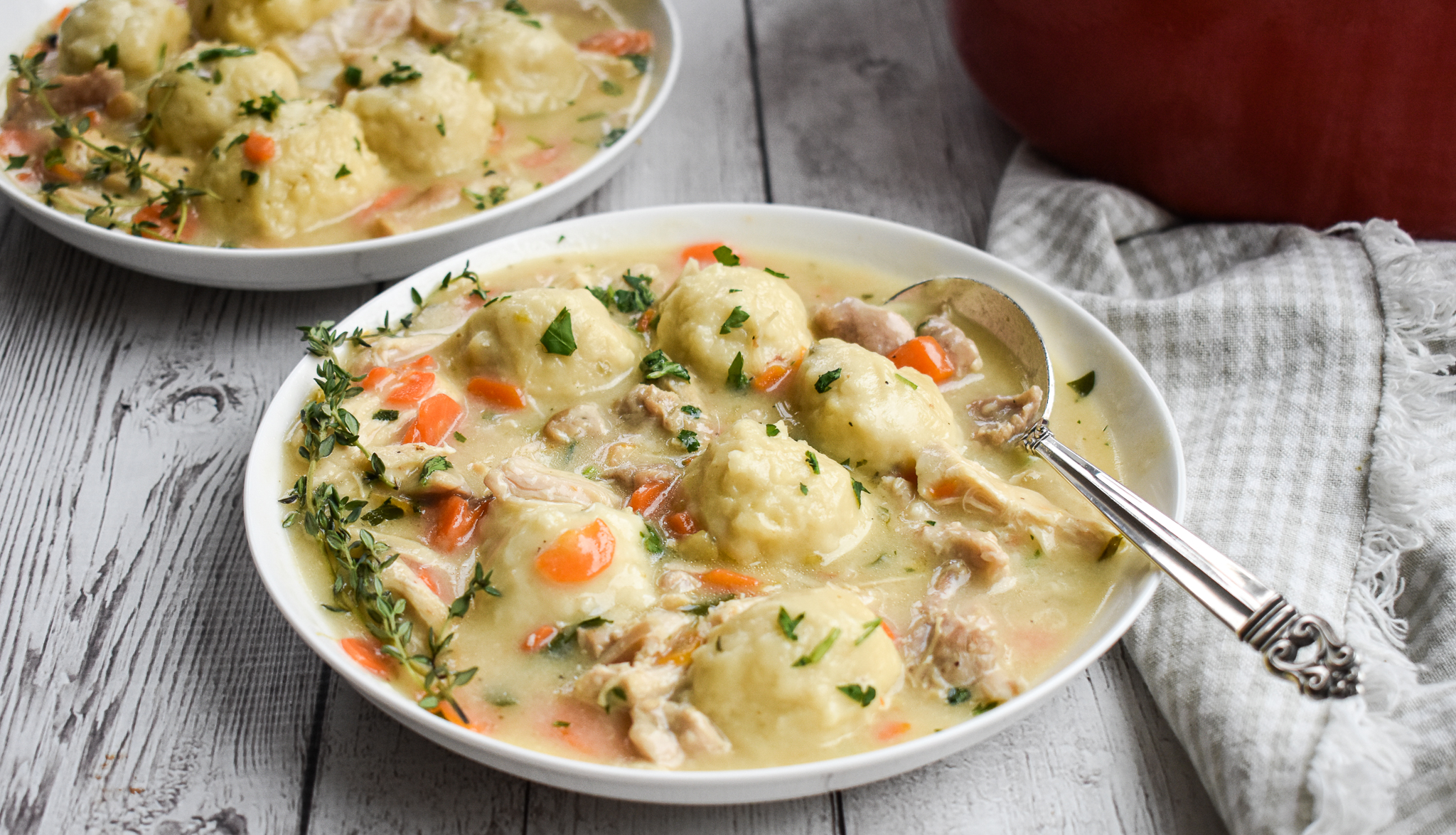 Low-FODMAP,
Classic,
Comfort
Food,
Southern Style.
Chicken and Dumplings.  It doesn't get any better than this.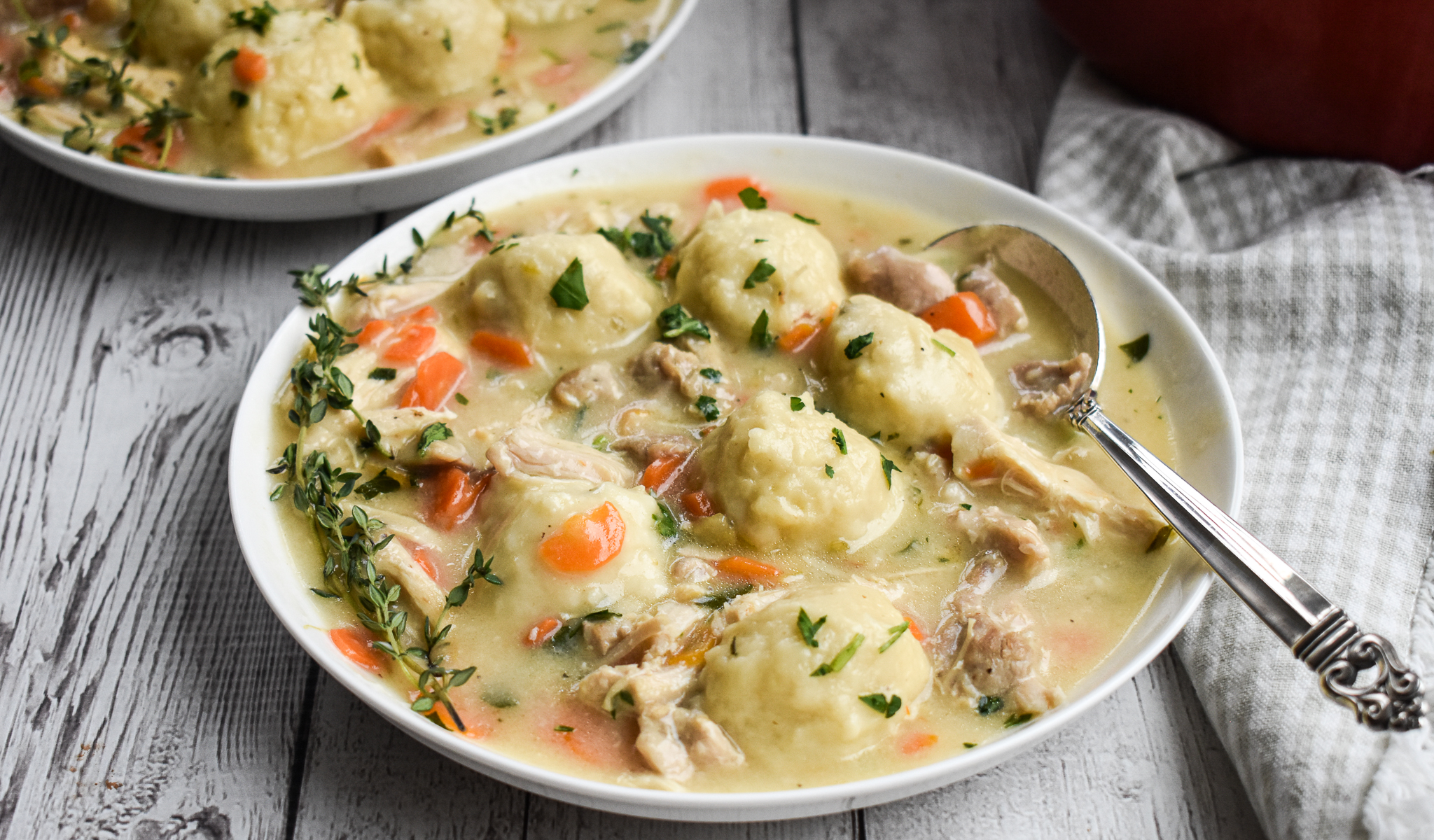 My-oh-my-oh-my.  I was so ready for these low-FODMAP chicken and dumplings.  A delicious, hearty chowder-like soup with the glory of the doughy, chewy dumplings.  Gluten-free.  No IBS-flares.
This low-FODMAP recipe is a true keeper!
You may also love:
Or check out over 475 more low-FODMAP recipes on the blog.  IBS-friendly!
Be healthy and happy,
Rachel Pauls, MD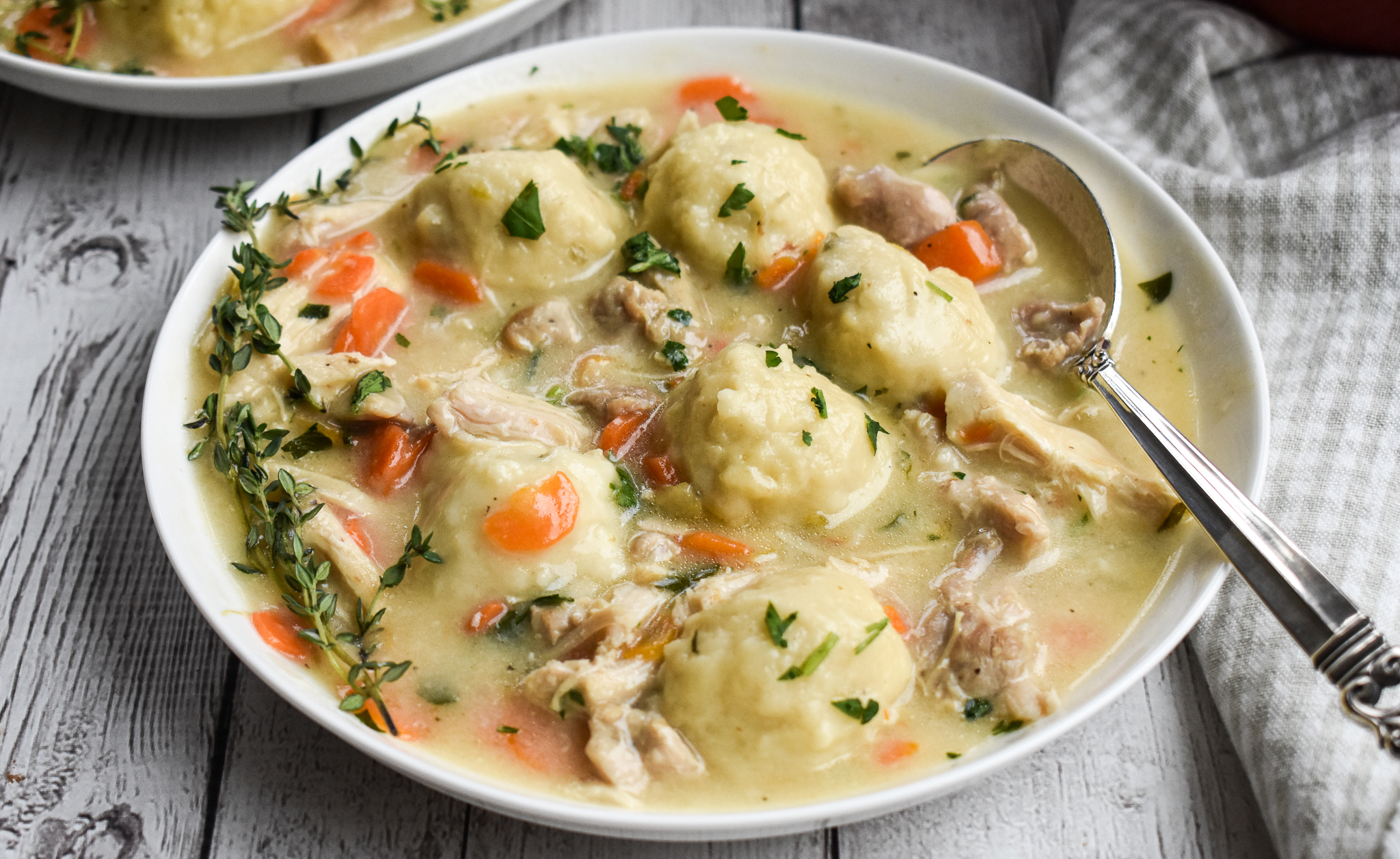 P.S. You should see my COOKBOOK for over 100 low-FODMAP recipes, low-FODMAP Meal Plan, FODMAP Tips and everything you need!!  It's the BEST!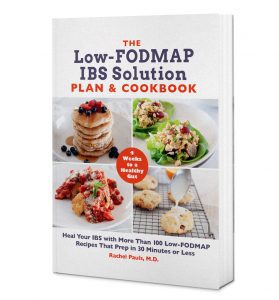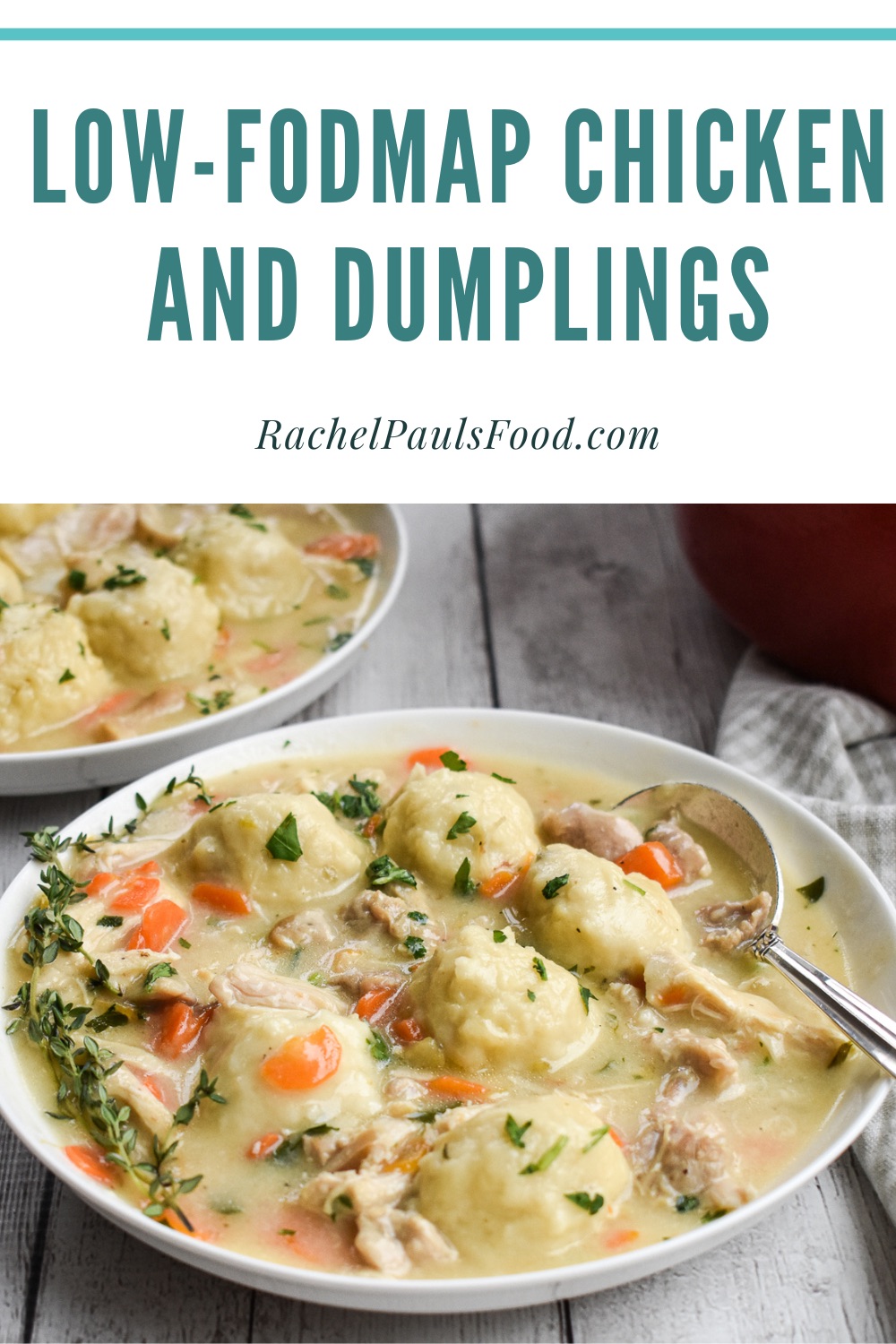 Although this recipe has not been lab tested, a single serving should be low-FODMAP based on the ingredients (*using available FODMAP data at time of posting)
Serves: 8
Prep time: 25 min
Cook time: 45 min
Total time: 1 hour 10 min
Equipment: Large heavy bottomed soup pot with lid or Dutch Oven
Ingredients
For low-FODMAP Chicken Soup
1 tablespoon olive or avocado oil
2 boneless, skinless chicken breasts (8 ounces)
4 boneless skinless chicken thighs (16 ounces)
3 carrots, finely diced or chopped into rings

Carrots are free of FODMAPs

1 celery rib (45g), finely diced

10 g celery is one low-FODMAP serving
I used a mandolin slicer to prep my carrots and celery extra thin

1/4 cup low-FODMAP, gluten-free flour
6 cups low-FODMAP chicken broth
1/2 cup white wine
2 teaspoons sugar
2 tablespoons onion infused oil; divided
2 tablespoons garlic-infused oil; divided
2 dried bay leaves
5 whole peppercorns
3 sprigs fresh thyme, plus additional for serving
1/2 cup heavy cream or full fat coconut cream (dairy-free version)

1/4 cup is one low-FODMAP serving for each choice

2 tablespoons cornstarch (optional, for thickening)
Minced fresh parsley, for serving
Salt and pepper, to taste
For low-FODMAP Dumplings:
2 large eggs, room temperature
1 & 1/2 cups low-FODMAP, gluten free all purpose flour
1 teaspoon xanthan gum, if not already in your flour
1 tablespoon baking powder
1/2 teaspoon salt
1 teaspoon dried chives
4 tablespoons melted butter or low-FODMAP vegan alternative (such as Earth Balance for dairy-free)
2/3 cup lactose-free half and half cream (substitute full fat canned coconut milk for dairy-free)
Directions
Heat a large, heavy bottomed pot over medium heat. Once hot, add one tablespoon of olive oil or butter
Season the raw chicken pieces liberally with salt and pepper, and then add to the pot
Brown the chicken on both sides, for 3-4 minutes and then remove from the pot to a plate (this will not be fully cooked yet, that is OK)

You may need to work in batches

Add 1 tablespoon of each of the infused oils to the pot
Next, add in the carrots and celery
Sauté everything for a few minutes until beginning to soften
Stir in the 1/4 cup flour until blended
Gradually add low-FODMAP chicken broth/stock, stirring constantly
Stir in white wine, sugar, 1 tablespoon remaining of each of the infused oils, bay leaves, thyme, and peppercorns
Return chicken to pot; bring to a boil. Reduce heat; simmer, covered, 15-20 minutes or until chicken is cooked through completely (internal temperature 165 F)
While soup is cooking, prepare dumplings
In a medium bowl, whisk eggs
Add the low-FODMAP, gluten-free flour, xanthan gum, baking powder, salt and dried chives
Slowly add the melted butter, then the lactose-free half and half and stir until just combined, the dough will be sticky. Do not over-mix, or your dumplings may be dense and gluey. Set aside for now
When chicken is ready, remove bay leaves and thyme sprigs from the pot and discard
Remove the chicken from the pot and let it rest for a minute on a chopping board or plate
Shred or chop the chicken and return it to the pot
Next, stir in the heavy cream or canned coconut cream
Taste soup, and add salt and pepper if needed

This depends on how seasoned your chicken broth is

Bring the soup to a simmer and use a cookie dough scoop or smaller, to drop the dough into the simmering soup. Once all the dumplings have been dropped into the soup, cover the pot with a lid and let the dumplings cook for ten to twelve minutes or until they are fully cooked through (can test with toothpick)

The dumplings will puff up, do not make them too large
I made 20 dumplings

Optional: to thicken broth more (if desired):

In a small bowl combine 2 tablespoons cornstarch with 2 tablespoons water to create a slurry
Add to boiling broth a little bit at a time stirring to reach desired consistency

Garnish with fresh herbs and serve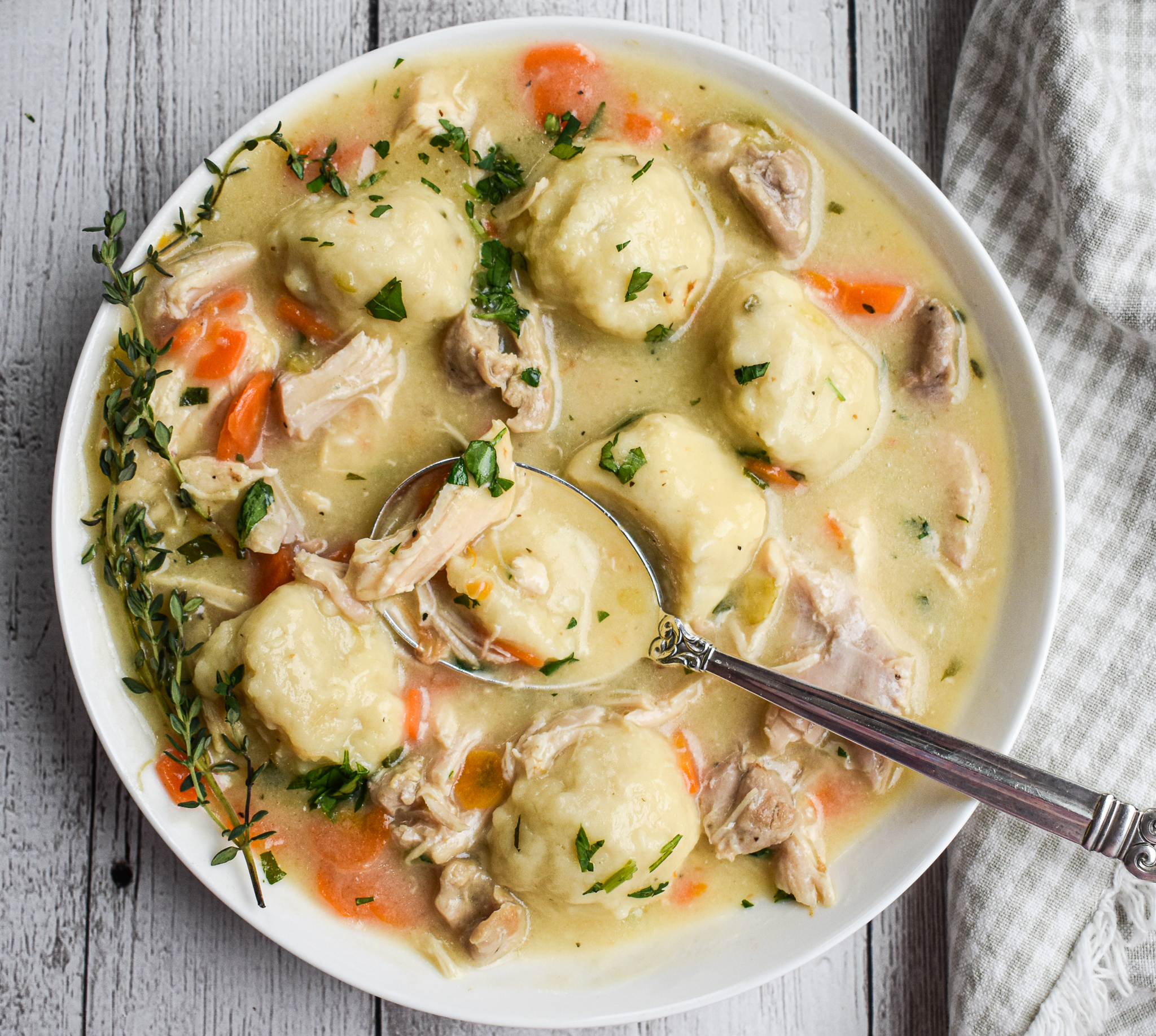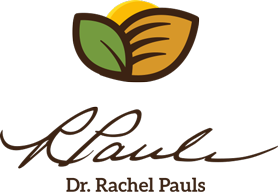 Printer Friendly Version
Comments Rating
( reviews)