One-Pot Low-FODMAP Turkey Pumpkin Chili; Gluten-free
September 8, 2023
Printer Friendly Version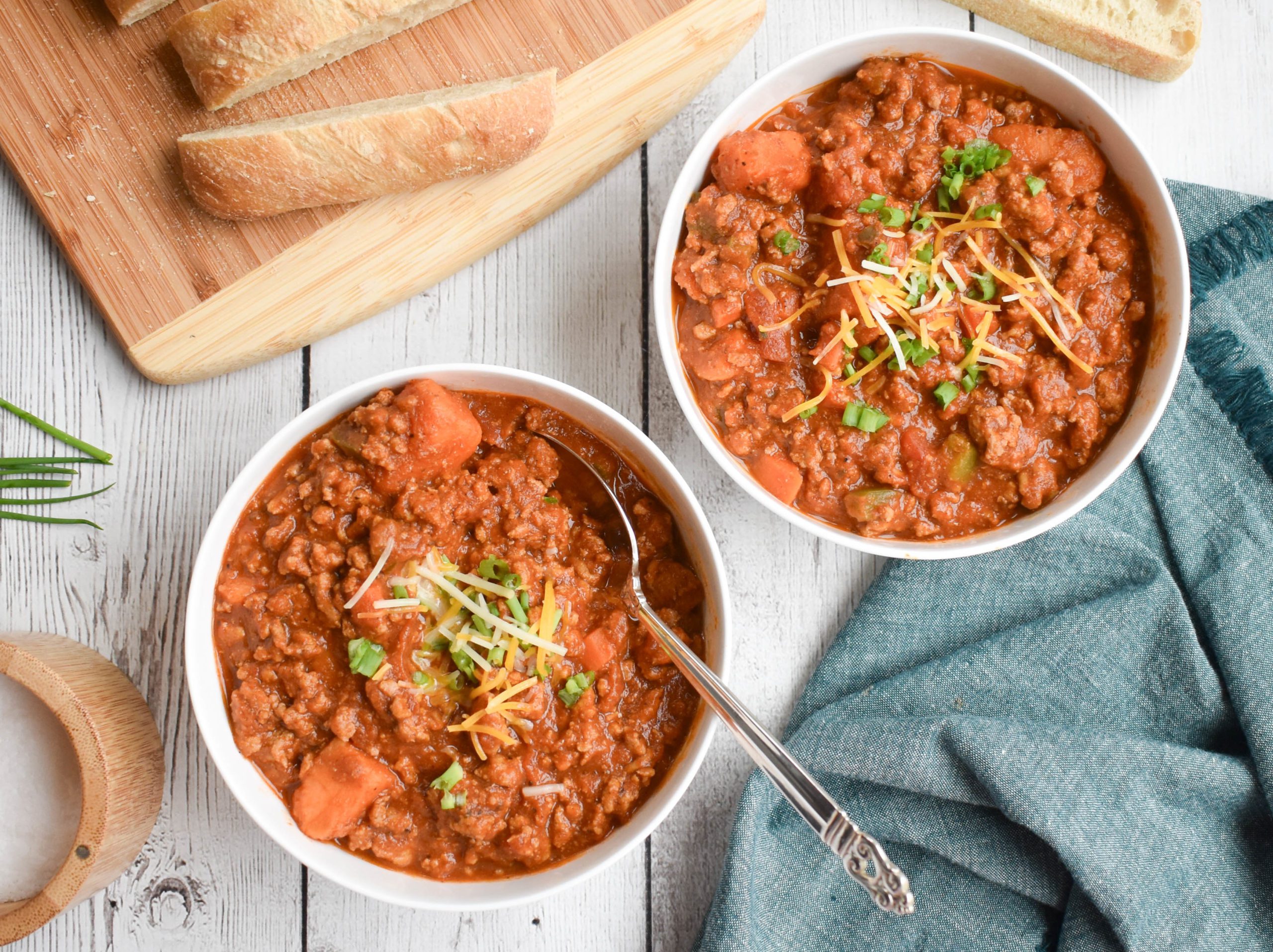 This is a simple, warmly spiced, low-FODMAP Turkey Pumpkin Chili, full of deep and rich flavor. A lighter type of chili, since it uses turkey rather than beef, this recipe contains sweet potato and no beans, for a different spin.  You can always add some beans on top, like we do in Cincinnati!
Serve this turkey pumpkin chili with crusty bread rolls, a side salad or in a sourdough bread bowl, if you tolerate gluten.  It's just simple goodness.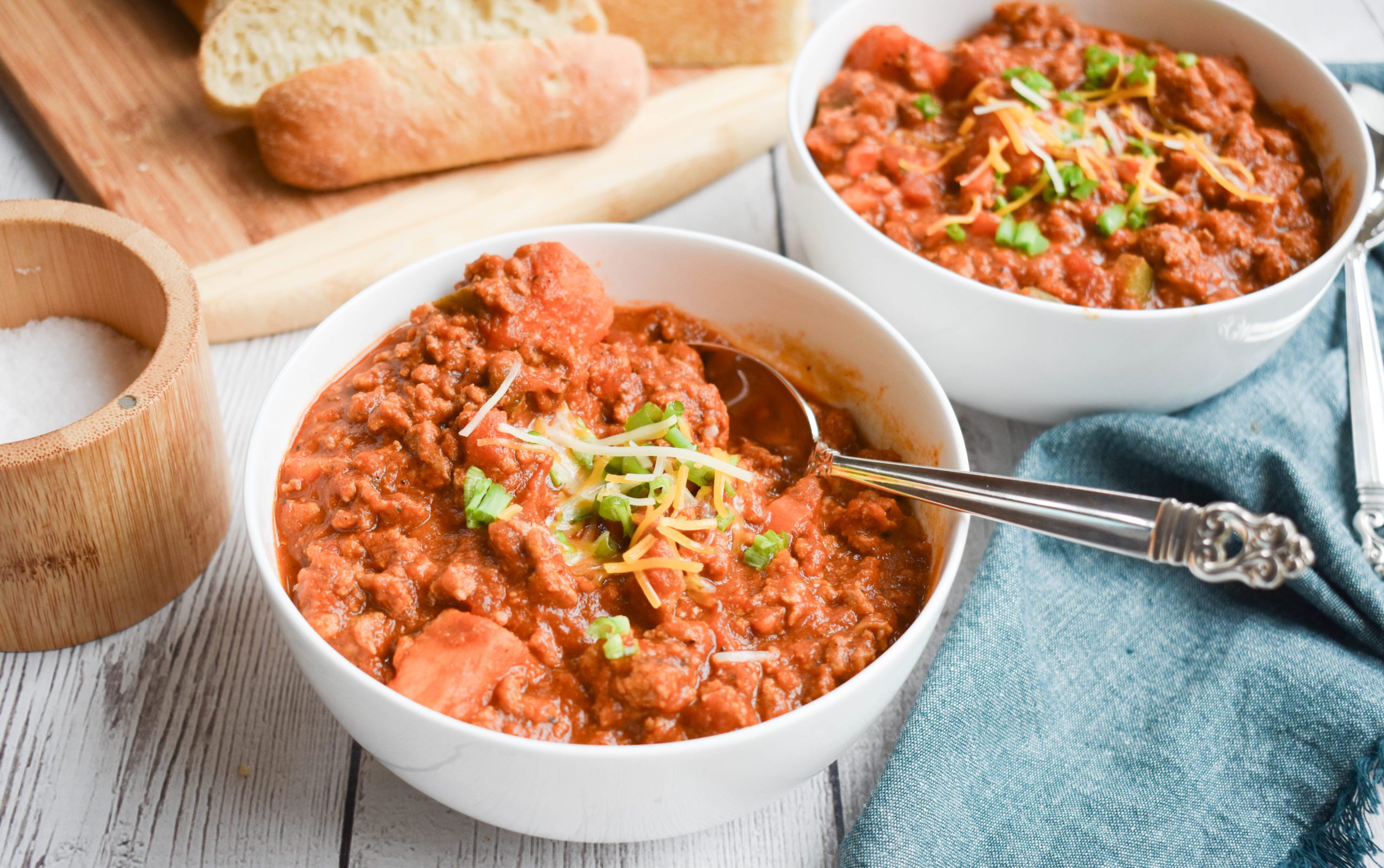 For more low-FODMAP Pumpkin ideas- see my low-FODMAP Best Pumpkin Recipe Collection!
You may also love my:
Or check out over 500 more low-FODMAP recipes on the blog!
Be healthy and happy,
Rachel Pauls, MD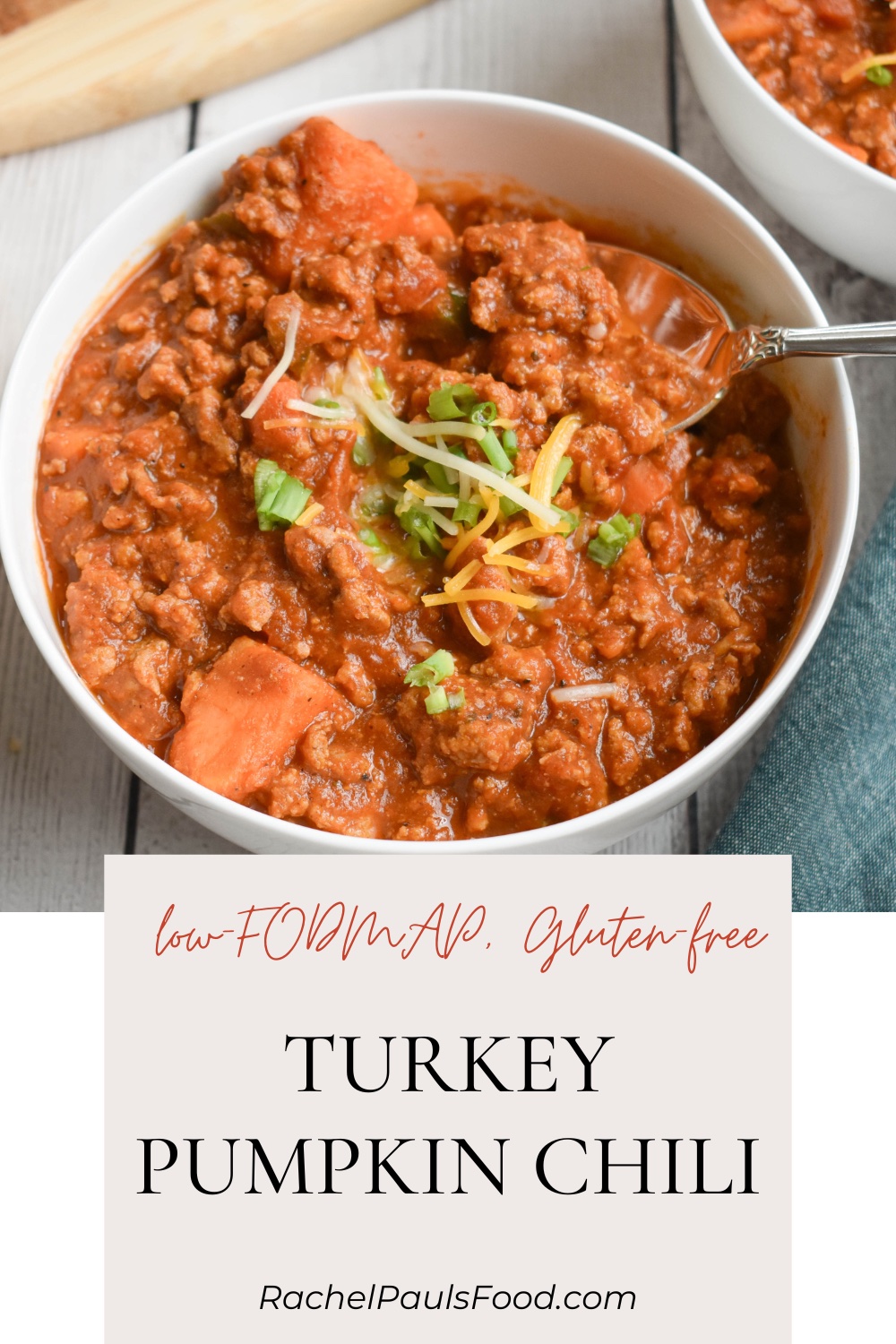 Although this recipe has not been lab tested, a single serving should be low-FODMAP based on the ingredients (using available FODMAP data at time of posting)
Serves: 8
Prep time: 15 min
Cook time: 45 min
Total time: 1 H
Equipment: Large Dutch oven
Ingredients
Nonstick baking spray
1/2 cup (75g) medium green bell pepper, chopped

75g is one low-FODMAP serving due to fructans

1 medium carrot, diced
1 large sweet potato (200g), chunked

75g is one low-FODMAP serving due to mannitol
You can also use frozen, uncooked, chopped sweet potato if that's easier

2 pounds ground turkey (or chicken)
2 teaspoons garlic infused oil
2 teaspoons shallot or onion infused oil
1 teaspoon kosher salt
1/2 teaspoon ground black pepper
1 tablespoon chili powder

Select brands without added onion or garlic

2 teaspoons ground cumin
1 teaspoon ground cinnamon
1/4 teaspoon ground nutmeg
1 teaspoon dried oregano
1 cup (8 ounces) canned diced tomatoes

4 ounces is one low-FODMAP serving due to excess fructose

8 tablespoons tomato paste

2 tablespoons is one low-FODMAP serving

1 cup (225g) canned pure pumpkin

75g is one low-FODMAP serving due to GOS and fructans, 150g is the maximum serving

3/4-1 cup low-FODMAP chicken broth
Garnish: shredded cheddar cheese, green scallion tips
Directions
Spray the inside of a medium Dutch oven or a large saucepan with nonstick spray and set over medium heat
Place the bell pepper, carrots, and sweet potatoes in the Dutch oven and cook for 3 minutes, stirring occasionally
Add the infused oils and ground turkey and cook for 5-7 minutes, until lightly browned, breaking up the chunks as needed
Stir in the salt, pepper, chili powder, cumin, cinnamon, nutmeg, and oregano
Mix in the diced tomatoes, tomato paste, canned pumpkin, and 3/4 cup low-FODMAP chicken broth until completely combined
Bring to a simmer, stirring frequently
Cover, reduce the heat to very low and simmer slowly, stirring occasionally until potatoes are soft and the chili has thickened a bit, about 30 minutes
Add additional low-FODMAP chicken broth if necessary. Taste and adjust seasoning as desired (I add a sprinkle of sugar and extra cinnamon to mine)
Serve hot with low-FODMAP, GF crusty bread, garnished with cheddar cheese and scallion tips, if desired
This is even better after a day in the fridge!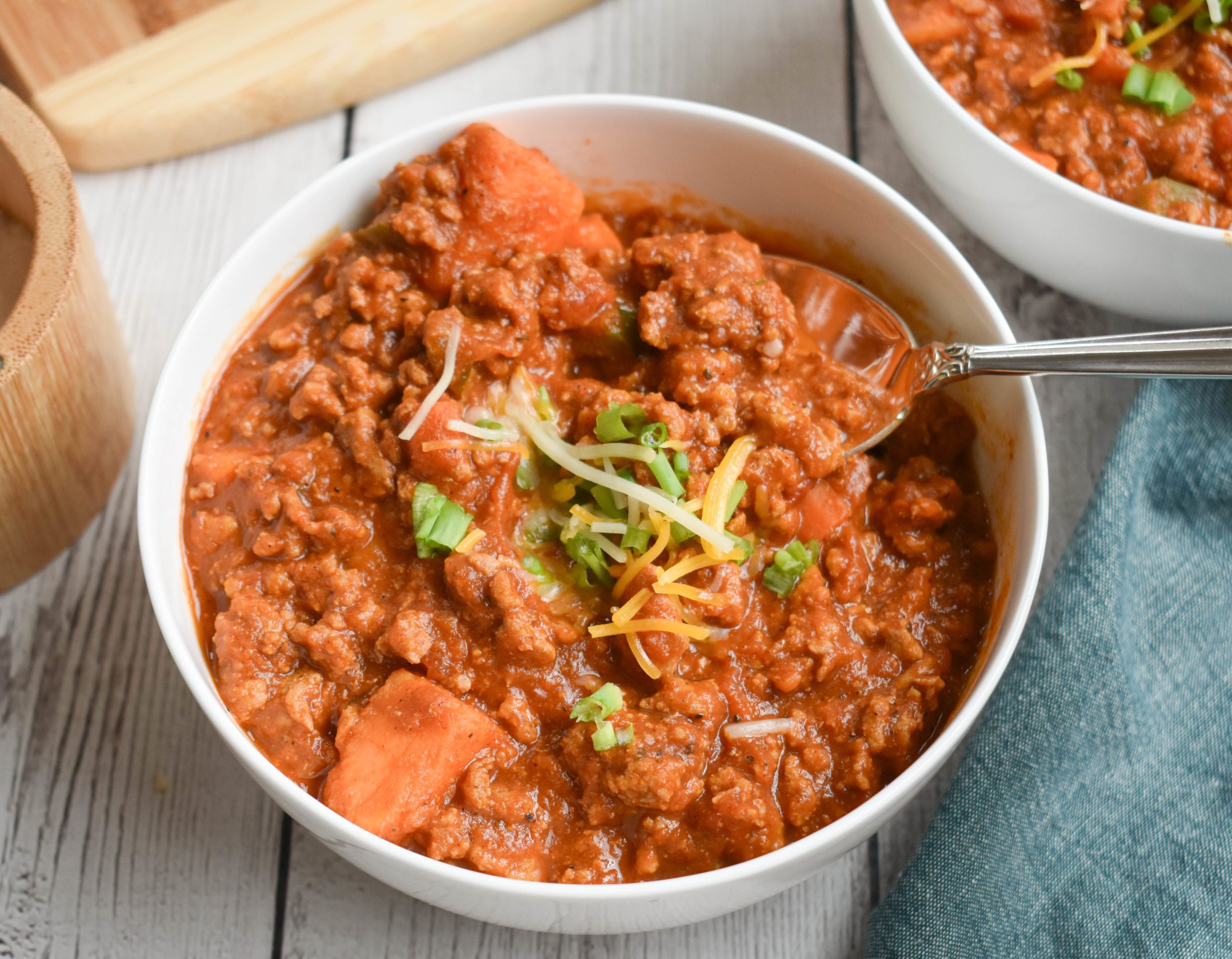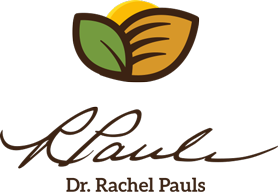 Printer Friendly Version
Comments Rating
( reviews)