Low-FODMAP Sweet and Spicy Grilled Shrimp Recipe; Gluten-free, Dairy-free
September 15, 2018
Printer Friendly Version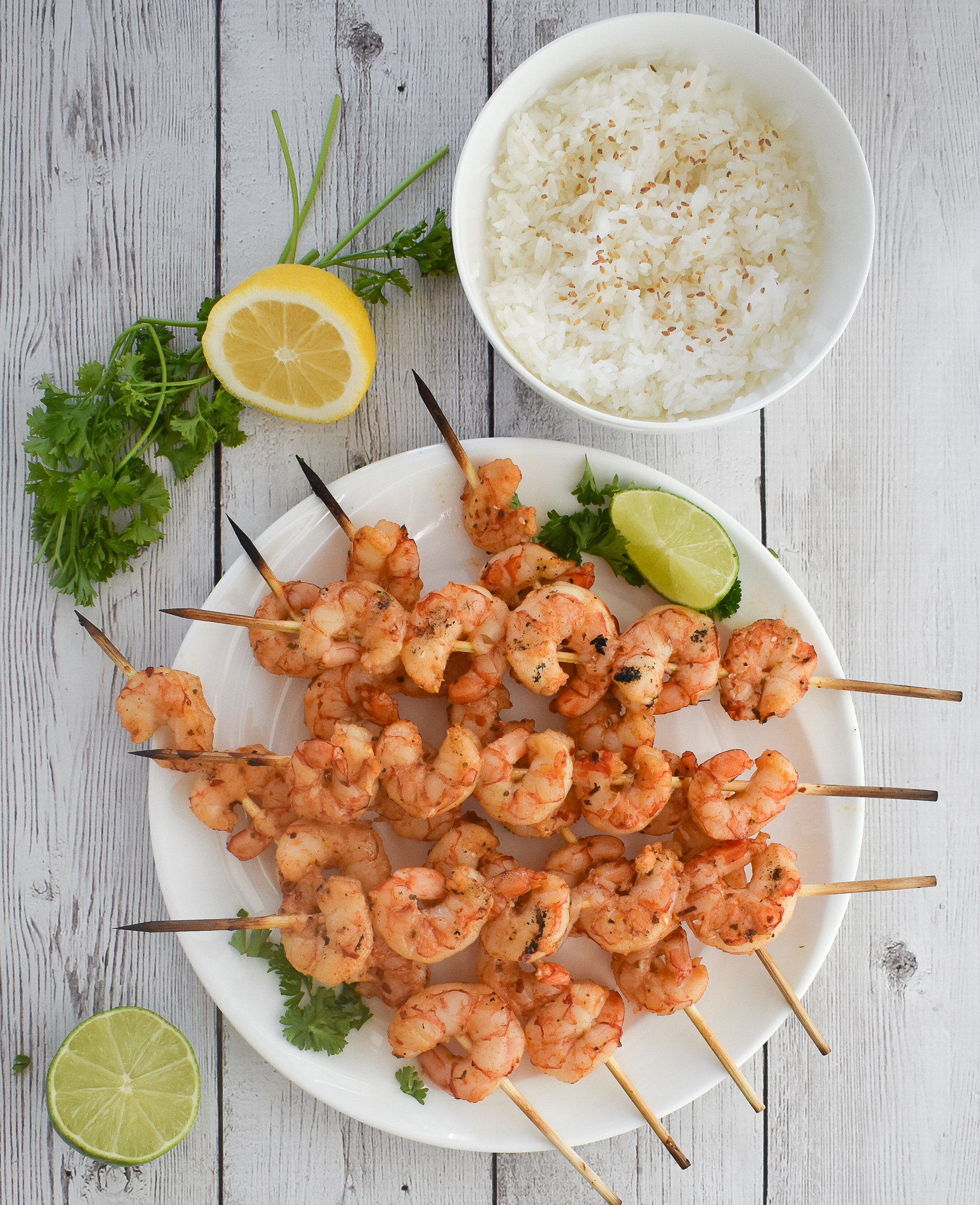 Shrimp are the most widely served seafood in the United States, and can be prepared so many ways. Remember Bubba in Forrest Gump? "Shrimp is the fruit of the sea. You can barbecue it, boil it, broil it, bake it, saute it".  Personally, I love every method!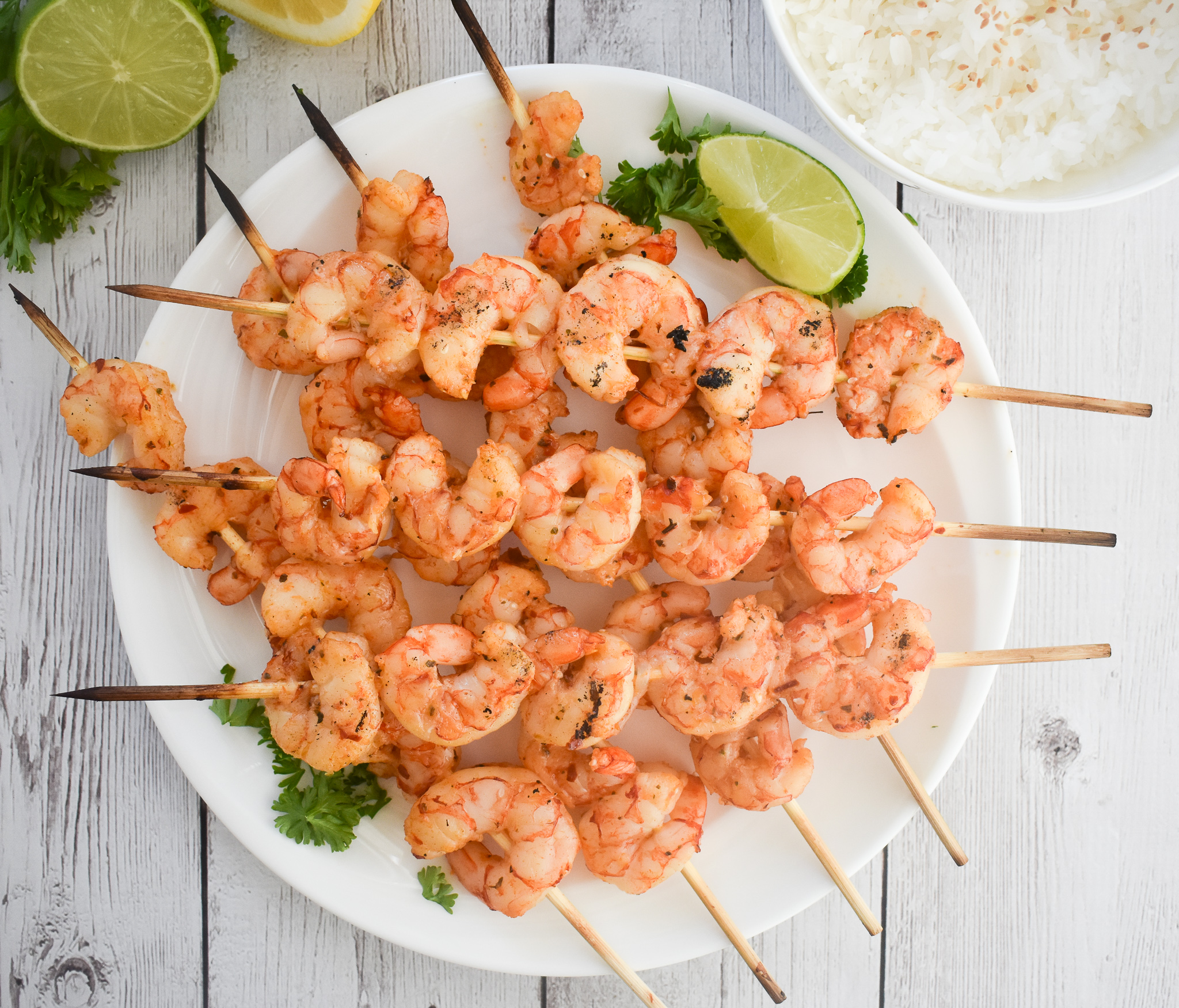 Shrimp are high in calcium, protein, omega-3s, and iodine. Plus they are absolutely delicious.
These low-FODMAP Sweet and Spicy Shrimp are prepared grilled, which adds great flavor and fun to this recipe.  The sweetness of the maple balances the heat from the spices and it tastes amazing (although it tends to be more on the spicy than sweet side, FYI).  Low-FODMAP Sweet and Spicy Shrimp are so good for you, low-calorie but absolutely satisfying.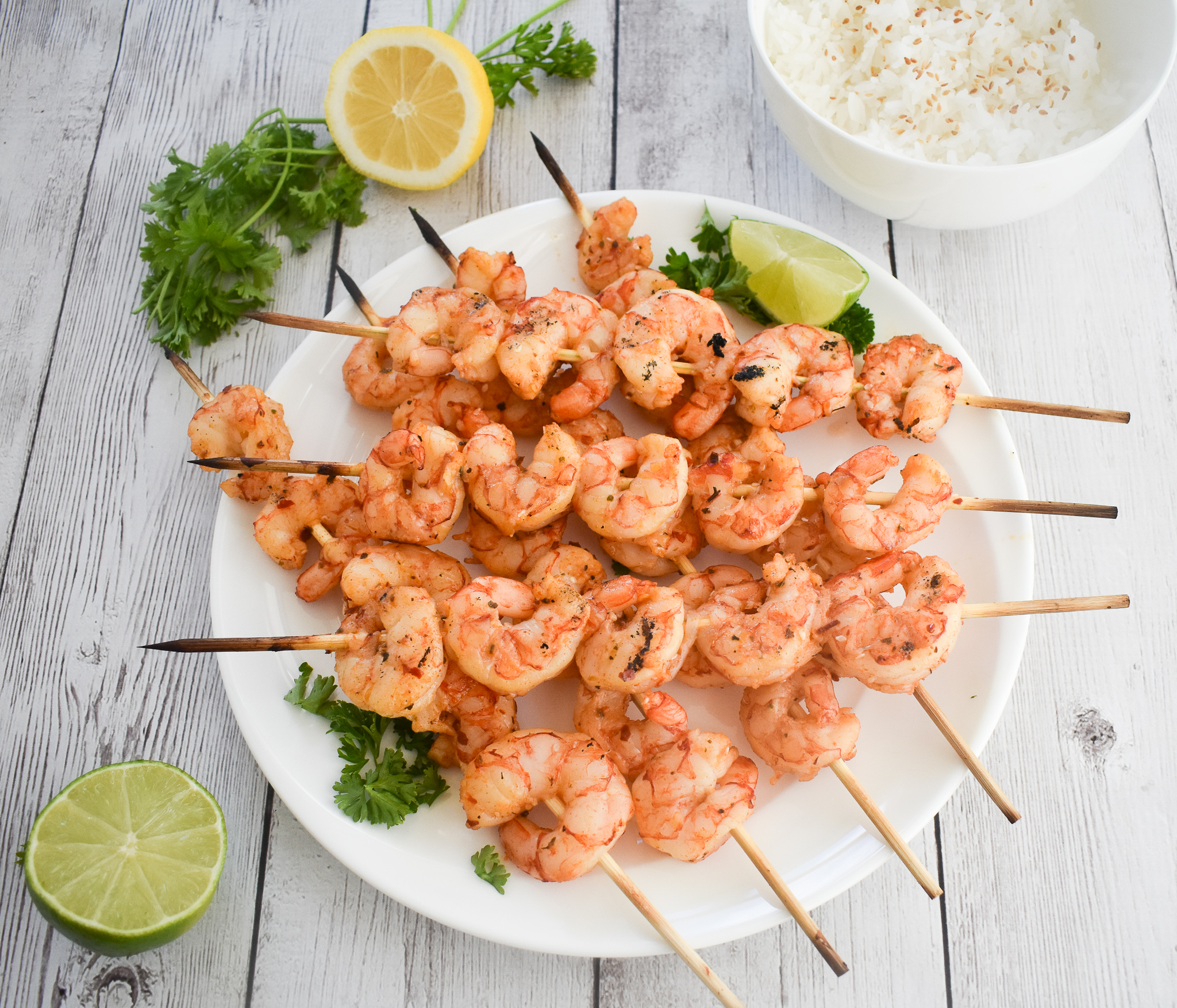 During the prep of this low-FODMAP shrimp recipe you will see a step that involves brining in a sugar and salt mixture.  At first, I didn't think this would make any difference, but it totally does!  Brining is like marinating the meat of the shrimp or fish.  It helps to retain moisture in the shrimp and improves the cooked texture.   Since brining only involves 30 extra minutes, I suggest taking the time for a spectacular tasting low-FODMAP grilled shrimp meal.
Enjoy this low-FODMAP Sweet and Spicy Grilled Shrimp with a side of low-FODMAP rice-quinoa, low-FODMAP mashed potatoes, or low-FODMAP grilled vegetables.  Or check out over 300 more low-FODMAP recipes on my blog.
Be healthy and happy,
Rachel Pauls, MD
---
Low-FODMAP Sweet and Spicy Grilled Shrimp Recipe; Gluten-free, Dairy-free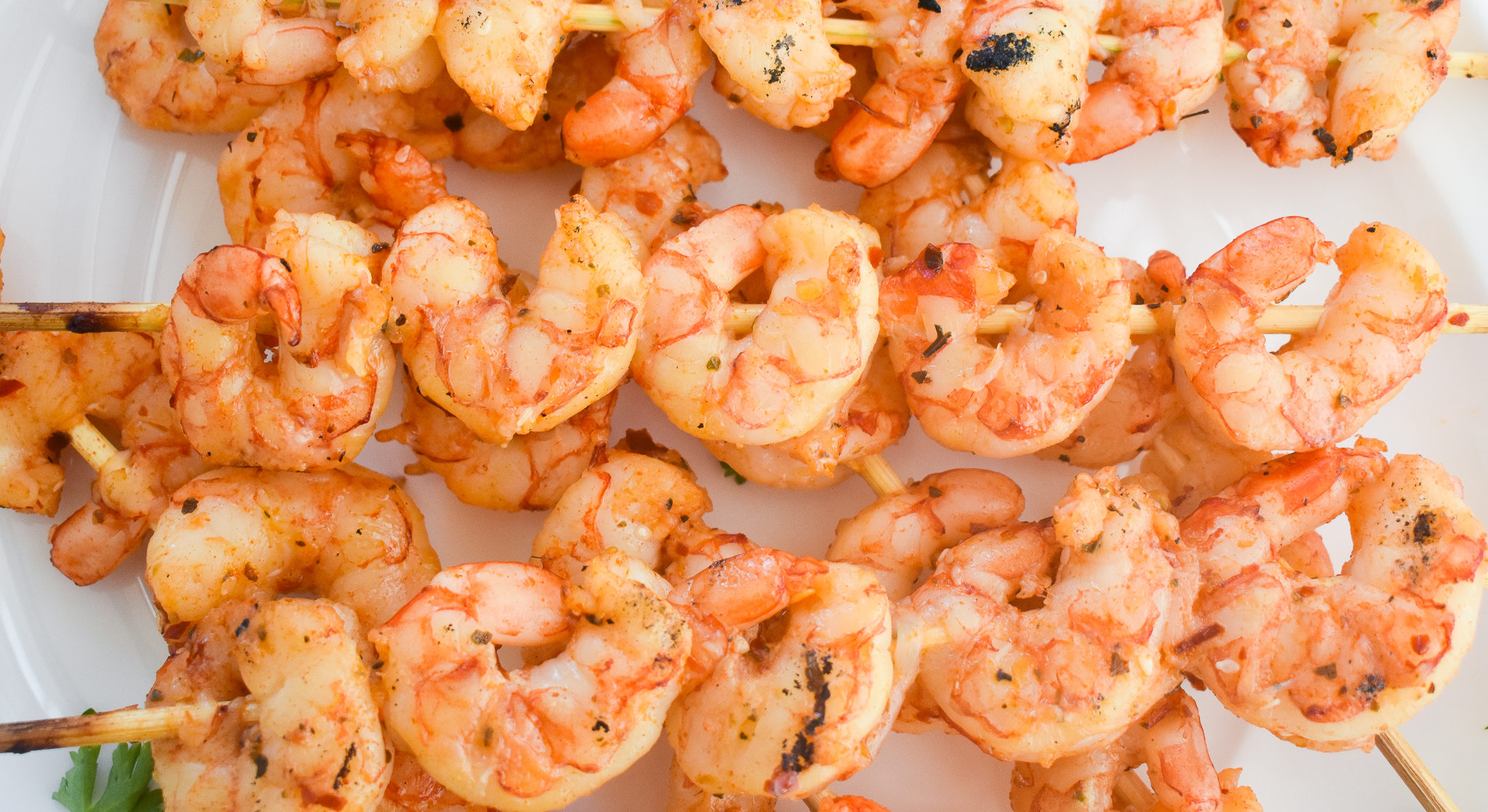 Although this recipe has not been tested, a single serving should be low-FODMAP based on the ingredients.
Serves 4-6
Prep time: 15 min plus 1 hour for marinating
Cook time: 10 min
Total time: 25 min plus marinating
Ingredients
1 and 1/2 pounds large raw shrimp, peeled and deveined

Tails on or off per your preference (I prefer to have the tails off-easier for my kids to eat)
I used Trader Joe's 'Wild Argentinian Red Shrimp', these have a tremendous flavor similar to lobster
I suggest that you purchase good quality, generous sized shrimp, otherwise the brining may cause them to become too salty

Fresh lemon/limes and parsley for garnish (optional)
For low-FODMAP Shrimp Brine
(see note above about brining, you can opt to skip this step also)
2 cups water
1/3 cup brown sugar
1/3 cup kosher salt
For Low-FODMAP Marinade
1/2 teaspoon paprika
1/2 teaspoon cayenne pepper
1/2 teaspoon red pepper flakes
1/2 teaspoon oregano
1/2 teaspoon salt
2 tablespoons pure maple syrup
1 tablespoon olive oil (can also use garlic-infused olive oil)
1 tablespoon freshly squeezed lemon juice
Equipment:  metal or wooden skewers (if using wooden skewers, soak in water for 30 minutes prior to use)
Directions
Brine the low-FODMAP shrimp: (if you don't have time, you can skip this step)

Dissolve the salt and sugar in a large bowl of cold water
Add the shrimp
There should be enough water to cover the shrimp by about an inch

Stir, cover, and leave the bowl in the fridge or room temperature for 30 minutes (longer than this could result in overly salted shrimp)

In a separate bowl, combine the spices, maple syrup, lemon juice and oil, whisk to combine
Rinse and drain the shrimp and pat them dry with a paper towel
Add the shrimp to the marinade, stir to coat and let them sit for a while (30 mins or overnight) in the fridge
Once marinated, place shrimp on skewers
Grill the shrimp for 4 to 5 minutes over medium-high heat (less if your shrimp are smaller), turning halfway through
You can brush the remaining marinade on the shrimp after turning

Be careful not to overcook- will become rubbery

Serve with your desired low-FODMAP side dishes…
Absolutely delicious!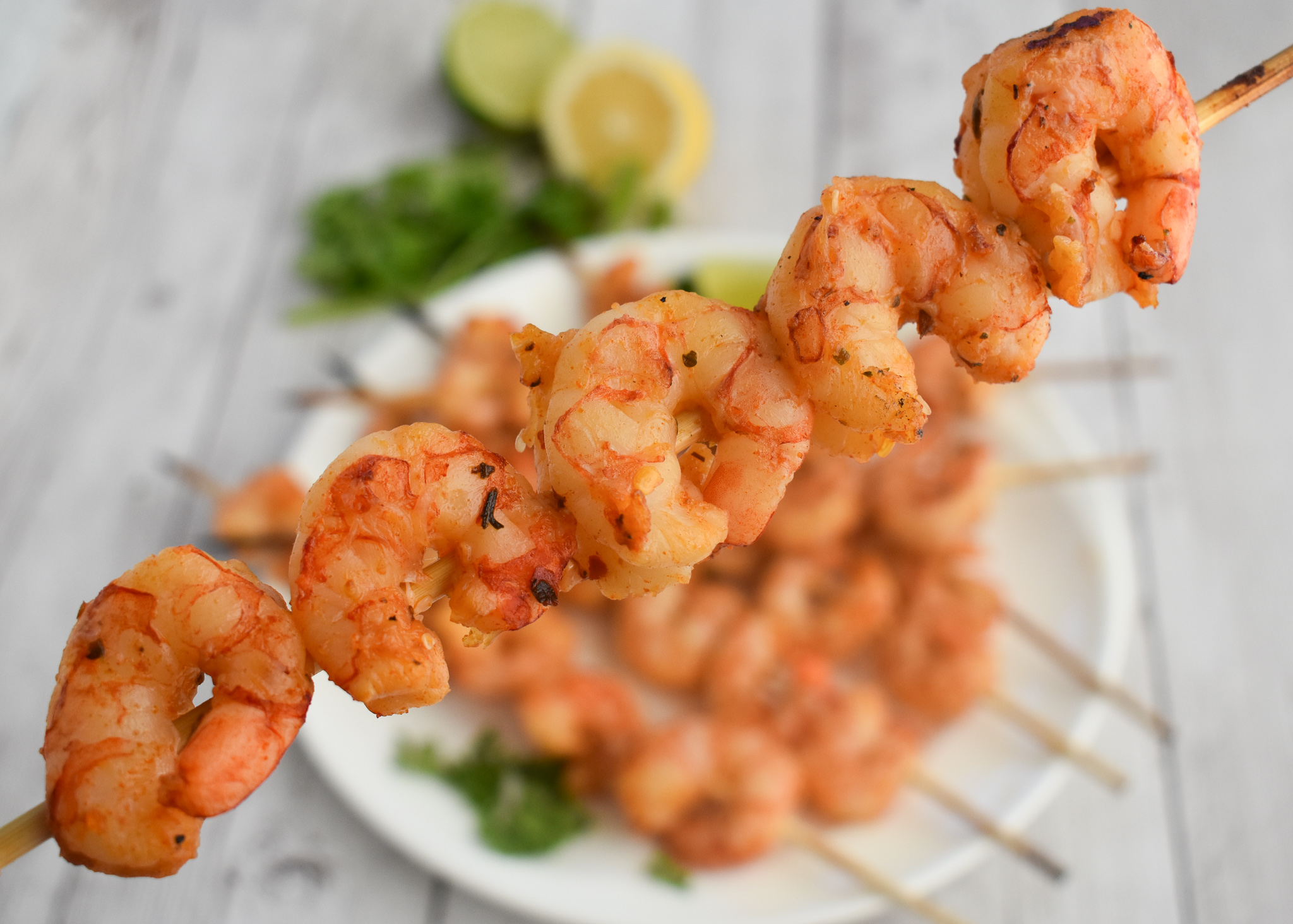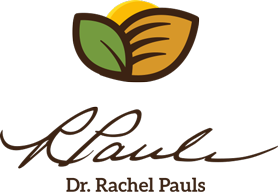 Printer Friendly Version
Comments Rating
( reviews)