Low-FODMAP Sheet Pan Spicy Sesame Chicken with Broccoli; Gluten-free, Dairy-free
June 9, 2023
Printer Friendly Version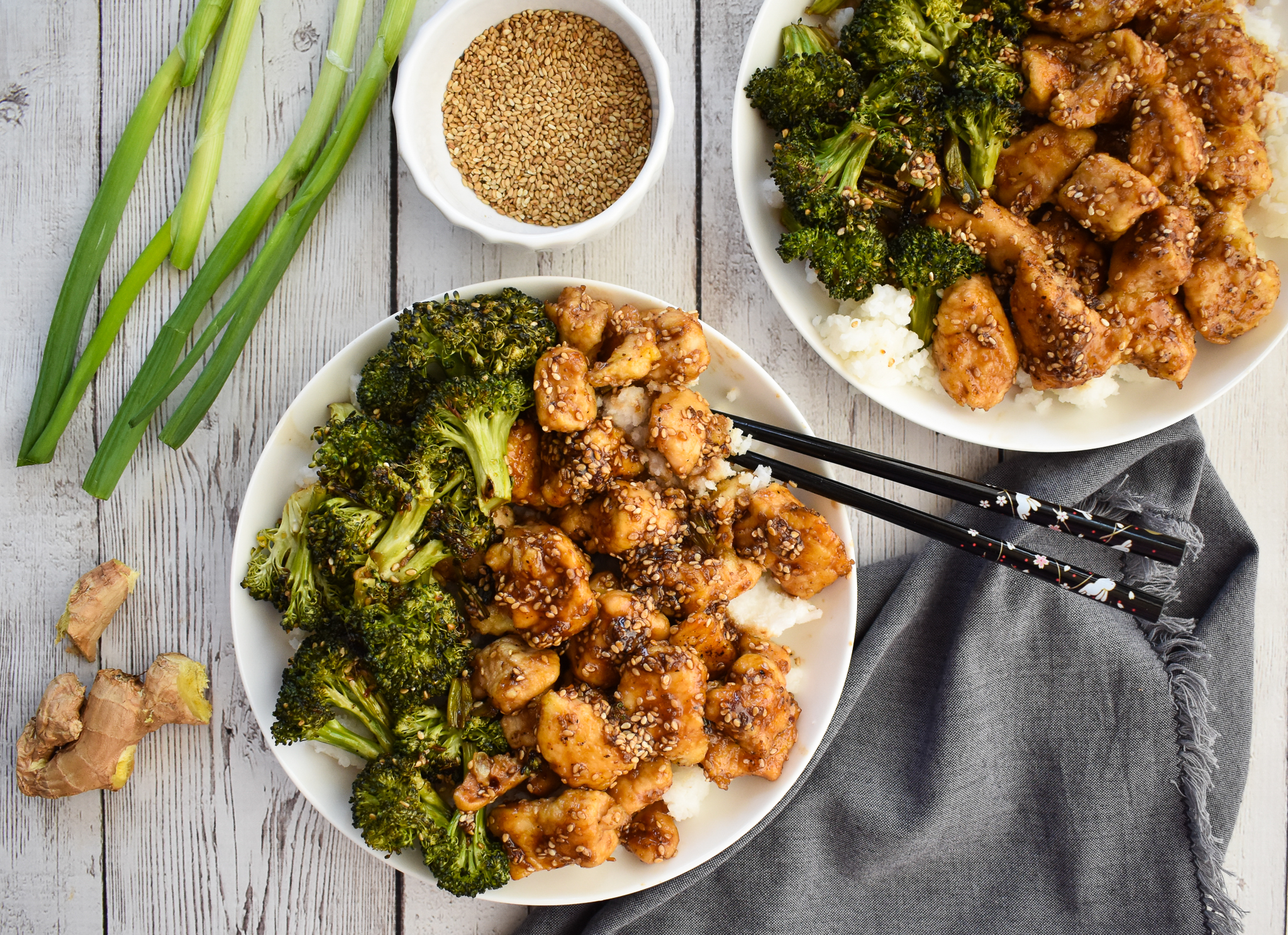 I am always in the mood for a sheet pan recipe that makes juicy, spicy-sweet chicken in a sticky, yummy sauce.  Pair it with a built-in side dish and I'm sold.
This is that kind of a recipe.  Low-FODMAP is just a bonus!
A sesame chicken dinner with crispy, oven-fried chicken breast tenders.  Coated with a sticky, sesame sauce that has a hint of cranberry and ginger and the heat of red pepper flakes.
Pour the sauce over some low-FODMAP Fluffy Coconut Rice and you have an automatic family dinner that the kids will request every night (not to mention everyone else in your home).
Try this low-FODMAP Asian Inspired Sheet Pan Sesame Chicken and you will be putting this in your regular rotation!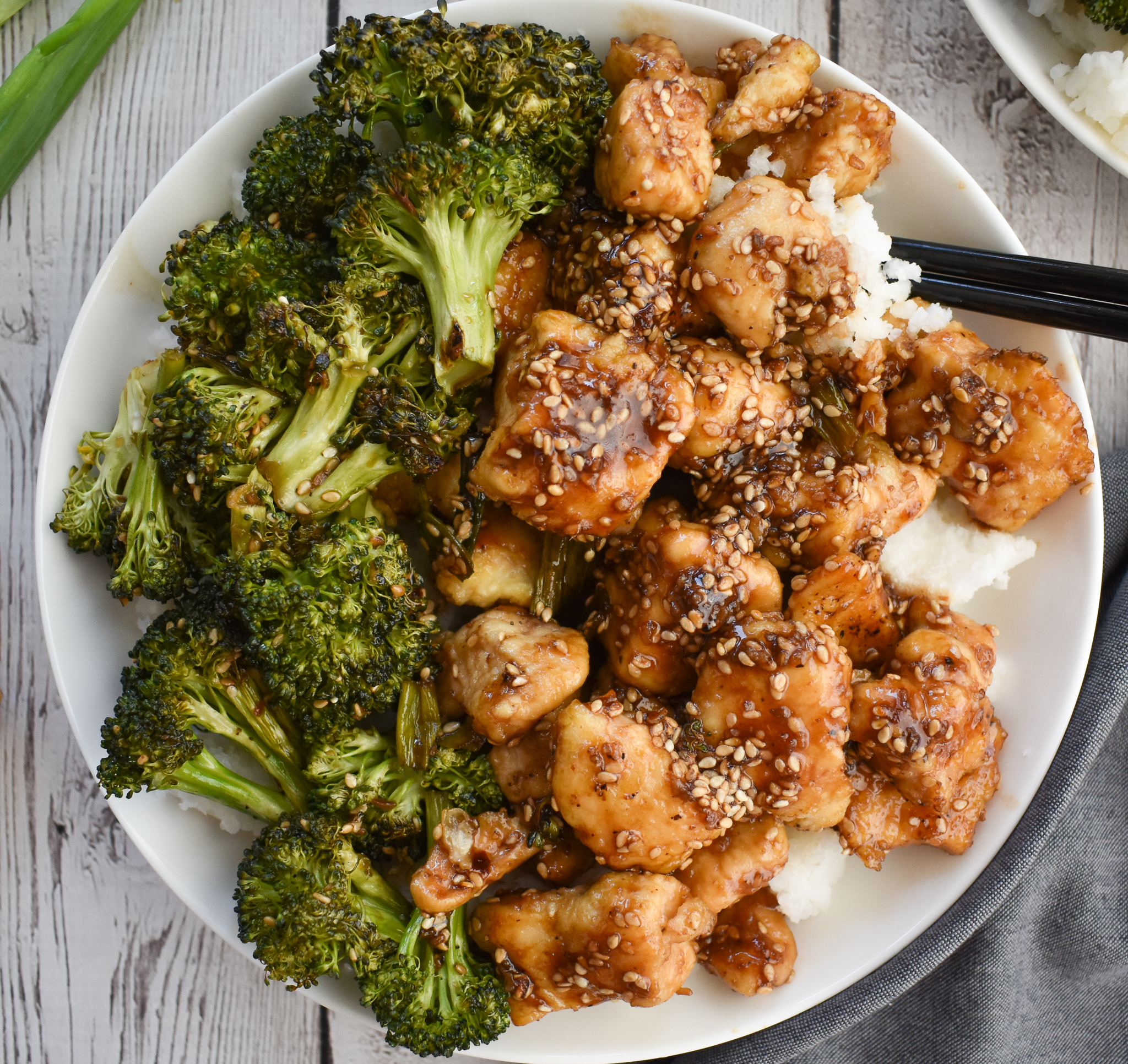 Affordable take-out taste at home with an easy clean up.  Need I say more?
You may also love:
Or check out over 500 more low-FODMAP recipes on the blog.  IBS-friendly!
Be healthy and happy,
Rachel Pauls, MD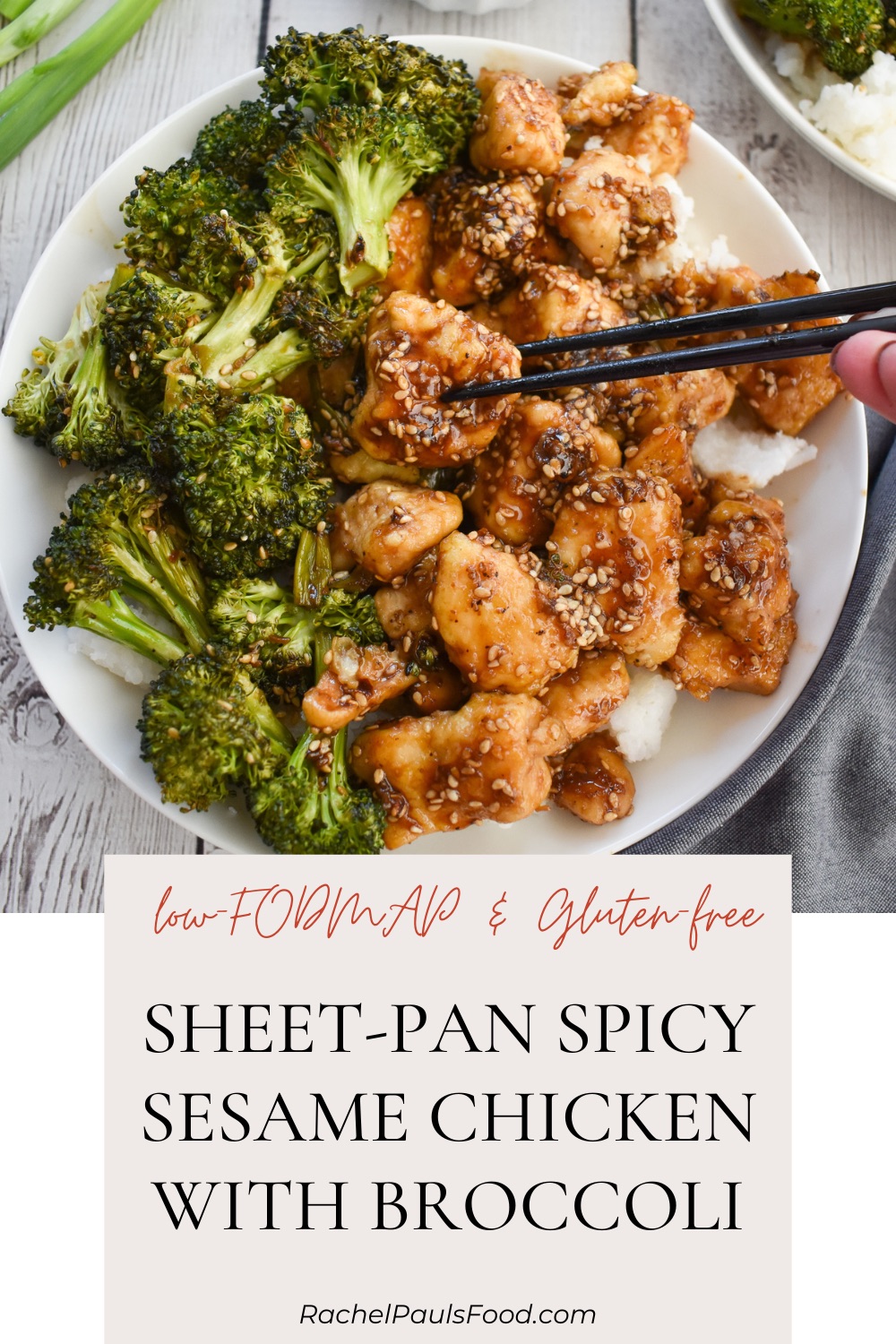 Although this recipe has not been lab tested, a single serving should be low-FODMAP based on the ingredients (*using available FODMAP data at time of posting)
Serves: 6
Prep time: 20 min
Cook time: 20 min
Total time: 40 min
Bake: 475 F
Equipment: large rimmed baking sheet
Ingredients
1 & 1/2 pounds (24 ounces) boneless, skinless chicken breasts, cut into 2-inch cubes and patted dry
1 large egg, room temperature
1/2 cup low-FODMAP, gluten-free all-purpose flour
1/2 teaspoon kosher salt, plus to taste
1/2 teaspoon black pepper, plus to taste
4 cups (300g) broccoli florets

75g is one low-FODMAP serving due to fructose

1 tablespoon toasted sesame oil; divided
2 tablespoons garlic-infused oil
2 tablespoons onion or shallot-infused oil

Infused oils do not absorb the difficult to digest FODMAPs so they are a great way to get flavor without the IBS flares. See my low-FODMAP Top 11 Tips and Tricks for other know-how!

6 stalks green scallions, cut into 1/2-inch slices

The green part of the scallion has no FODMAPs, avoid the bulb

1/2 cup (4 ounces) unsweetened, pure cranberry juice

30g (1 ounce) is one low-FODMAP serving

Serving does not become high in fructans until it reaches 4.5 ounce

1/3 cup low-sodium soy sauce, or gluten-free soy sauce

2 tablespoons is one low-FODMAP serving; select brands without added onion or garlic

1/4 cup light corn syrup or maple syrup
1 tablespoon rice vinegar or rice wine vinegar

Do not use seasoned rice vinegar, that product contains added sugars

1 tablespoon freshly grated ginger

FODMAPs are not detected in ginger

1/2-1 teaspoon crushed red pepper flakes (omit or adjust if you avoid spicy food)
1 teaspoon fennel seeds, crushed or ground
2 tablespoons brown sugar (optional, I suggest this if your cranberry juice is very sour)
1/4 cup toasted sesame seeds, plus for serving

1 tablespoon is one low-FODMAP serving

Baking spray
Directions
Preheat the oven to 475° F and line a rimmed baking sheet with aluminum foil or parchment, if desired. Spray with baking spray
Set up 2 medium shallow bowls or pie plates, one with your egg and the other with your low-FODMAP flour and a pinch of pepper
Whisk your egg, then toss your chicken with the egg in the bowl
Next, lightly dredge the chicken piece by piece in the flour and place on one side of your baking sheet
Drizzle with 1 tablespoon of each of the infused oils and 1/2 tablespoon of sesame oil
Lay your broccoli and scallion tips on the other side of the pan and toss with 1 more tablespoon of infused oils, 1/2 tablespoon of sesame oil, salt, and pepper
Bake for 12 minutes, then remove from oven to toss the veggies and flip the chicken pieces
Return to the oven another 3-5 minutes, until the chicken is cooked through (internal temp 165F)
While the chicken is baking, in a medium saucepan, combine the cranberry juice, soy sauce, corn syrup or maple syrup, rice vinegar, ginger, fennel seeds, and red pepper flakes, if using
Set over medium-high heat and bring the sauce to a boil. Boil 5-8 minutes, until the sauce thickens and reduces by about 1/3.  Taste, and add syrup, brown sugar, or spice if desired (depending on your cranberry juice, you may need additional sweetness)
Remove from heat and stir sesame seeds into sauce
Take chicken and broccoli from oven and pour 3/4 of the sauce over top of everything and toss lightly. Return to oven for about 2-3 minutes or until chicken is coated
Serve immediately over bowls of coconut rice, if desired, with remaining sauce on the side and additional sesame seeds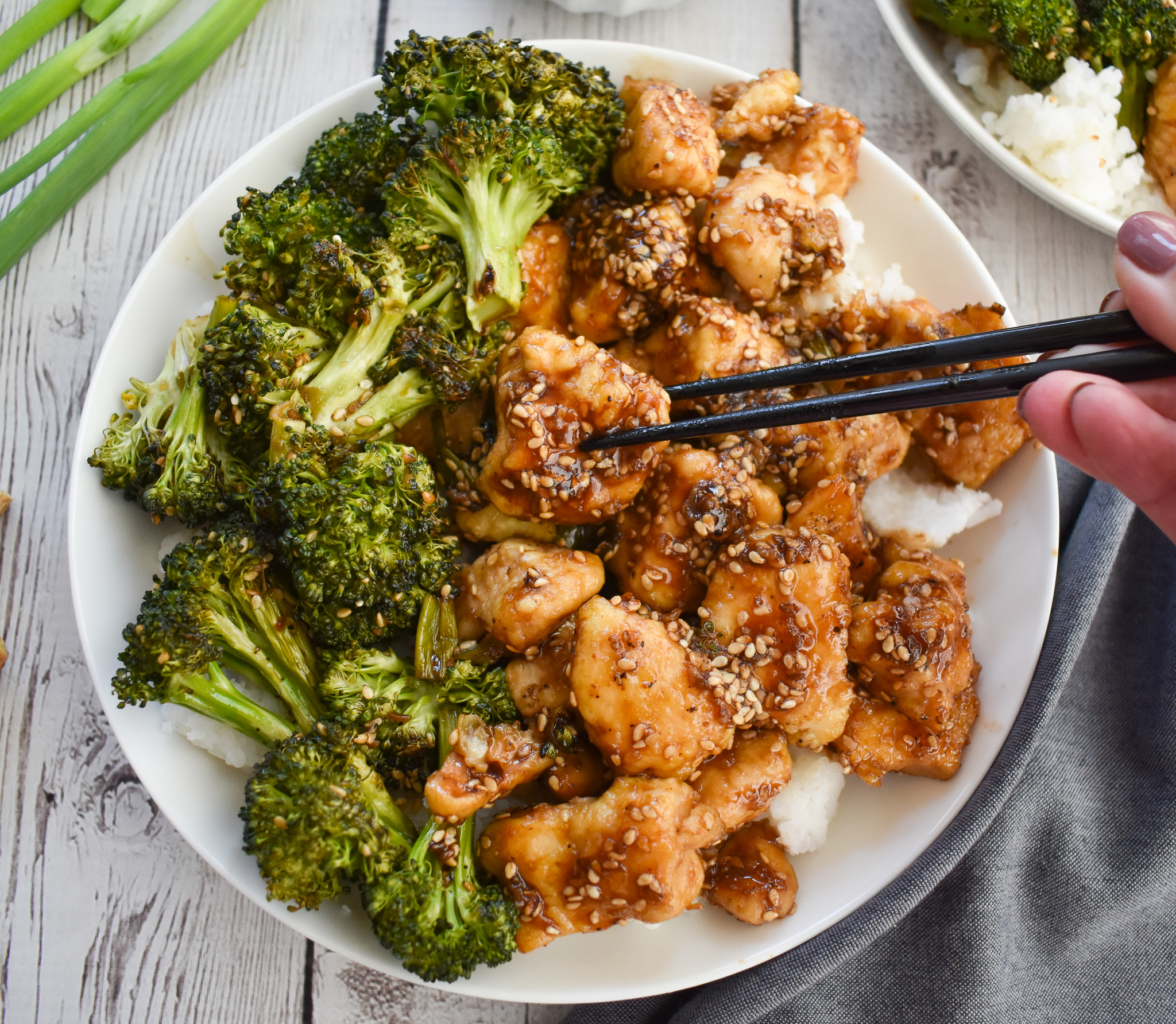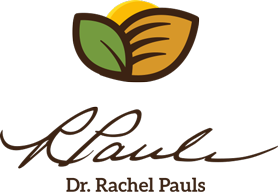 Printer Friendly Version
Comments Rating
( reviews)