Low-FODMAP "Pumpkin Pie" Layer Cheesecake Bars; Gluten-free, Lactose-free
August 9, 2020
Printer Friendly Version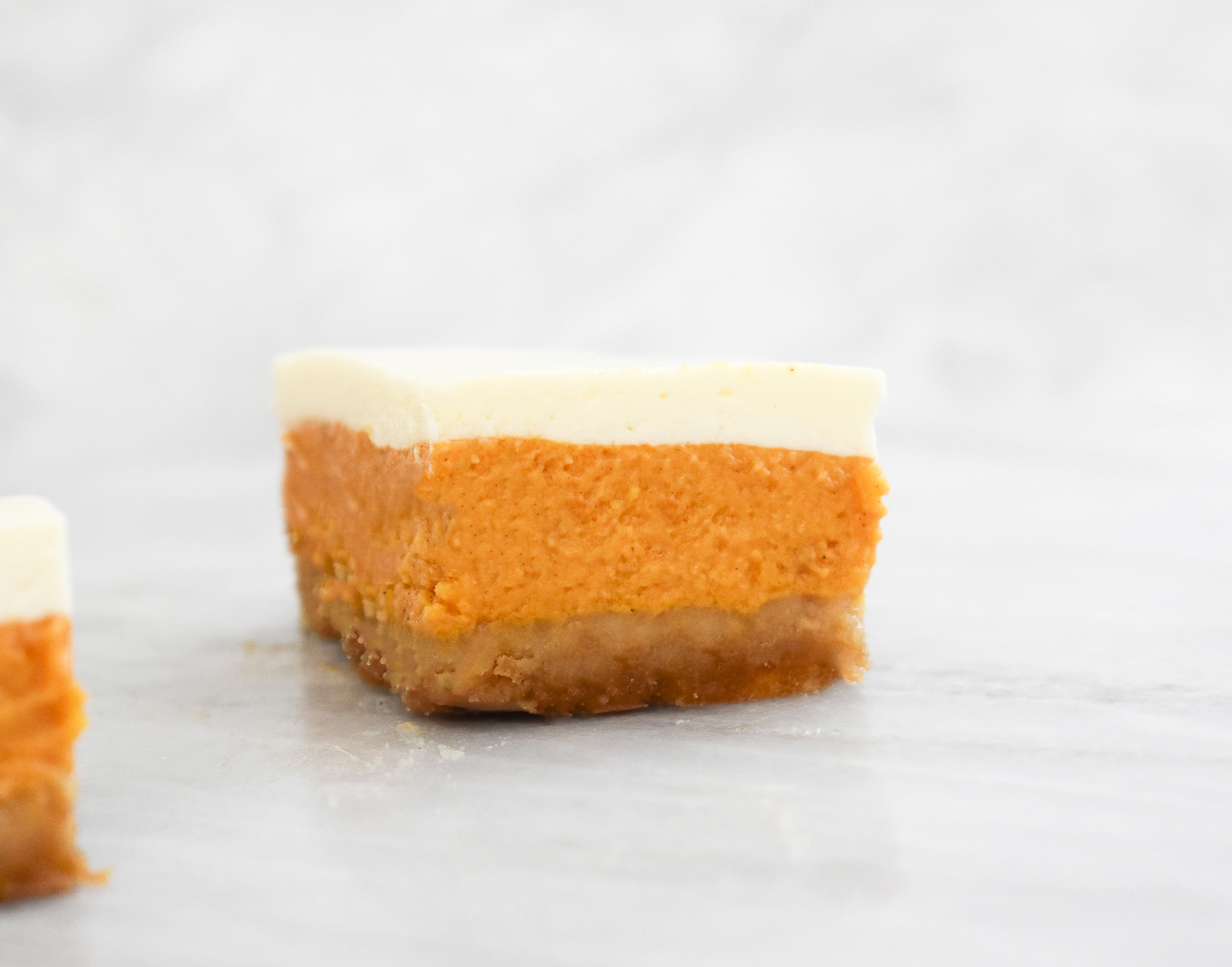 This is the recipe you have been waiting for.
Low-FODMAP "Pumpkin Pie" Layer Cheesecake Bars with a low-FODMAP Cookie Crust.  Not even kidding.  Try not to eat the whole pan!
I love pumpkin recipes, and the availability of canned pumpkin makes them easy all-year round :). Don't you just love that?
Pumpkin provides great color, moisture, nutrients and that wonderful spiced flavor to any low-FODMAP dessert.
These low-FODMAP Pumpkin Pie Cheesecake Bars take a few steps, but are really quite simple, with straightforward ingredients you may already have.  The three layers make them look so fancy, and you can make them even more impressive by adding a topping of low-FODMAP Whipped Cream.
This recipe will be a guaranteed hit at your home, office party or any gathering.
You may also love my:
Or check out over 350 more low-FODMAP recipes on the blog!  IBS-friendly.
Be healthy and happy,
Rachel Pauls, MD
---
Low-FODMAP Pumpkin Pie Layer Cheesecake Bars; Gluten-free, Lactose-free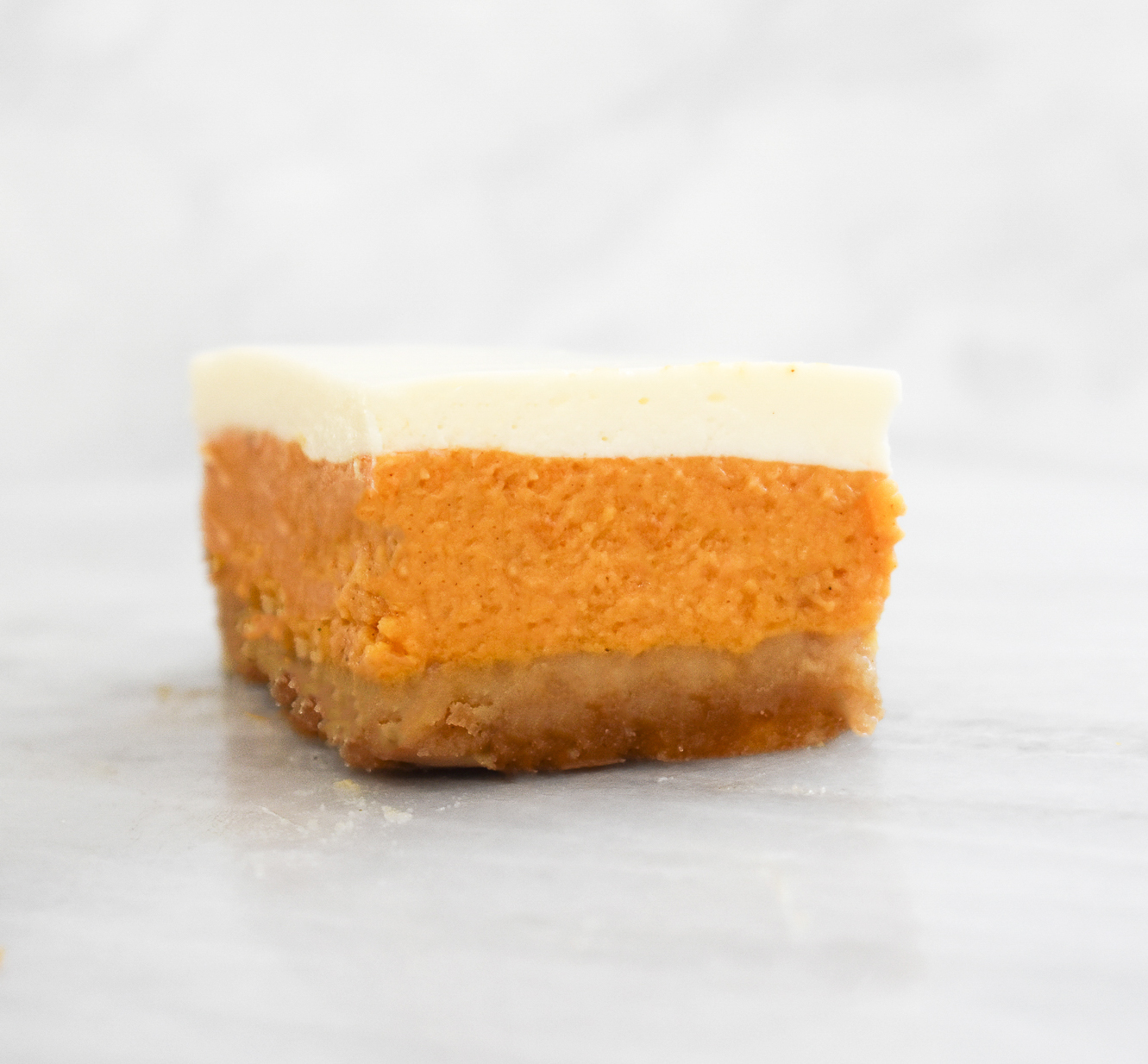 Although this recipe has not been tested, a single serving should be low-FODMAP based on the ingredients
Serves 20
Prep time: 15 min + chilling
Bake time: 32-45 min; divided
Total time: 47-60 min + chilling
Add 20 minutes: 10 minutes prep time and 10 minutes bake time plus cooling if you have not pre-prepared the low-FODMAP cookie crust (the chilling step before baking the crust is not as necessary since you are not pressing this crust up the sides of your pan)
Equipment: 11 by 9 inch pan, lined with parchment paper if desired to ease removal
Modified from: https://www.delish.com
Ingredients
For Base Layer:
Low-FODMAP Cookie Crust, prepared and cooled in lined 11 by 9 inch pan outlined above (see link for recipe)

I used 10.5 ounces (300g) low-FODMAP Vanilla Wafer cookies and about 1.5 tablespoons coconut oil (can also use butter)

Since the cookies I used are more buttery, I used less oil for my crust than the recipe calls for

This was baked at 350 F for 10 minutes, as per the directions in the recipe
I let mine cool completely before filling- if you use a recently baked crust then adjust the bake time for the cheesecake layer to be slightly less
For a dairy-free, vegan crust, try my low-FODMAP Oat and Nut Crust instead, or for a shortbread style crust use my low-FODMAP Tart Crust recipe 🙂
For the Pumpkin Cheesecake Layer:
One 8 oz. package lactose-free cream cheese, softened
3/4 cup sugar
One 15 ounce can pure pumpkin

1/3 cup (2.6 ounces) is one low-FODMAP serving

1 & 1/2 teaspoons pumpkin pie spice
3 large eggs, room temperature
For Creamy Top Layer
2 cups lactose-free sour cream
1/2 cup sugar
1/2 teaspoon vanilla extract
Directions
Preheat oven to 350 F, place rack in center of oven
To make the low-FODMAP Pumpkin Cheesecake Layer:
In large bowl of an electric mixer, beat lactose-free cream cheese, sugar, canned pumpkin, pumpkin pie spice, and eggs on medium speed until well blended
Pour over prepared and cooled crust
Place in oven for 28 to 35 minutes, or until just set in center (should only have a very slight jiggle)

As ovens vary, yours may need more or less time
Glass baking pans may take longer than aluminum, if you use a metal pan you will want to check a few minutes prior to the end of the bake time for doneness
If you're on the fence about whether they are done, then they probably need 5 minutes more. I have underbaked these a few times when I took them out too soon 😊

While cheesecake layer is baking, prepare the top layer
To make the Creamy Top Layer:
In small bowl, mix lactose-free sour cream, sugar, and vanilla extract by hand
Once removed from oven, pour sour cream mixture over pumpkin cheesecake layer and spread evenly
Replace in oven an additional 5-10 minutes or until topping is set
Cool completely, about 4 hours prior to serving, or overnight is best

Slice with a cold knife and serve chilled as this layer cheesecake gets soft rather quickly

Enjoy!!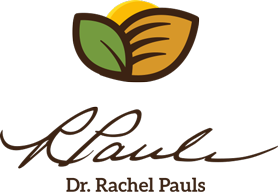 Printer Friendly Version
Comments Rating
( review)