Low-FODMAP Pineapple Chicken Sweet & Sour Stir-fry; Gluten-free, Dairy-free
June 12, 2018
Printer Friendly Version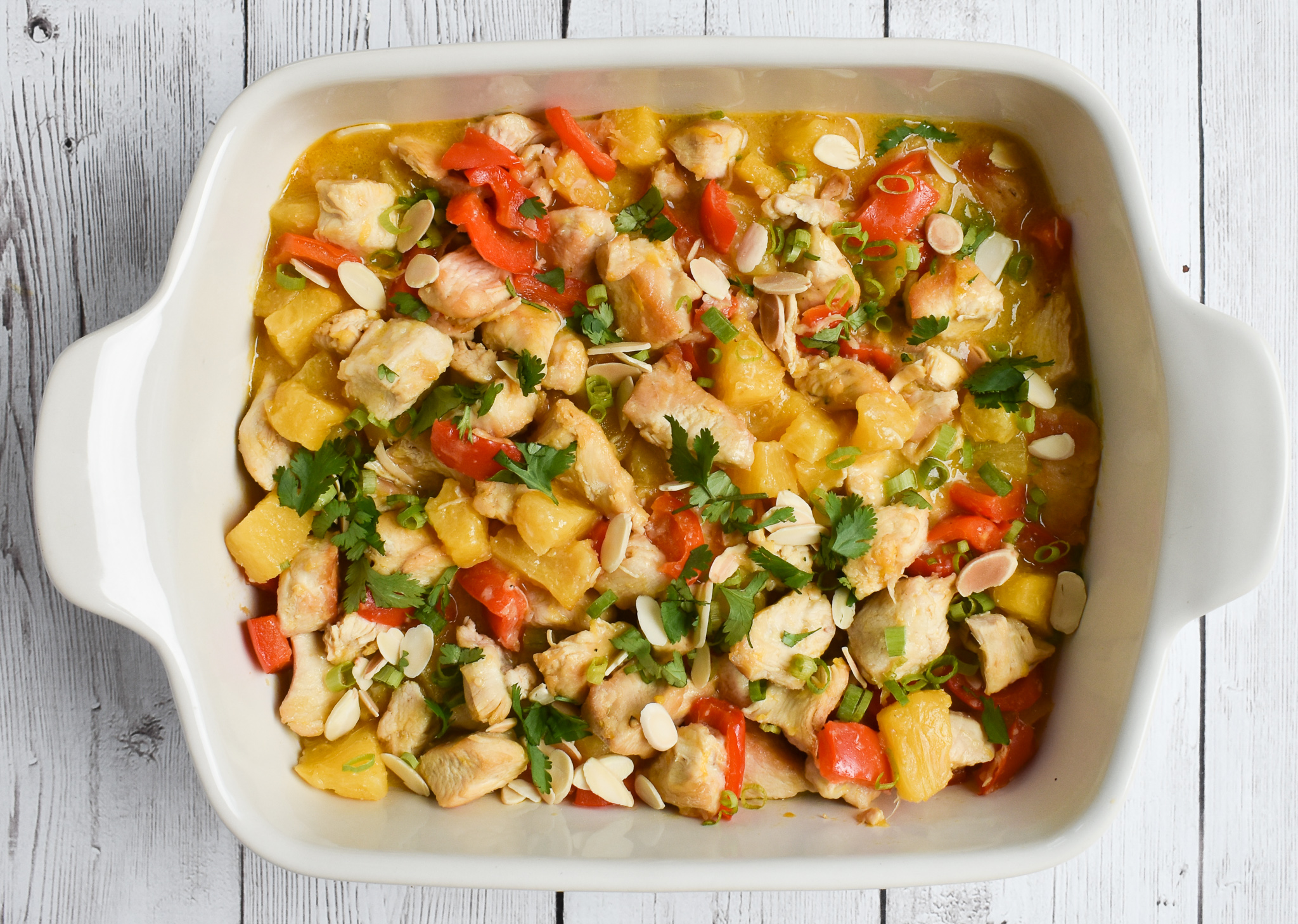 Low-FODMAP Pineapple Chicken Stir-Fry is an amazing dinner with a tropical twist.  The sauce is a tangy complement to the tender chicken, and it goes beautifully with rice or other low-FODMAP vegetables.  Some would call this a low-FODMAP Sweet and Sour Chicken recipe.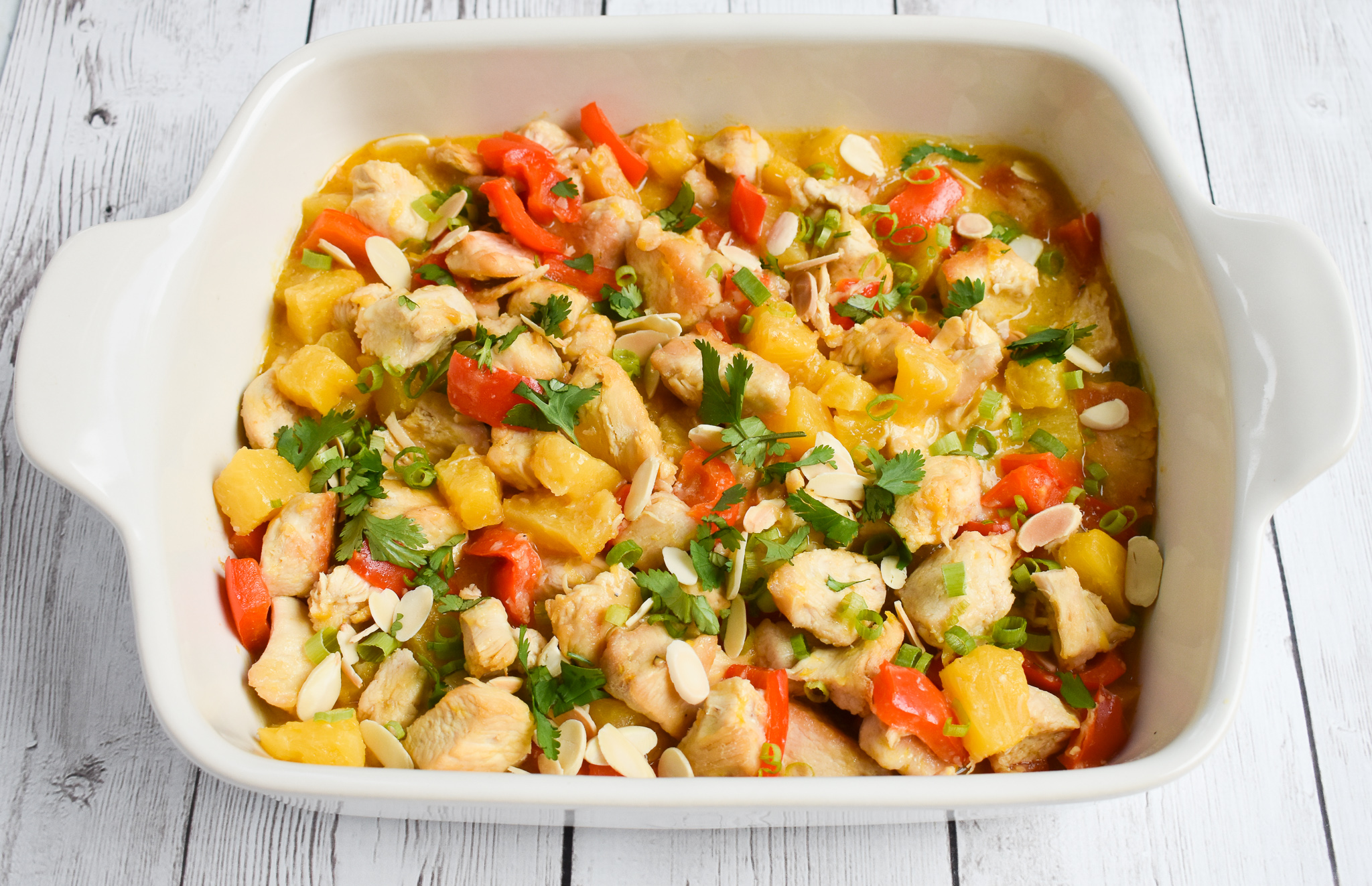 Pineapple is one of my favorite low-FODMAP fruits, since it feels like a dessert when you are eating it.  Plus it is super healthy!  Pineapple is packed with Vitamin C, minerals, fiber and anti-oxidants to boost your immune system. And you can have a full cup for a low-FODMAP serving (For this recipe one medium pineapple provided the exact amount for the juice and the solid fruit).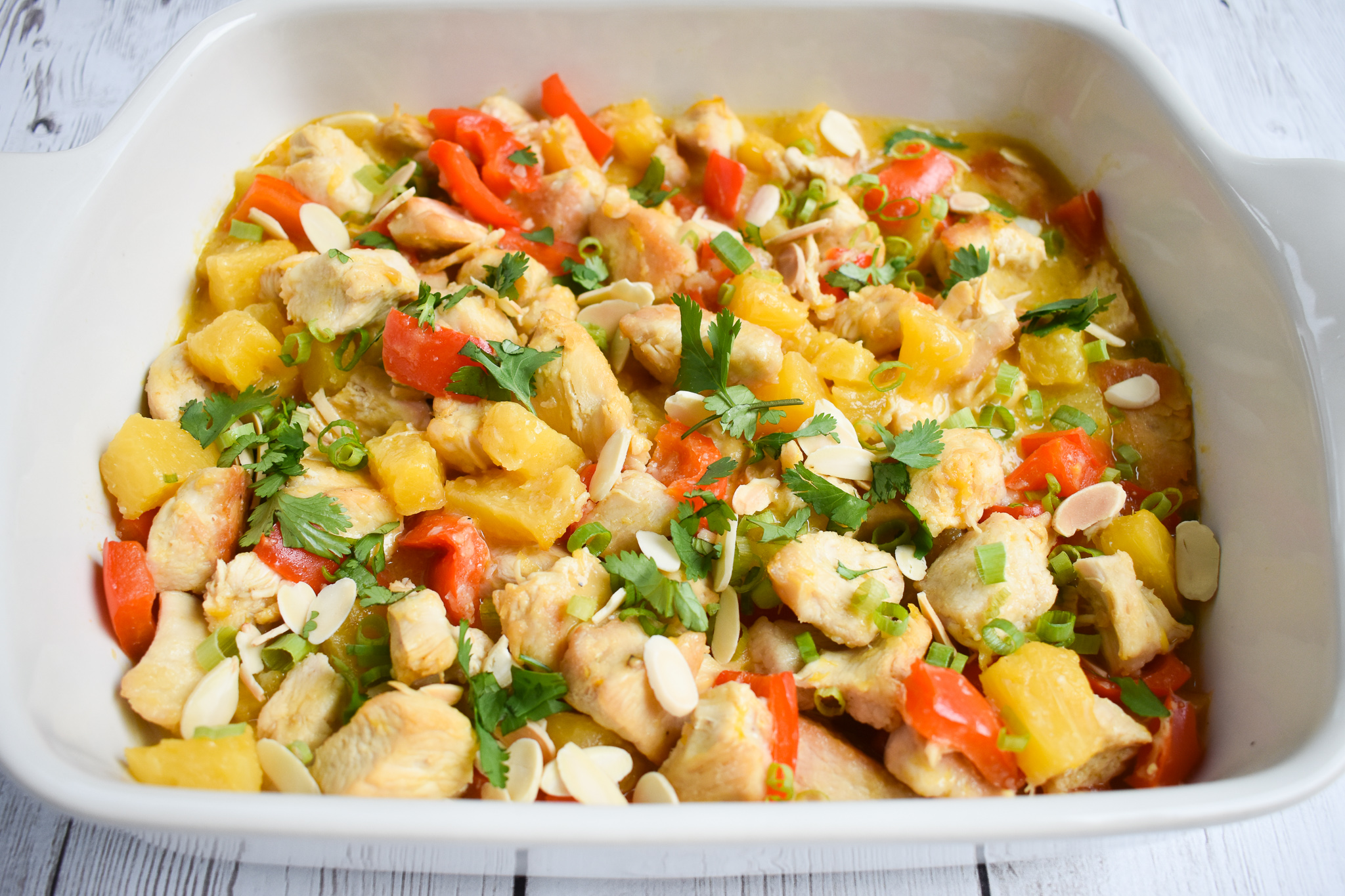 Check out my blog for more ideas… we have over 300 more low-FODMAP recipes.
You may also love:
Be healthy and happy,
Rachel Pauls, MD
---
Low-FODMAP Pineapple Chicken Stir-fry; Gluten-free, Dairy-free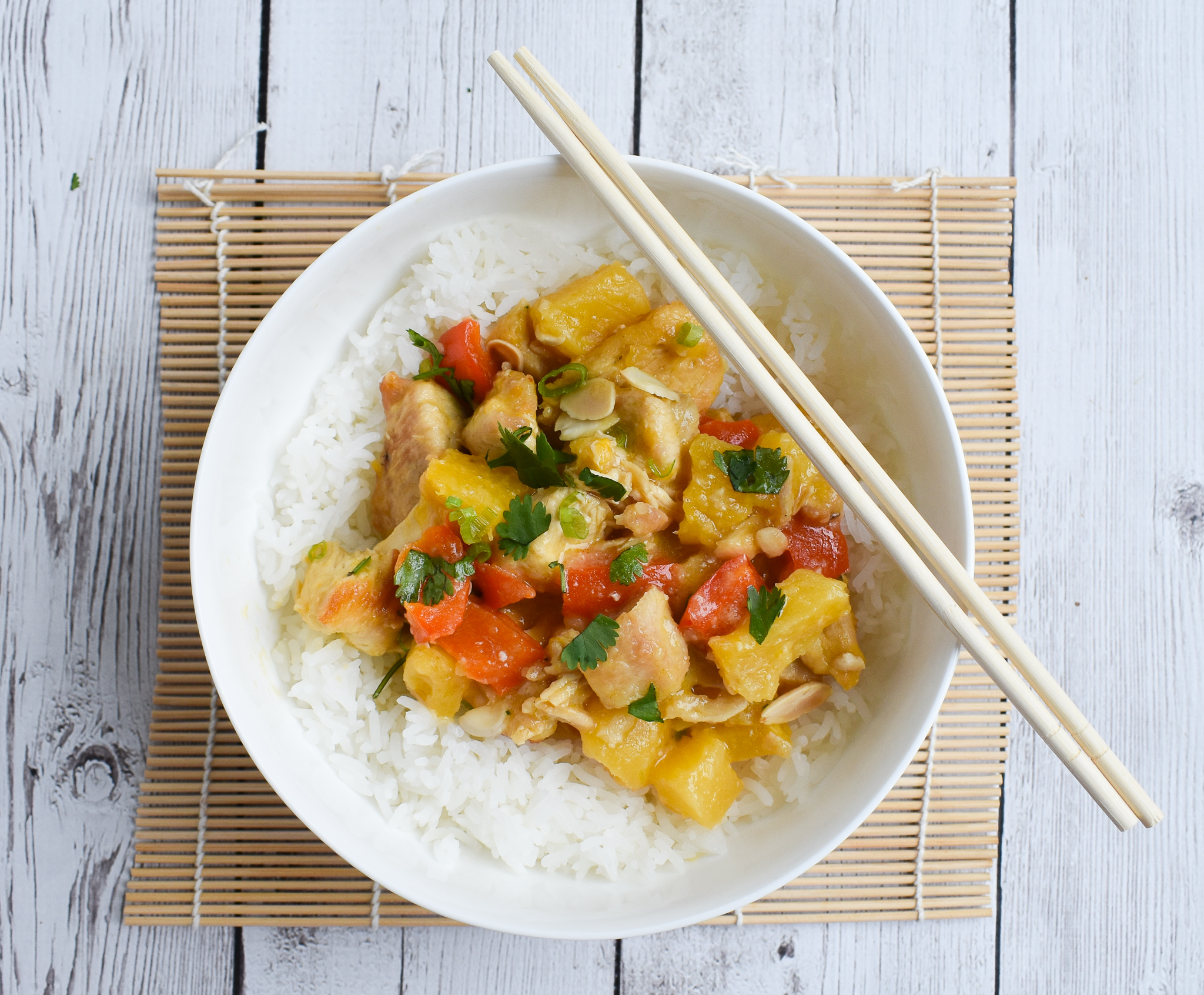 Although this recipe has not been tested, a single serving should be low-FODMAP based on the ingredients
Servings 5-6
Prep time 10 min
Cook time: 15 min
Total time: 25 min
Ingredients:
For the low-FODMAP Pineapple Marinade
Juice of one orange (about 1/2 cup)
1/2 cup pineapple juice, from fresh pineapple (very ripe is best)

I used 2 cups of chopped pineapple to yield this amount of juice
Tip 1:  Canned fruit is often higher than fresh fruit in FODMAP levels as the manufacturers add concentrates to make all their products taste uniform.  This processing also leaches nutrients from the fruit.  MUCH better to use fresh fruit if you can!
Tip 2:  I learned something about pineapple- to test for ripeness, sniff the 'butt end' of the pineapple (the end without the leaves).  If it smells sweet and fragrant, then it will be ripe!

This tip always makes me chuckle 😉

Tip 3: To get the juice, cube the pineapple then blend it, and strain the juice

I used a mini processor and pressed it through a small strainer.  Seems like a hassle, but in reality took about 5 minutes

2 tablespoons low-sodium soy sauce (gluten-free)
2 tablespoons cornstarch
Juice of 2 limes (about 6 tablespoons)
2 teaspoons light corn syrup
1/2 teaspoon Tabasco Original Sauce or other low-FODMAP hot or Sriracha sauce (check ingredients to ensure low-FODMAP)
For the low-FODMAP Pineapple Chicken
24 ounces boneless chicken breasts or thighs, cut in ½ inch cubes
1/8 teaspoon each: sea salt and freshly ground black pepper
2 tablespoons cornstarch
2 tablespoons canola or olive oil
2 tablespoons rice wine or other cooking wine
2 cups pineapple, cut into 1 inch cubes
1 cup red pepper, cut into 1 inch cubes
1-2 scallions, finely sliced- USE GREEN TIP PORTION ONLY
Garnish (optional)

About 1/4 cup (maximum 40 g if using almonds) of thinly sliced almonds or crushed peanuts
Fresh cilantro
Directions:
Place all ingredients for low-FODMAP marinade in a small bowl and set aside
Place chicken in a second bowl, season with salt and pepper
Add cornstarch to chicken and mix to coat
Heat a wok or heavy saucepan over high heat and add oil
Place chicken pieces in wok and stir fry tor 2-3 minutes
When chicken turns opaque, add the rice wine and fry another 2-3 minutes until the chicken is completely cooked through
Add the cubed pineapple and red pepper and toss together, then cook about 30 seconds
Pour the low-FODMAP marinade into the pan and bring to a boil
Sauce will start to thicken and become slightly sticky
Add the nuts and scallion and cook only 20 more seconds
Transfer to serving dish and garnish with cilantro
Serve immediately (goes perfectly with white rice)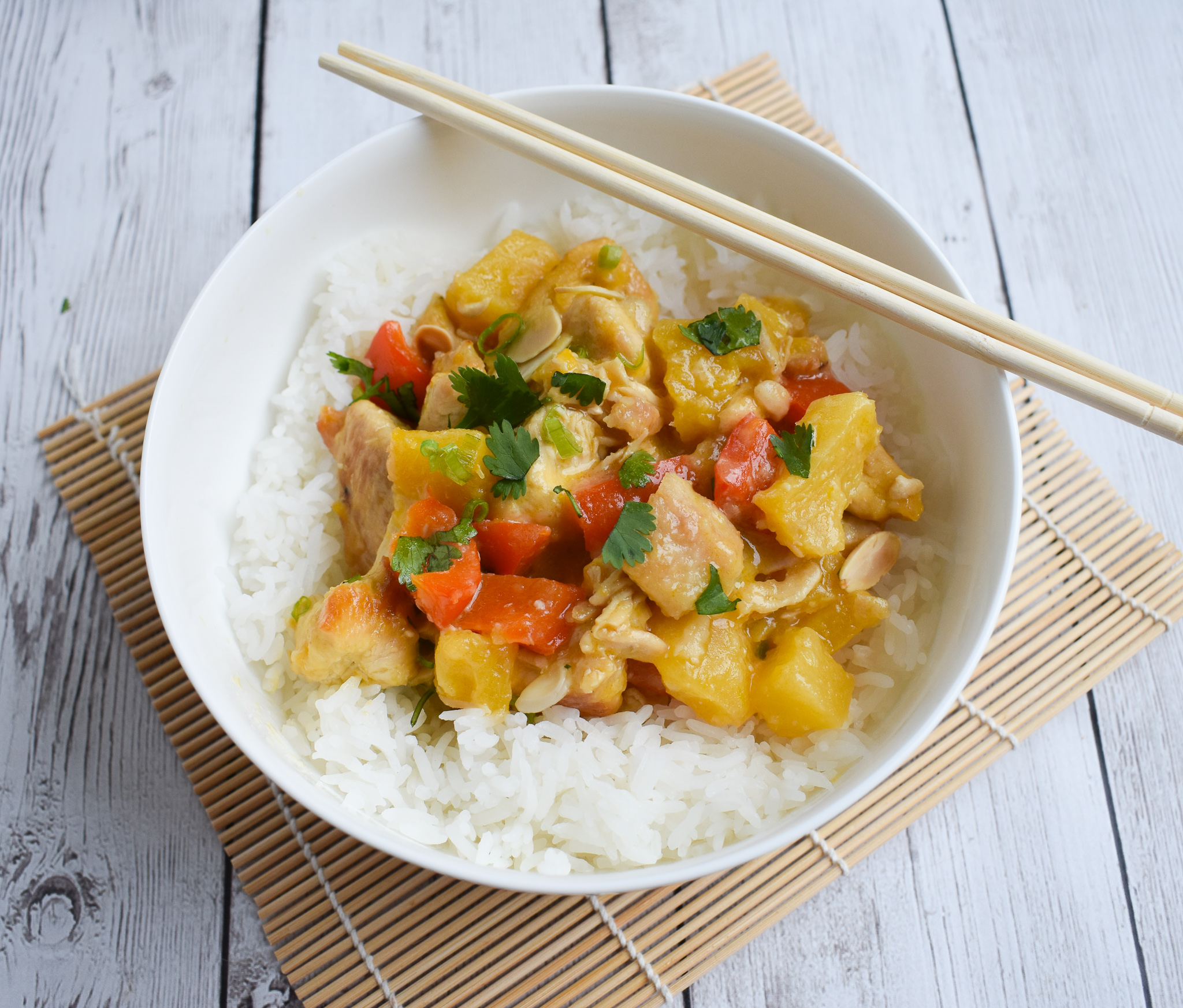 This tastes so sweet and sour and the low-FODMAP Pineapple chunks are perfection…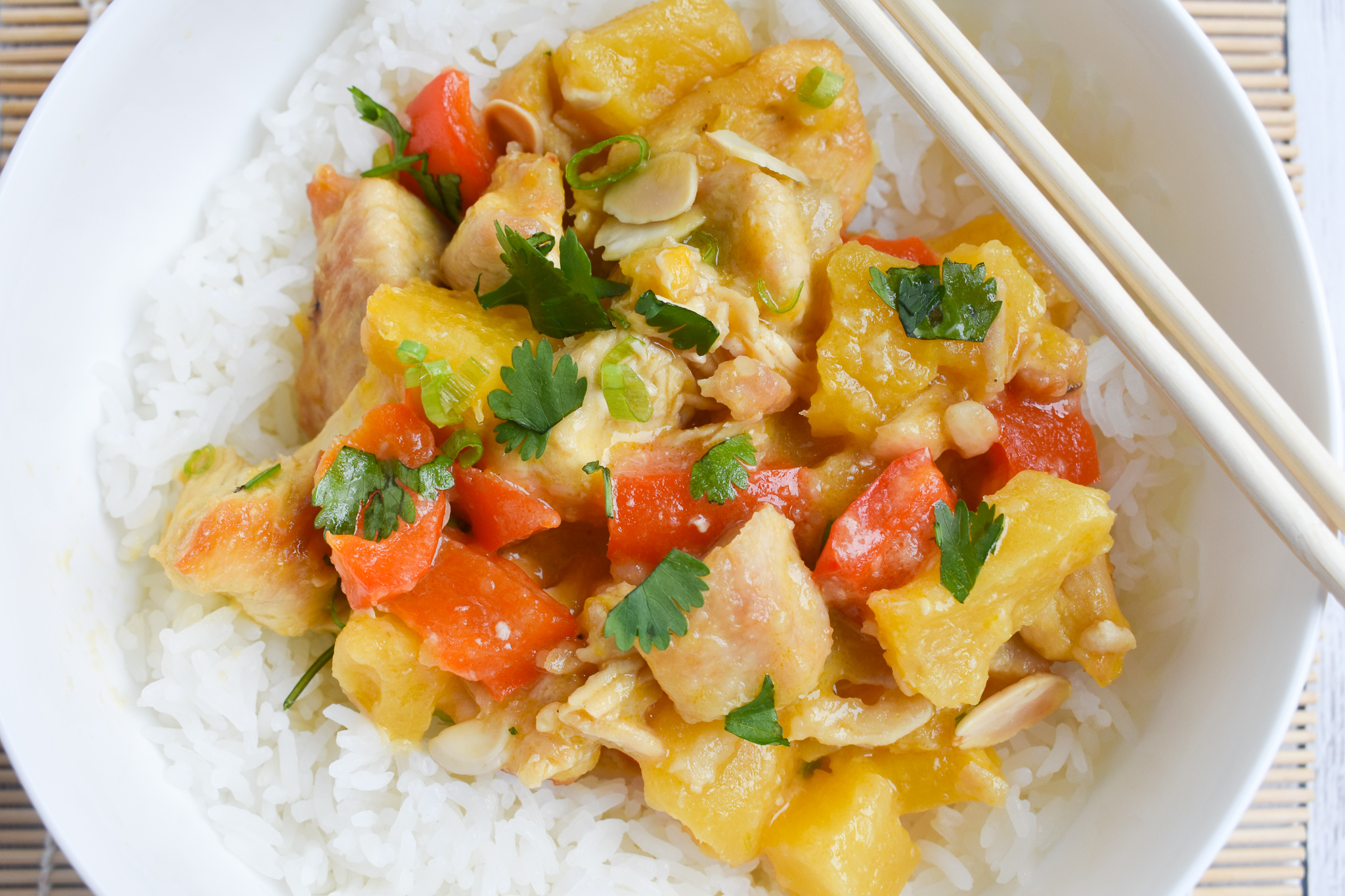 Go on- try a bite of this low-FODMAP Pineapple Chicken Sweet and Sour Stir-fry!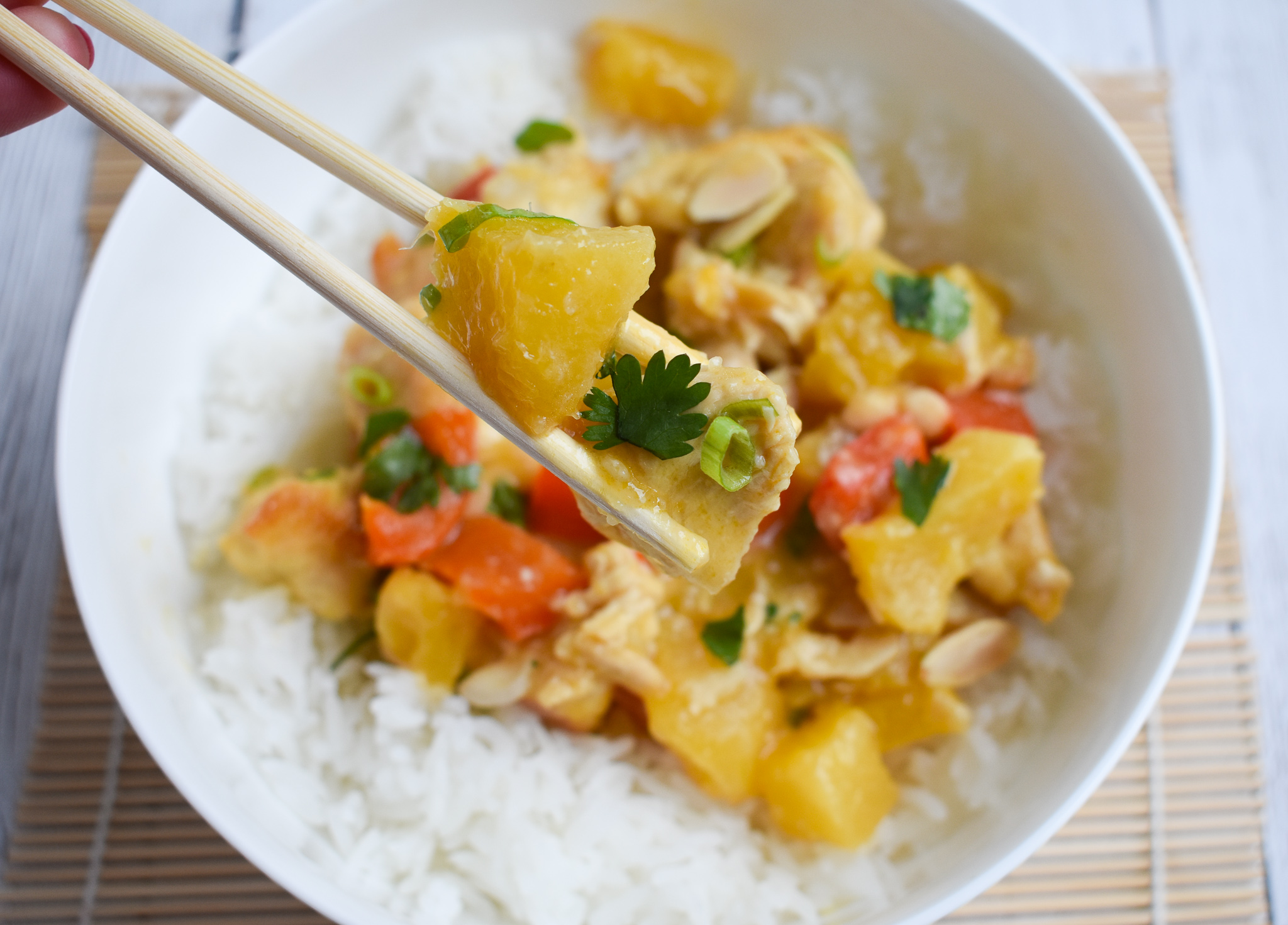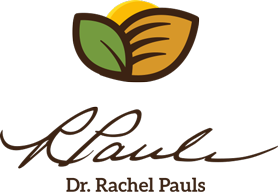 Printer Friendly Version
Comments Rating
( reviews)