Low-FODMAP Air Fryer Caramelized Bananas; Gluten-free, Vegan
July 28, 2023
Printer Friendly Version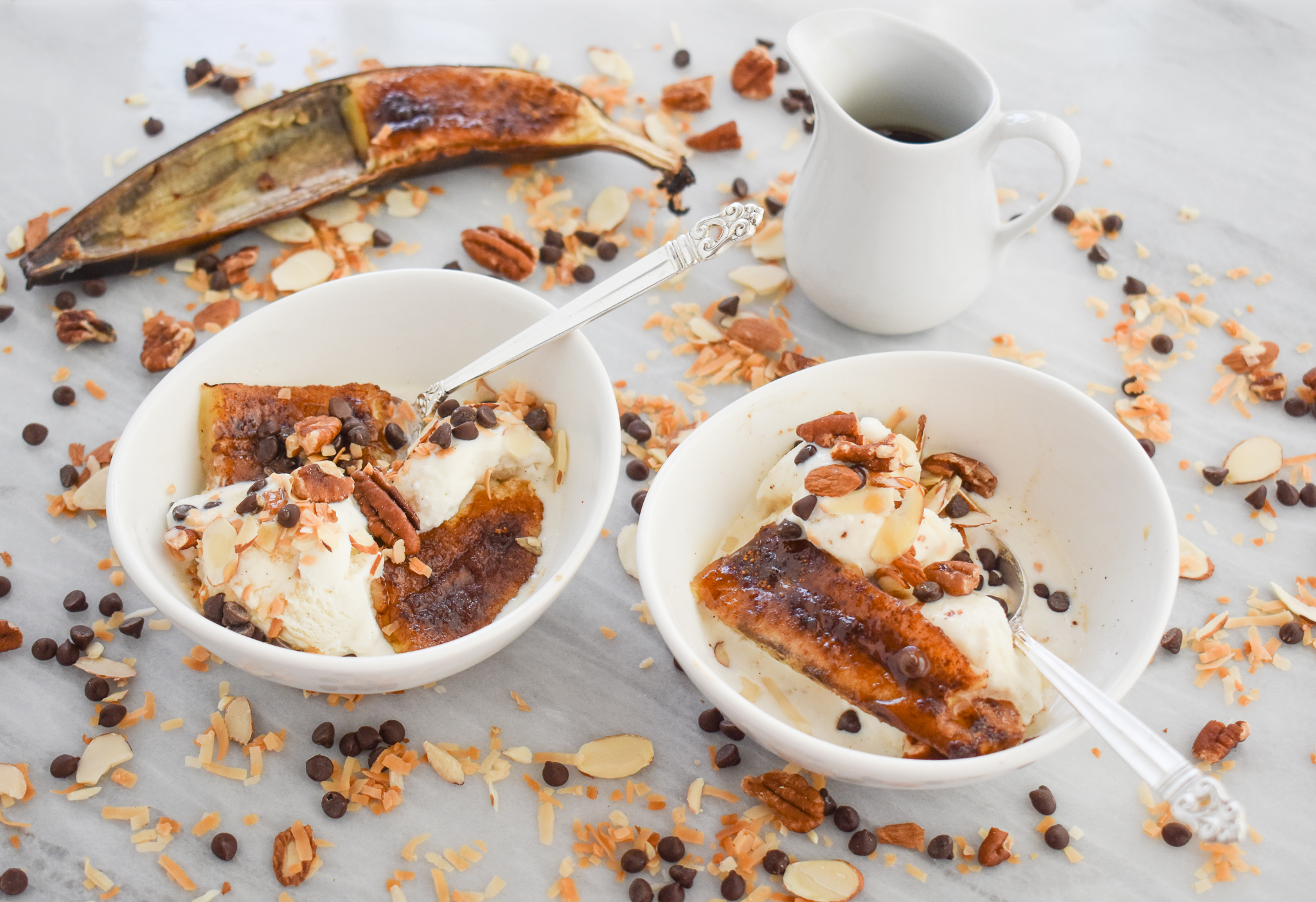 Growing up, I would go camping every summer.  One of my favorite desserts was 'banana boats'.  We would simply put a banana in aluminum foil in the fire, then after cooking, it, slice it down the length, and stuff it with chocolate chips, marshmallows, peanut butter and other goodies.
Slightly altering that recipe, these air-fryer bananas slice the banana lengthwise, and use the air fryer.  This way we can add cinnamon and sugar, and caramelize them on the surface.  The baking makes the banana sweet, and the sugar takes it to the next level.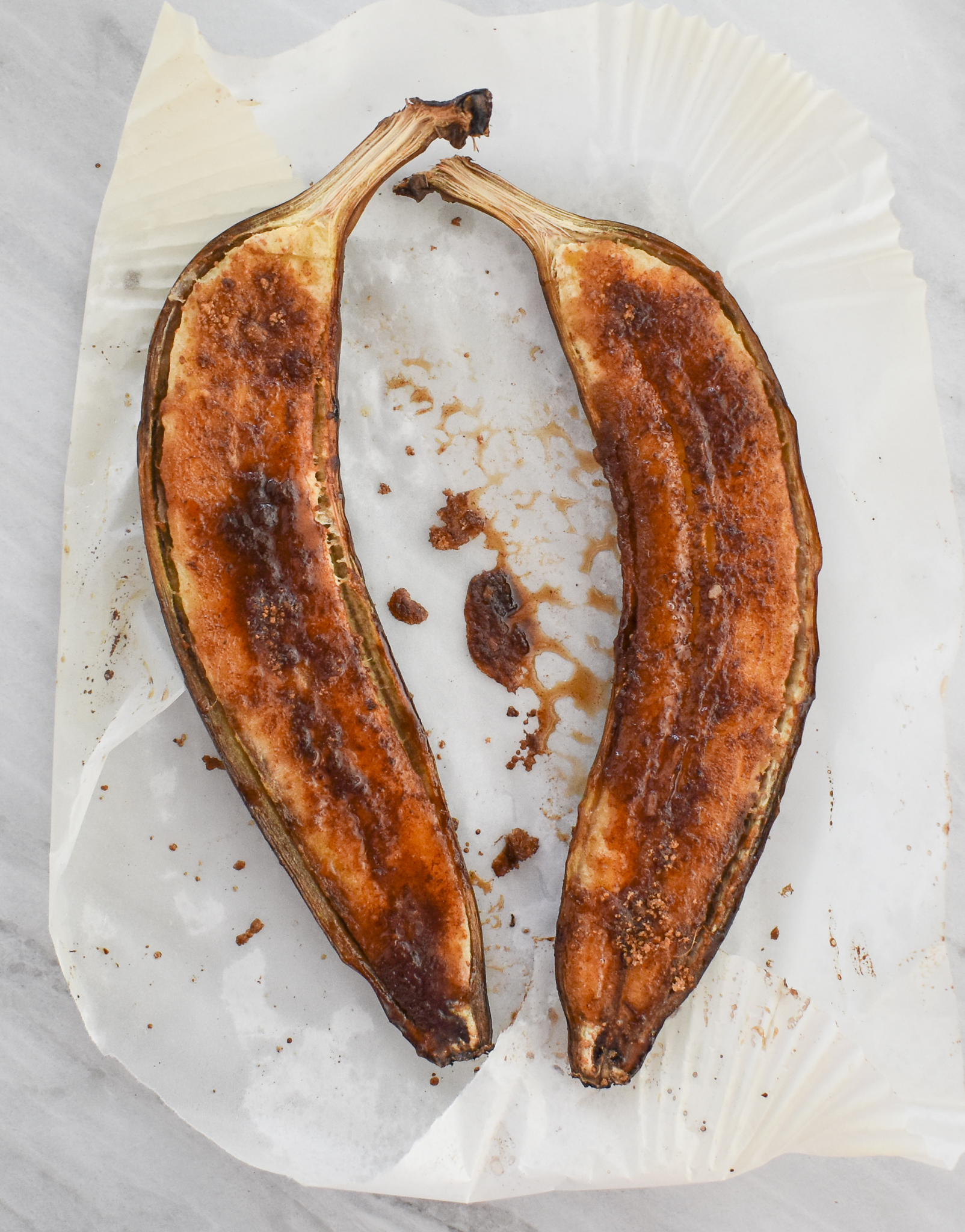 Even though you can't have a huge amount of the banana, it is an amazing addition for a dessert, that is not too 'naughty'.
You are going to love this as much as my baked Low-FODMAP Cinnamon Sugar Banana Chips.
FODMAP fact: Although bananas are often considered a high-FODMAP food, pay attention to ripeness and portion size.  The riper the banana, the higher the amount of sugars in it (hint: they taste sweeter) and a corresponding higher FODMAP content.  On the FODMAP elimination phase you should enjoy about 1/3 ripe banana per serving.  However, if you select unripe, uncooked bananas to consume, you can enjoy a whole medium sized fruit as a single serving.  **NOTE: Since this recipe involves baking the bananas, the heating process 'ripens' them in the cooking, so we use the ripe measurement.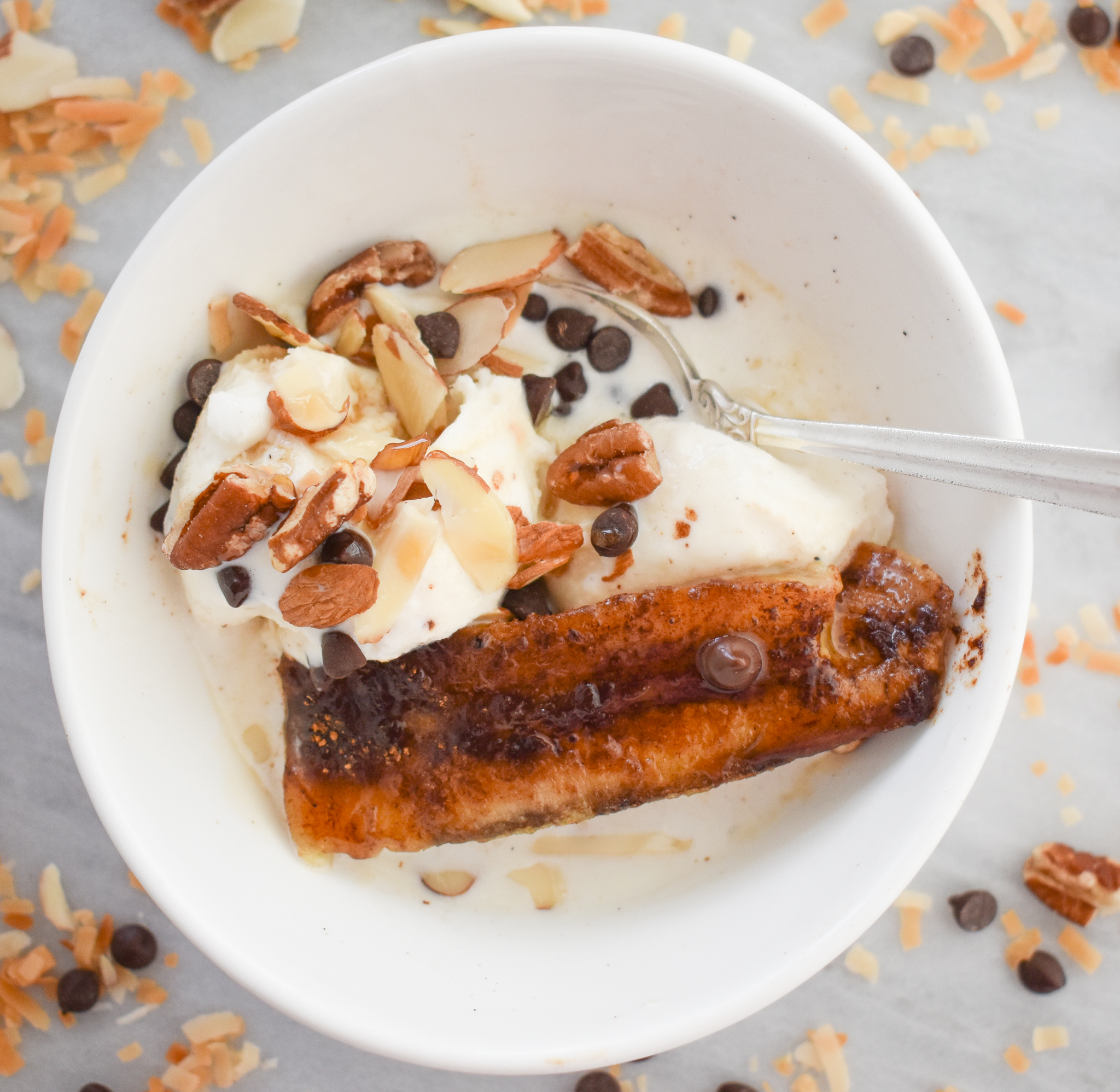 You may also love:
Or check out over 500 more low-FODMAP recipes on the blog.  IBS-friendly!
Be healthy and happy,
Rachel Pauls, MD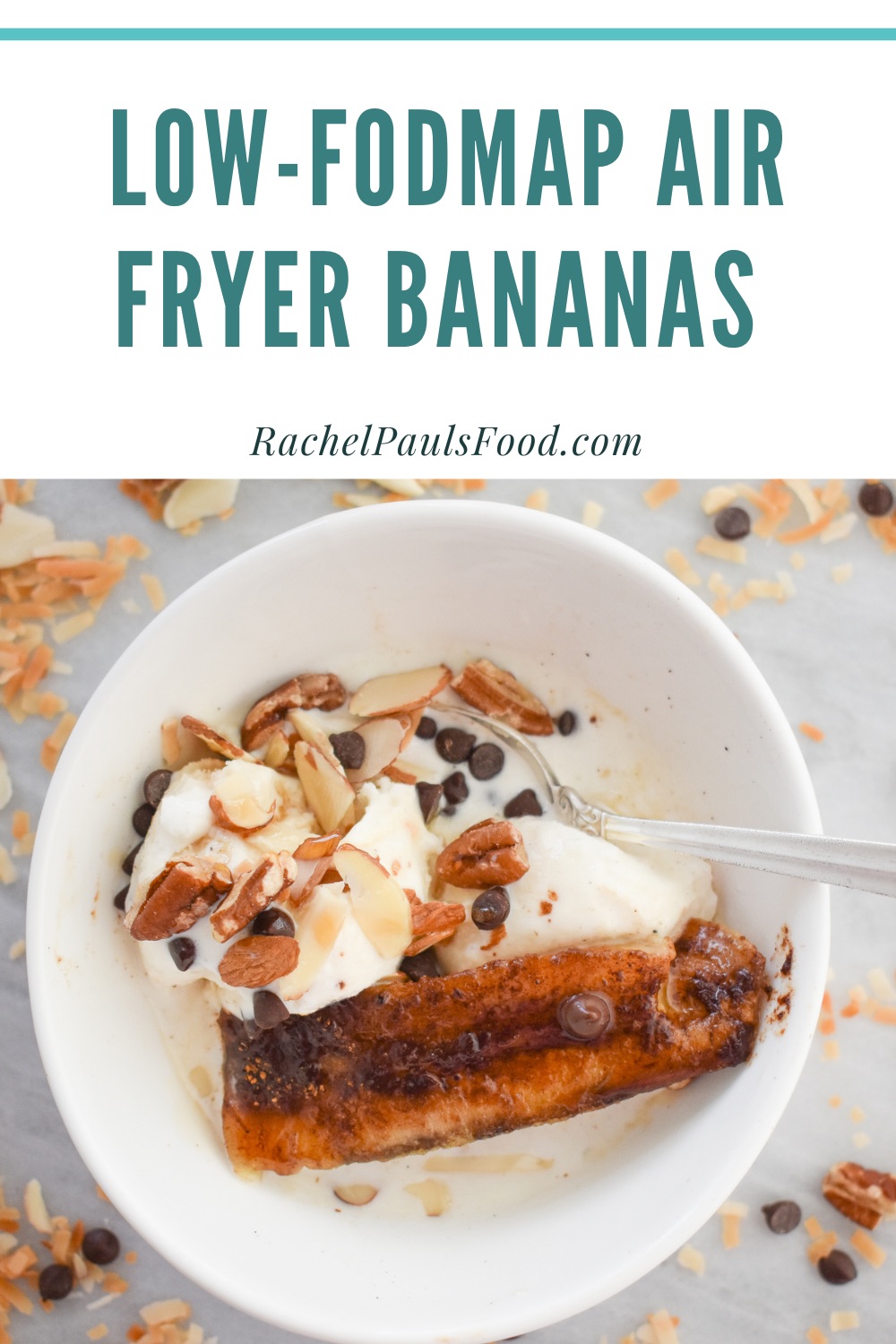 Although this recipe has not been lab tested, a single serving should be low-FODMAP based on the ingredients (using available FODMAP data at time of testing)
Serves: 6 (35g banana per serving)
Prep time: 5 min
Bake time: 10 min
Total time: 15 min
Bake:  400F air fryer
Equipment: air-fryer, parchment liners (if desired)
Ingredients  
2 large bananas

35g banana is one low-FODMAP serving
One 160g banana unpeeled will result in about 105g after peeling

1 tablespoon brown sugar
1/2 teaspoon cinnamon
Pinch of kosher salt
Olive oil or avocado oil baking spray
Garnish options: low-FODMAP Caramel Sauce, Hot Fudge Sauce, semisweet chocolate chips, whipped cream, ice cream, chopped nuts
Directions
In a small bowl, stir the brown sugar, cinnamon, and salt
Without peeling the bananas, cut them in half lengthwise
Line the air fryer basket with a parchment paper liner
Arrange the 4 banana halves, cut side up, in a single layer in the air fryer on the parchment (you may have to work in batches). Spray slices with olive oil spray or other baking spray
Spoon the brown sugar and cinnamon mixture over the slices
Bake in the air fryer at 400°F for 5-10 minutes, until the topping is browned and bubbling
Serve with mini chocolate chips, low-FODMAP Caramel Sauce, Hot Fudge Sauce, whipped cream, ice cream, chopped nuts, maple syrup, or peanut butter.  Delicious!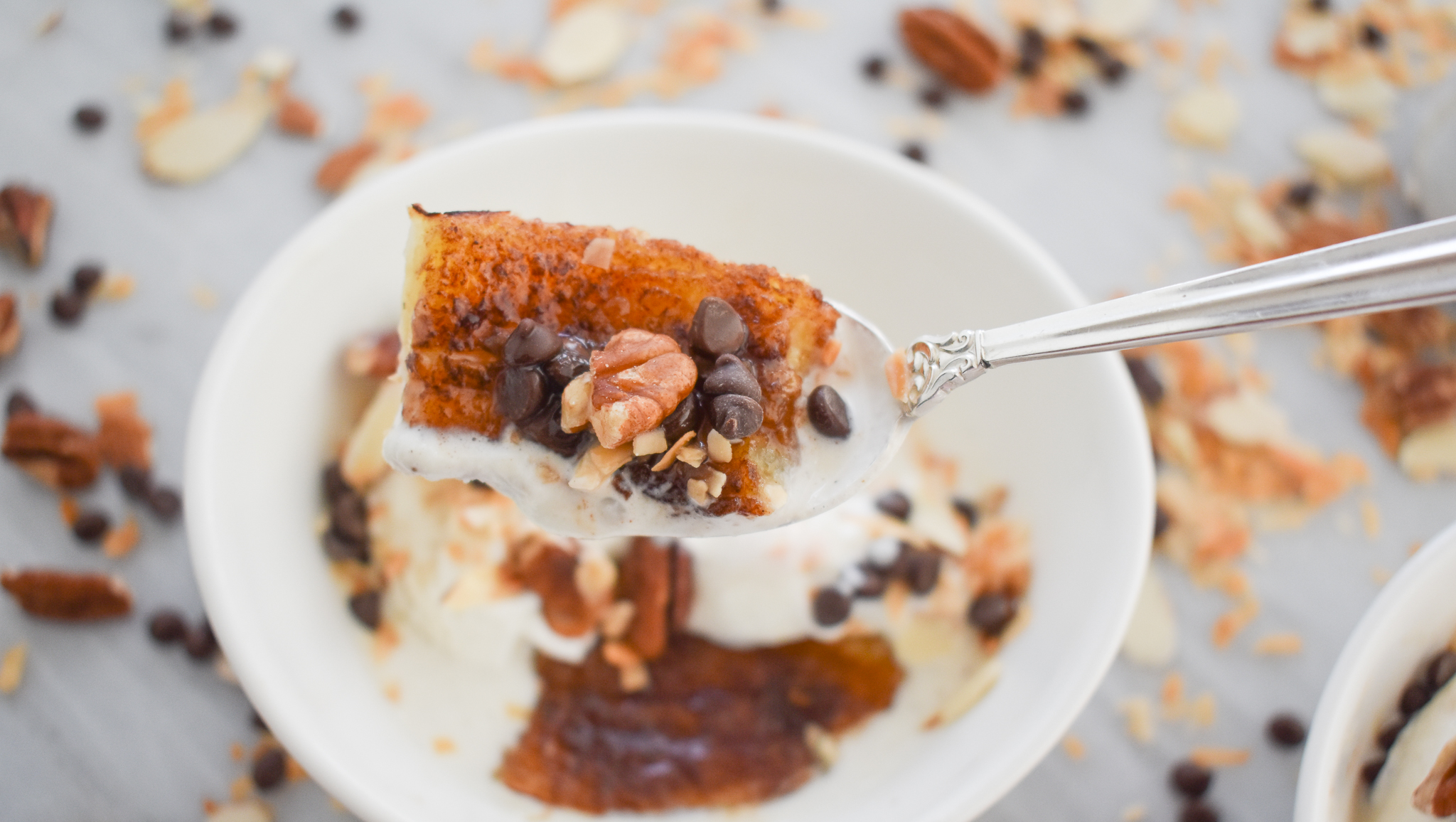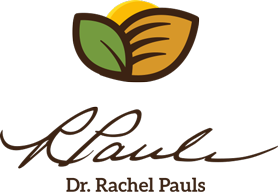 Printer Friendly Version
Comments Rating
( reviews)