Low-FODMAP Cinnamon 'Swirl' Bread; Gluten-free, Dairy-free
May 17, 2020
Printer Friendly Version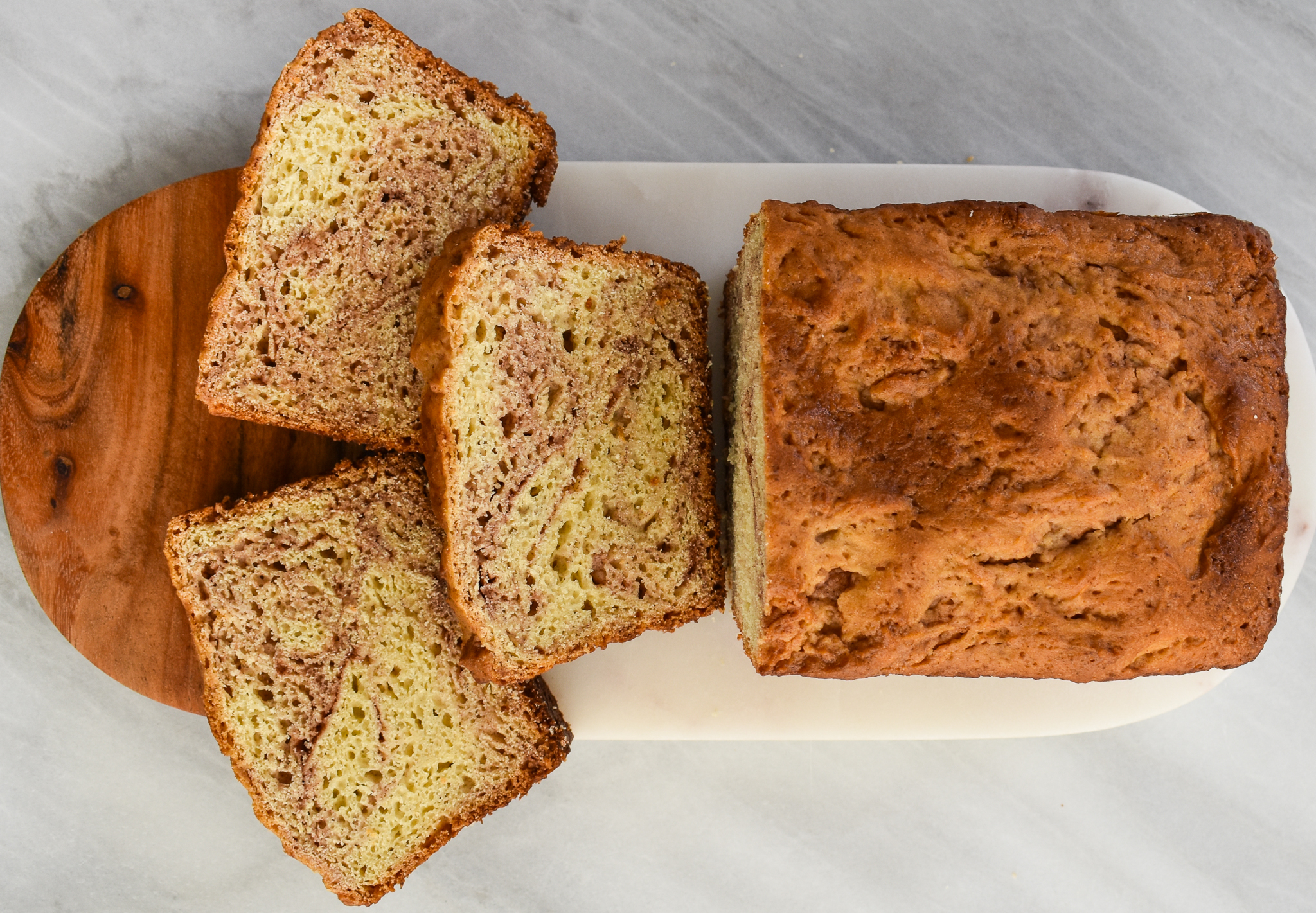 One of my son's favorite things for breakfast is cinnamon swirl bread.  He loves it toasted and buttered, and eats 3 slices almost every day.  Or at least he used to!
Since the coronavirus quarantine started, we have not had any cinnamon bread at all.  I can't find it online and we aren't going to the store.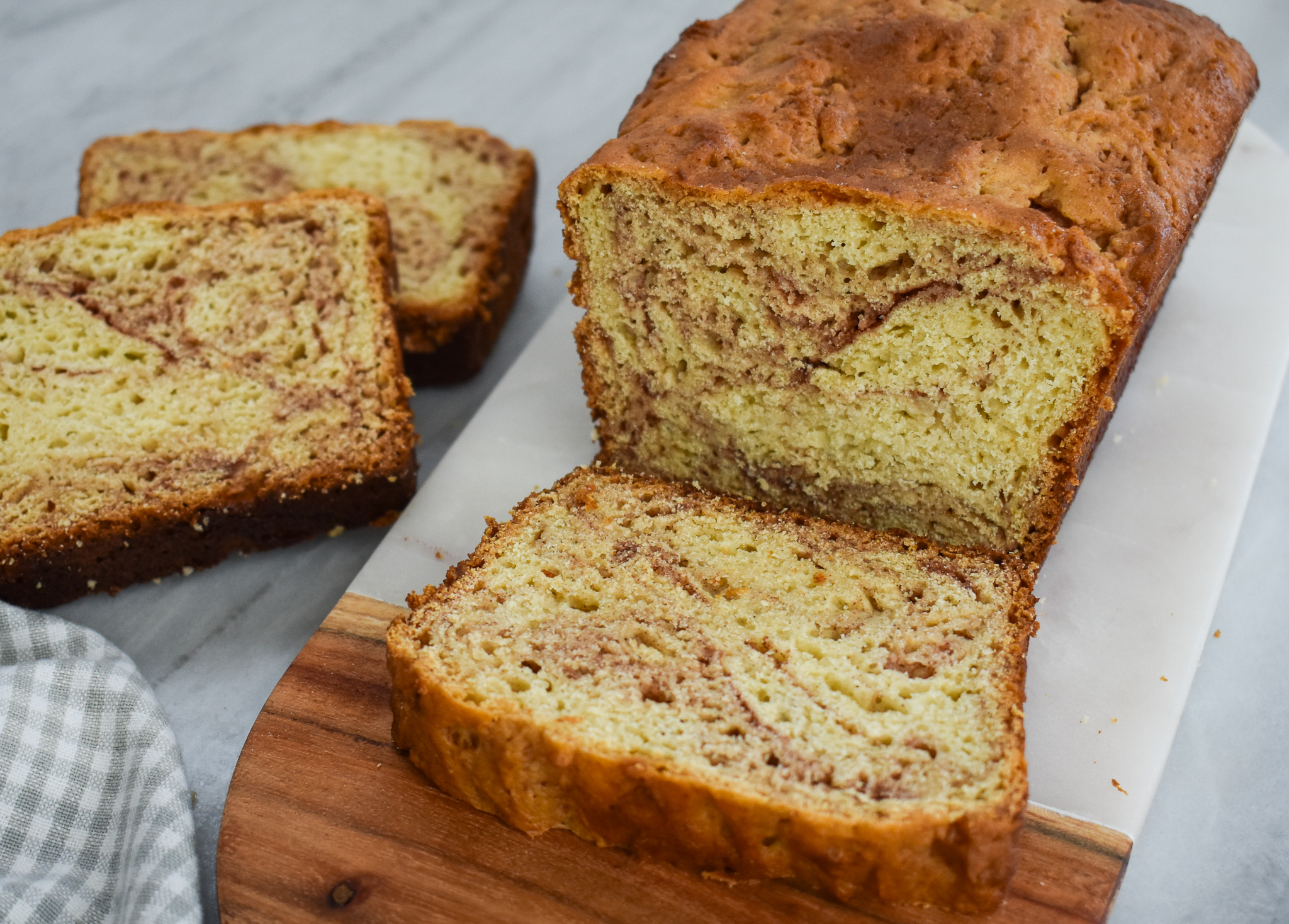 So…I finally got up the nerve to make my own low-FODMAP Cinnamon Bread.  And I am so glad that I did.
Fresh, soft, warm and sweet smelling, this low-FODMAP Cinnamon Bread recipe is actually quite easy.  No kneading required!
Enjoy it with 1 tbsp of almond butter, low-FODMAP Pumpkin butter or deliciously plain.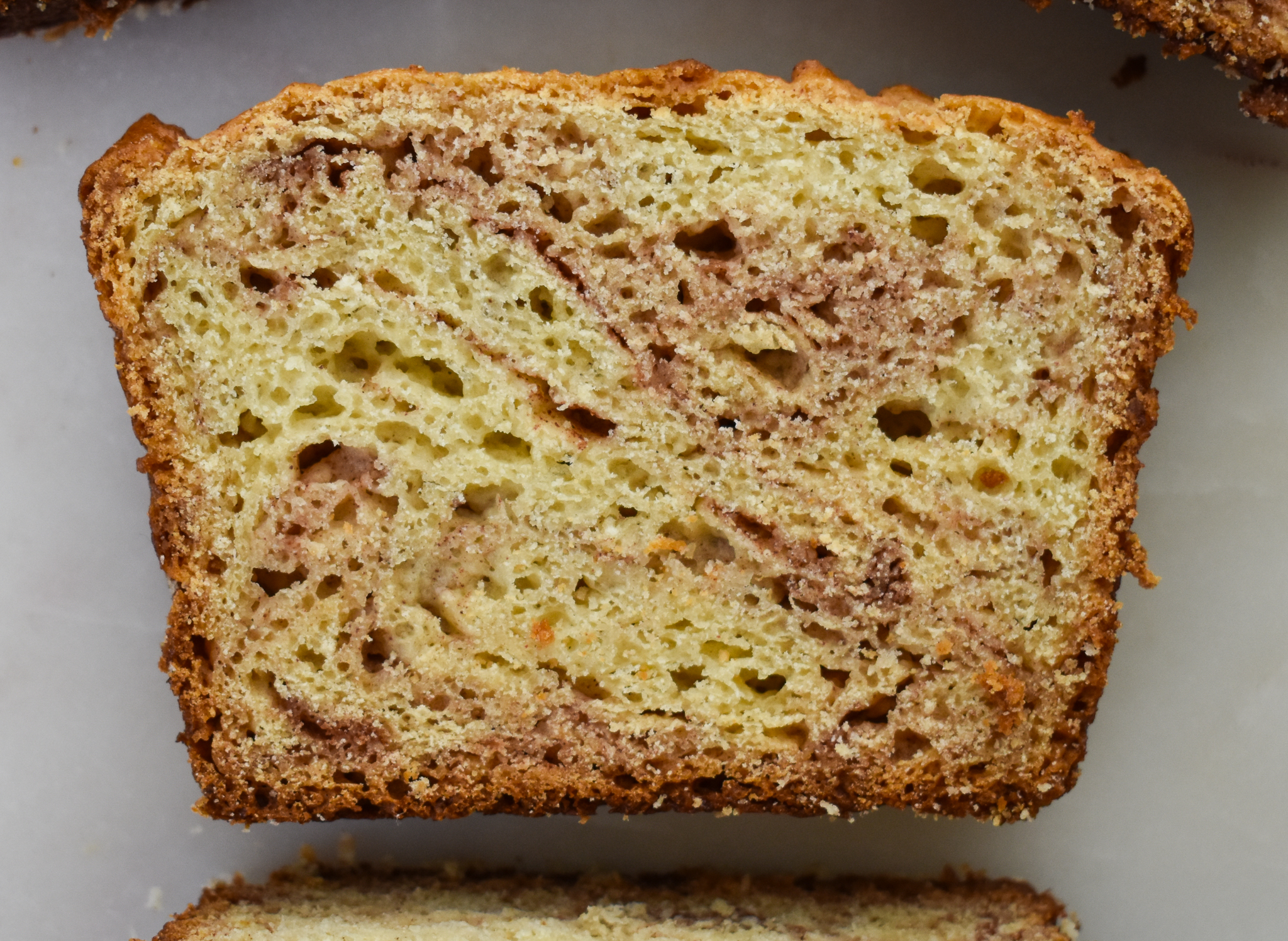 A few notes about gluten-free, low-FODMAP bread making:
Baking gluten-free bread brings unique challenges.  Many of you have experienced biting into a piece of gluten-free bread and being appalled at the taste and texture.  Some are hard and dry, others are gritty or gummy.  Often, gluten-free breads do not taste a thing like their gluten-filled counterparts.
That translates into this reality: baking gluten-free bread is not equal to baking bread with gluten, and it is also different from baking other gluten-free treats such as cakes and cookies.  You won't be able to use your all-purpose low-FODMAP gluten-free flour.  It simply will not achieve the same results.
If you wish to invest in baking gluten-free breads, I suggest purchasing each of the individual flours that I outline below.  To keep your flours fresh (if you aren't needing them often), storing in the freezer will extend their shelf-life.  I also use a similar flour combination in my low-FODMAP Maple Egg Bread recipe.
This low-FODMAP Cinnamon Bread cannot be rolled out and swirled like a traditional cinnamon bread, as the dough is too sticky.  Be aware that it will not look exactly like a cinnamon bread from the store. Also, don't be tempted to sprinkle extra cinnamon sugar on the top of the bread as it will burn with baking 🙂
You may also love:
Or check out over 350 more low-FODMAP recipes on the blog.  IBS-friendly.
Be healthy and happy,
Rachel Pauls, MD
---
Low-FODMAP Cinnamon 'Swirl' Bread; Gluten-free, Dairy-free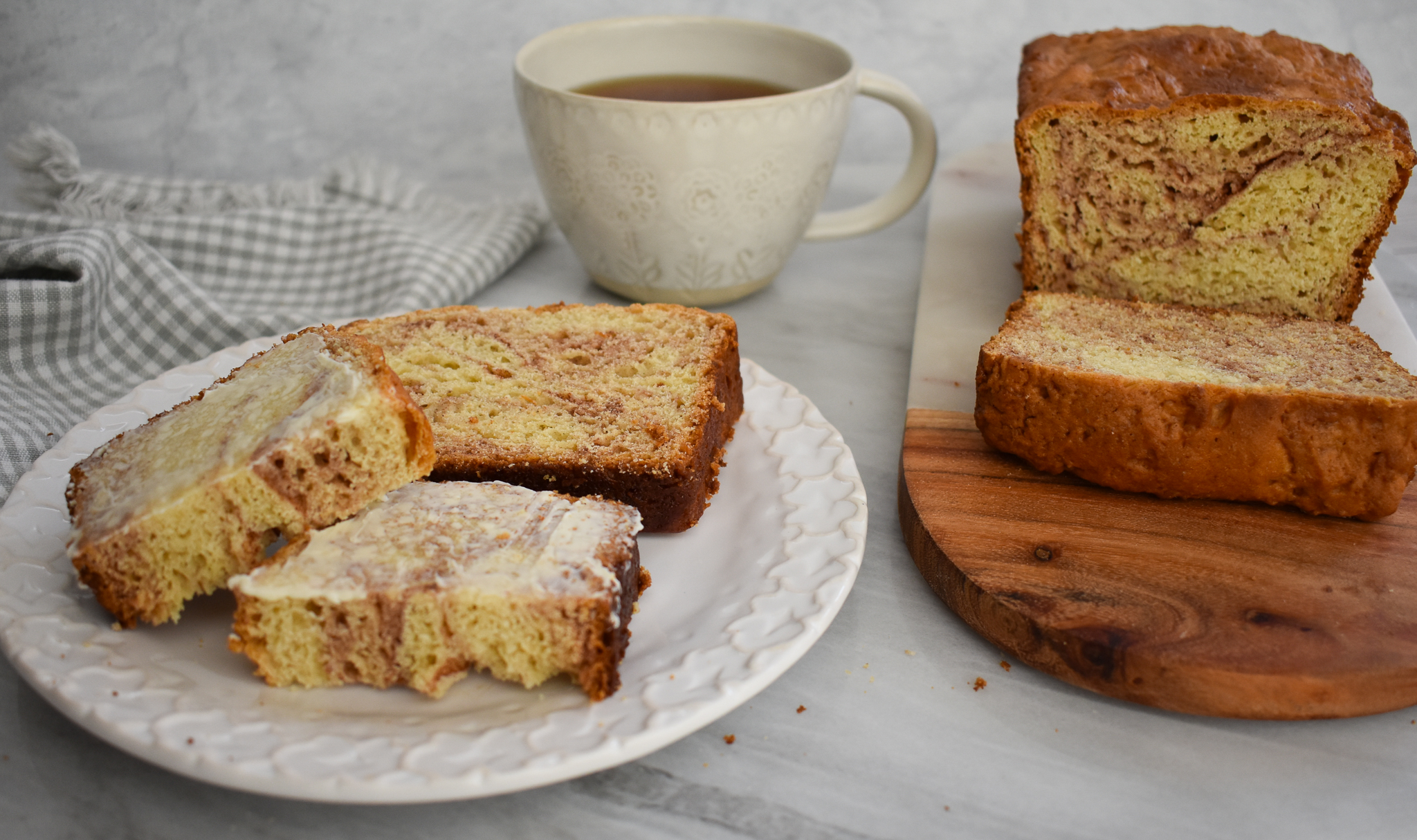 Although this recipe has not been tested, a single serving should be low-FODMAP based on the ingredients
Serves 8
Prep time: 20 min plus rising time of 30-55 min
Bake time: 55-65 min; As ovens vary, yours may need more or less time
Total time: 115-140 min
Bake: 400 F
Equipment: Standard loaf pan (8 ½ inch by 4 ½ inch; I used a metal pan, for a glass pan you may need to extend the bake time)
Modified from 'Gluten free baking Classics, 2nd  ed", Annalise G Roberts
Ingredients
1/3 to 1/2 cup granulated sugar; plus additional 2 tbsp

If you prefer a lot of sugar, use 1/2 cup (this is what I did)

2 teaspoons cinnamon
2 large eggs, room temperature
3 tablespoons canola oil
2 cups low-FODMAP flour mixture: (I used Bob's Red Mill for all these)

2/3 cup millet flour
1/3 cup sorghum flour
1/3 cup cornstarch
1/3 cup potato starch
1/3 cup tapioca flour

1 & 1/2 teaspoons xanthan gum

In the absence of gluten, xanthan gum provides moisture and elasticity

1/2 teaspoon salt
1 teaspoon unflavored gelatin powder (I used Knox)

This ingredient adds to the body and structure of the bread. If you do not wish to use it, you can try to substitute an additional egg yolk and omit 2 tbsp of the low-FODMAP milk

1 packet (2 & 1/4 teaspoons) active dry yeast granules (not quick rise)
3/4 cup & 2 tablespoons low-FODMAP milk (such as almond milk, or lactose-free milk); warmed to 110 degrees F

This was about 45 seconds for warming in my microwave
Do not make the milk too hot, or it will overheat your yeast

Cooking spray for greasing (or use low-FODMAP Magical Cake Pan Release Paste)
Optional: Try this with some low-FODMAP Vanilla Glaze!
Directions
Grease loaf pan with cooking spray and lightly dust with all purpose low-FODMAP flour mixture (you can also create a parchment liner for your pan to lift out the baked bread)
Combine 1/2 cup (or 1/3 cup depending on your preference) sugar and cinnamon in a small bowl and set aside for later

If you do opt for 1/2 cup, be aware it will be quite a large amount and a little tricky to 'fold' in for the end steps

In a second small bowl, mix eggs and oil together lightly
In large bowl of an electric mixer with flat paddle attachment, place the low-FODMAP flour mixture (the flours and starches), xanthan gum, salt, gelatin, 2 tbsp sugar and dry yeast. Combine using low speed or by hand
With mixer running, add warmed low-FODMAP milk, egg and oil and mix until just blended
Scrape down bottom and sides of bowl and turn up to high speed for 3 minutes

This does the 'kneading' for you!

Remove bowl from the mixer base and sprinkle with half the cinnamon sugar mixture, and then gently fold in the mixture, while tilting the bowl slightly to ease the dough around the sugar
Add the rest of the sugar, and continue to gently roll the dough over it (you don't want it completely mixed in)
Place dough in the prepared pan and smooth the top as best as you can (the dough will be quite sticky)
Lightly cover bread dough with a clean dish towel and place in a warm area (75-78 degrees F is optimal) to rise (this will take between 30-55 minutes)

It should get about ½ inch BELOW top of pan (over rising can lead to the loaf falling)
I usually place it on my preheating oven top, but that means the oven is on a lot longer than necessary

Try not to peek too much as the towel traps humidity which helps the bread rise
This part is the hardest to be patient with!  But rising of the bread is subject to all sorts of things, like the temperature, humidity and altitude you are in. If you opt for the 1/3 cup sugar instead of 1/2 cup, the dough may rise more quickly.  Plan accordingly to allow yourself some leeway with this step
My rise took 55 minutes

Preheat oven to 400ºF
Position rack in center of oven
Once risen, place bread in the preheated oven for 10 minutes, then remove and cover with aluminum foil
Bake another 45-55 minutes

An instant read thermometer should read 200-205 degrees F when it is done
Mine took 45 minutes

Remove bread from oven and cool on rack for 5 minutes in the pan, then remove to the wire rack to cool completely
To store, wrap well in plastic then foil. May be refrigerated for 3 days, or frozen for 3 weeks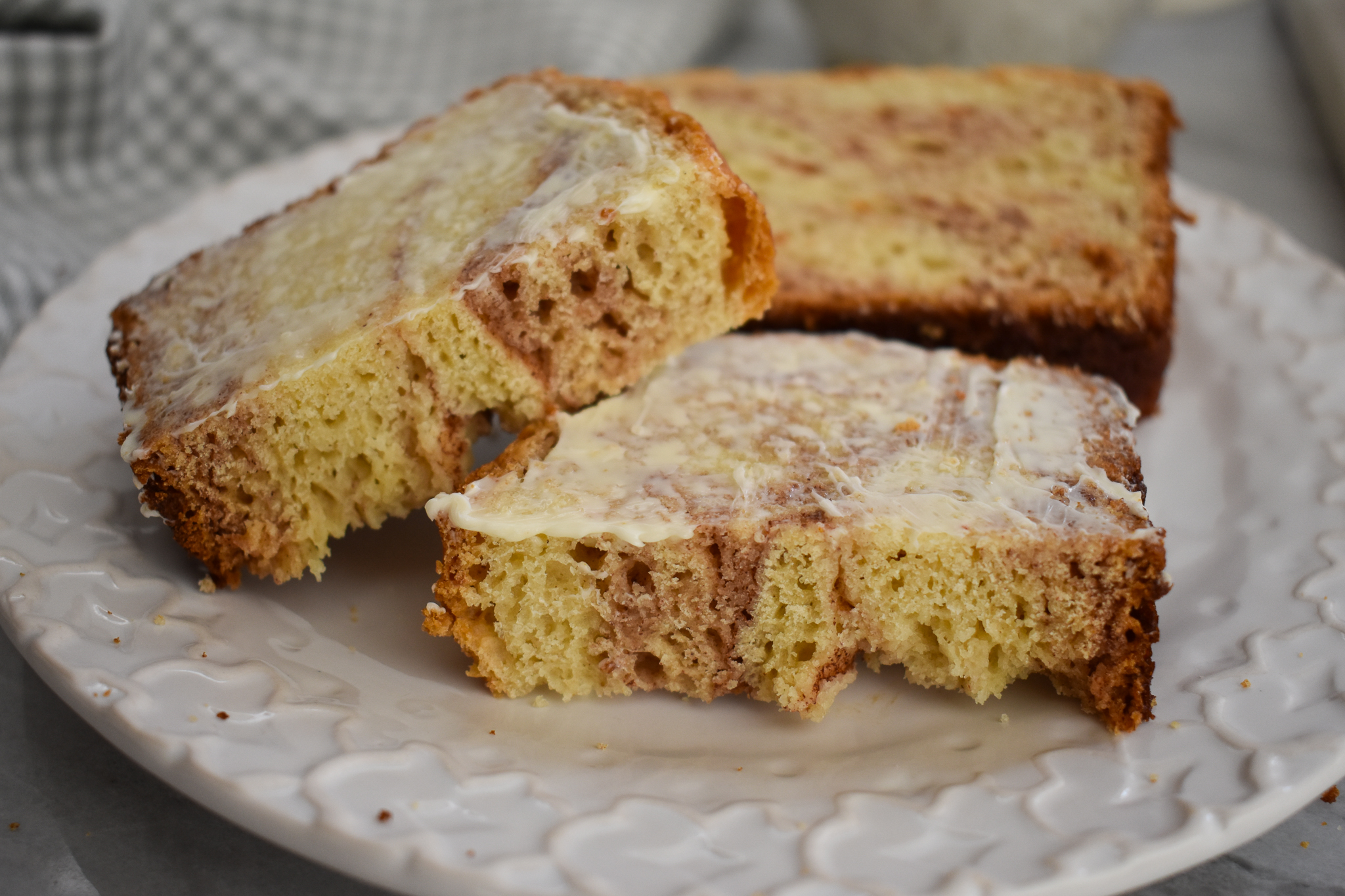 Note: To make this a cinnamon raisin bread, add 1/2 cup (75 g) raisins to the dough prior to folding in the cinnamon sugar and incorporate on low speed until distributed
This low-FODMAP Cinnamon Bread is absolutely incredible.  Delicious toasted too!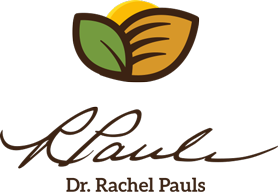 Printer Friendly Version
Comments Rating
( reviews)