Low-FODMAP Chocolate Salami Dessert Logs; Gluten-free
December 7, 2019
Printer Friendly Version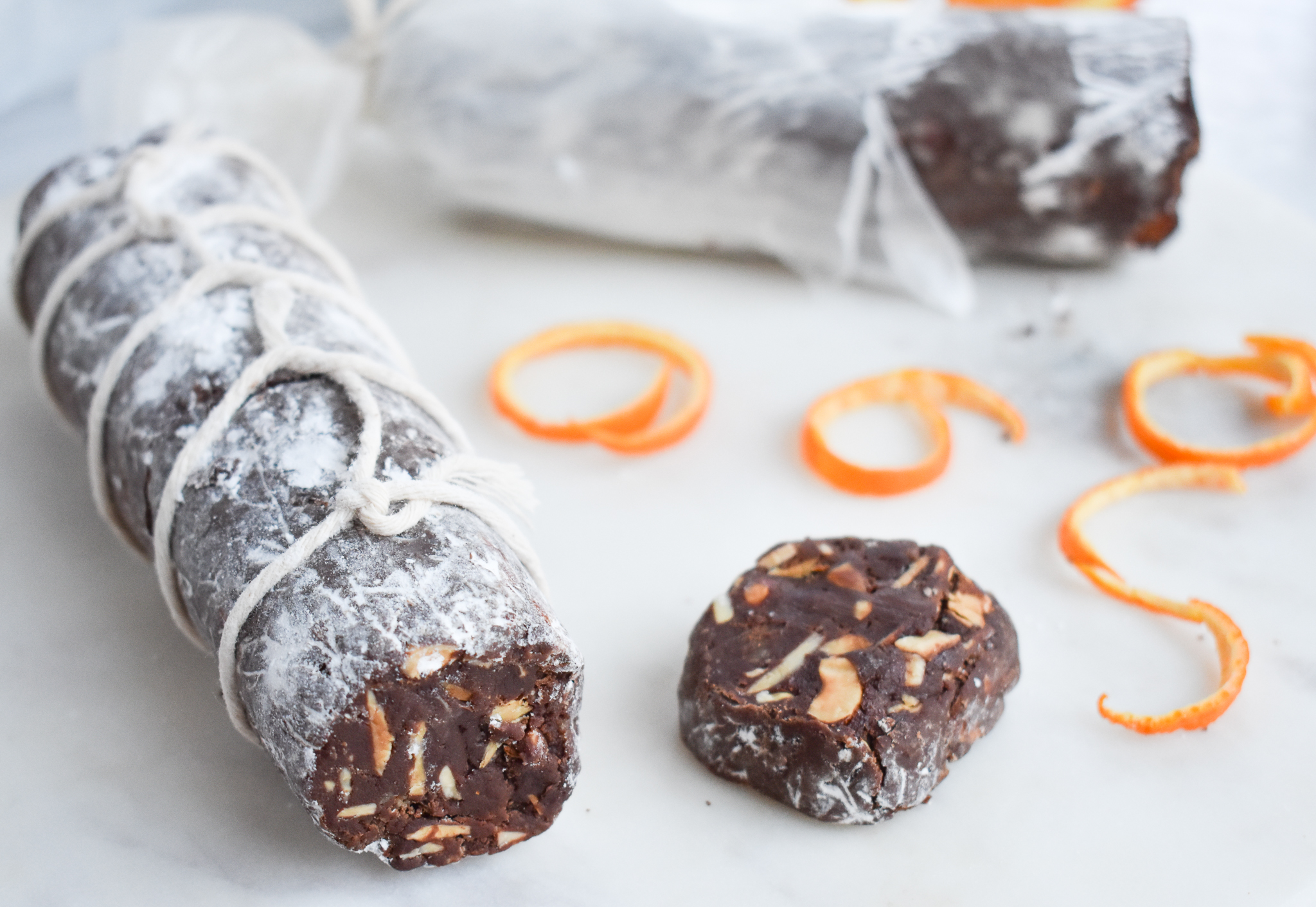 This is a rich and delicious low-FODMAP chocolate dessert log recipe that goes well on any table.
Store a few low-FODMAP Chocolate Salamis in the freezer, and you have the perfect accompaniment to your cheese plate at any party.
Not only are low-FODMAP Chocolate Dessert Salamis easy to make, but they are so much fun to serve and share.  Wrap yours in string to fool your special someone at Valentine's Day or over the holidays!
You may also love:
Or check out over 300 more low-FODMAP, IBS-friendly recipes on the blog!
Be healthy and happy,
Rachel Pauls, MD
---
Low-FODMAP Chocolate Salami Dessert Logs; Gluten-free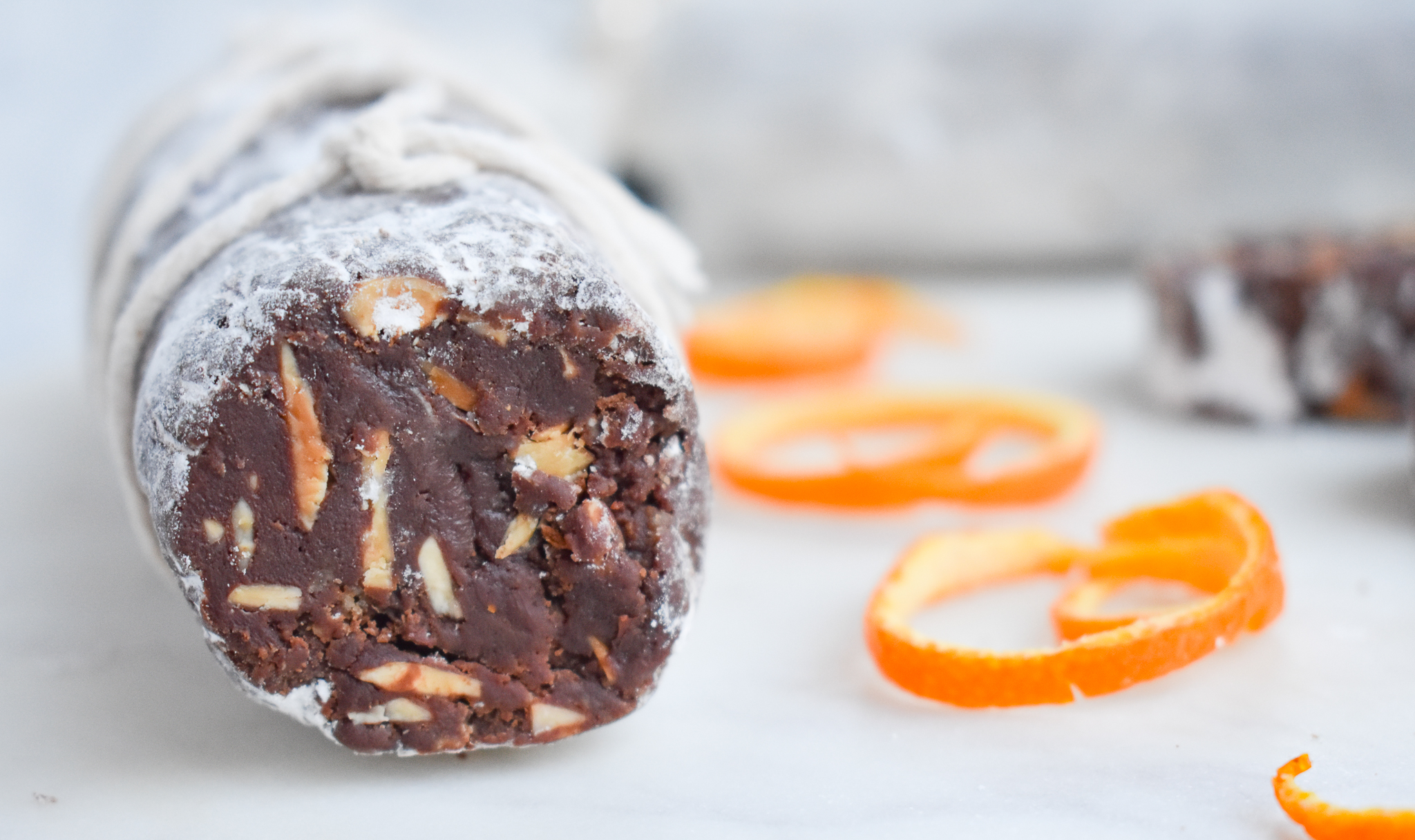 Although this recipe has not been tested, a single serving should be low-FODMAP based on the ingredients
Yield: 2 chocolate logs
Serves 14 one inch slices
Prep:10 min
Chill time: 2 & 1/2 hours
Cook time: 5 min
Bake time: 5 min
Bake: 350 F
Total time: About 3 hours
modified from: https://www.foodnetwork.com
Ingredients
1/2 heaped cup sliced almonds (70 g)

12 g is one low-FODMAP serving

1/2 heaped cup chopped hazelnuts, skins removed (70 g)

15 g is one low-FODMAP serving

1 heaped cup low-FODMAP dry cookies (like my low-FODMAP Vanilla Wafer Cookies), coarsely chopped
6 tablespoons unsalted butter, cut into pieces, at room temperature
One 12-ounce (340 g) bag semisweet chocolate chips
¼ cup brewed coffee or espresso (adds to the overall chocolate taste)
1 teaspoon orange zest (about 1/2 orange)
1/2 cup confectioners' sugar, for dusting
Directions
Preheat oven to 350 F
Lay your chopped cookies and nuts, as a single layer on a baking sheet
Toast for about for 4-5 minutes until lightly brown; let cool

Be careful that the nuts may cook faster than the cookies if cut very thin, watch so they do not burn

Place butter and chocolate in a double boiler, or in a saucepan over a second pot of simmering water
Stir until the chocolate has melted and the mixture is smooth, about 5 minutes. Be careful not to burn the chocolate or it will become brittle and the logs will crumble with cutting
Remove from heat and stir in the coffee or espresso until smooth
Add the almonds, hazelnuts, low-FODMAP dried cookie pieces and orange zest, and stir until combined
Cover the pot and refrigerate until the chocolate is firm but moldable, about 1 & 1/2 hours
Invert the chocolate onto wax or plastic wrap and separate into half
Place first half of the mixture in the center of a large piece of plastic wrap
Using a spatula, form the mixture into a log, about 7 inches long and 2 inches in diameter
Roll up the log in the plastic and twist the ends to seal
Roll back and forth on a work surface a few times to make the log evenly round
Repeat with the remaining chocolate mixture
Refrigerate the logs until firm, about 1 hour
When ready to serve, remove from plastic and roll in confectioner's sugar
Slice as desired
Can also be frozen for up to 1 month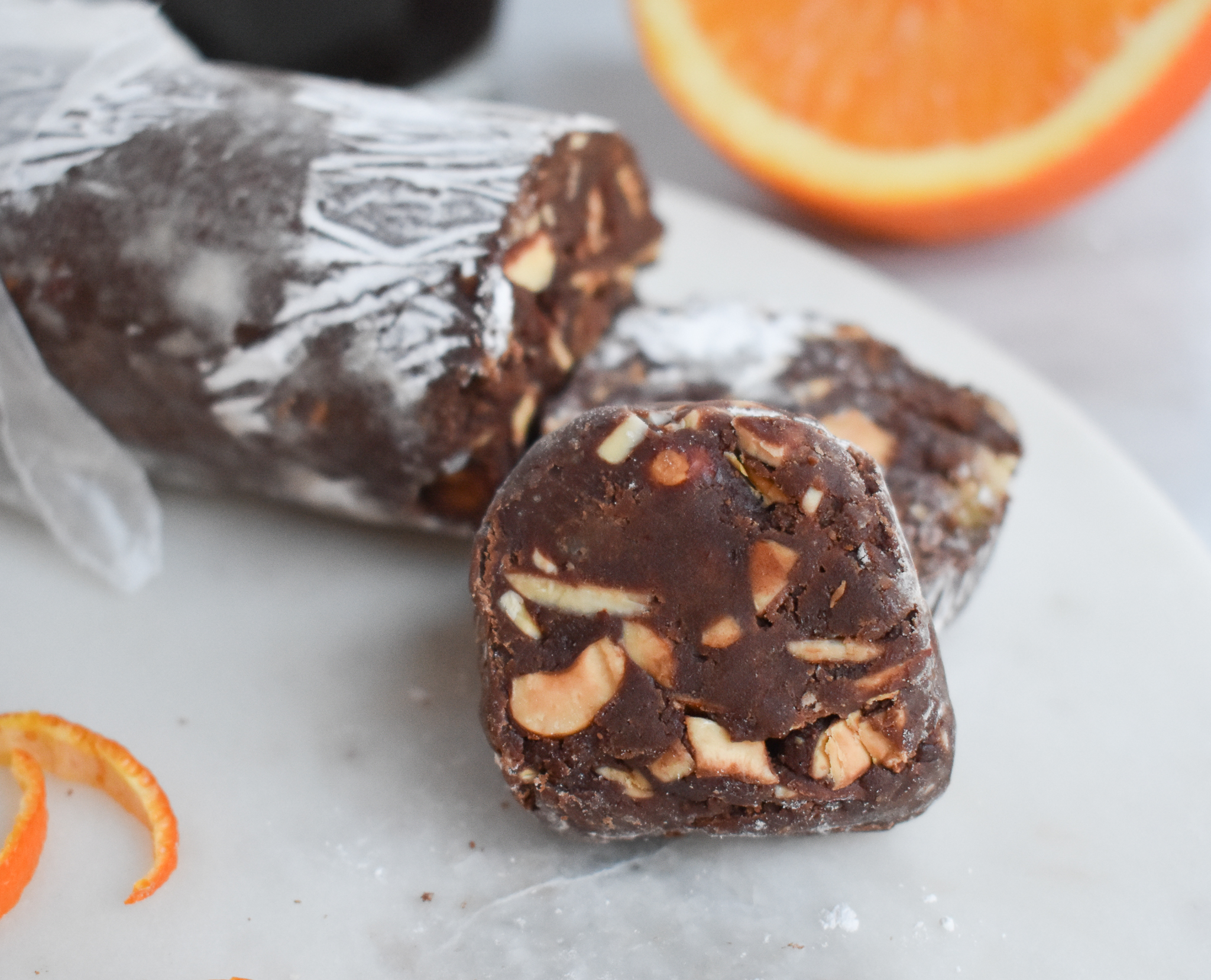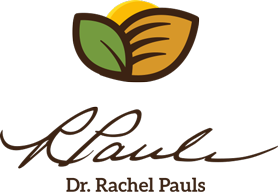 Printer Friendly Version
Comments Rating
( reviews)