Low-FODMAP Blueberry Buckle Coffee Cake; Gluten-free
May 29, 2023
Printer Friendly Version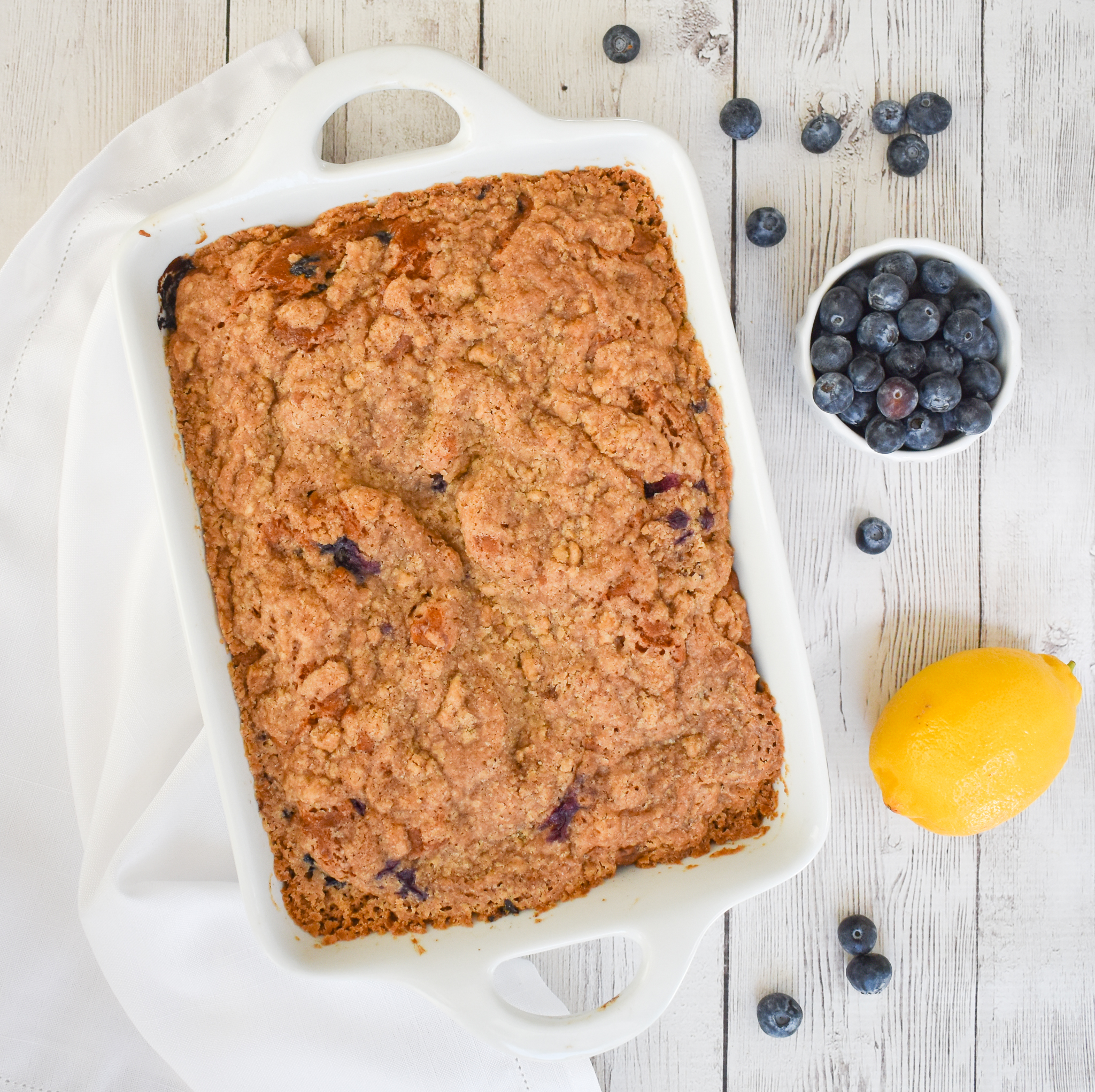 A low-FODMAP Blueberry Buckle Cake Recipe.  Hooray for summer!
For those of you unfamiliar with a 'buckle' cake, it is basically the same as a coffee cake. The nickname is because the top of the cake should 'buckle', or 'crack', while baking.  Makes sense, right?
My low-FODMAP Buckle Cake is teeming with fresh blueberries, and topped with a crunchy, crumbly, streusel topping.  I also love to add fresh lemon zest for that hint of lemon.  However, if you prefer traditional blueberry flavor, then simply omit that ingredient.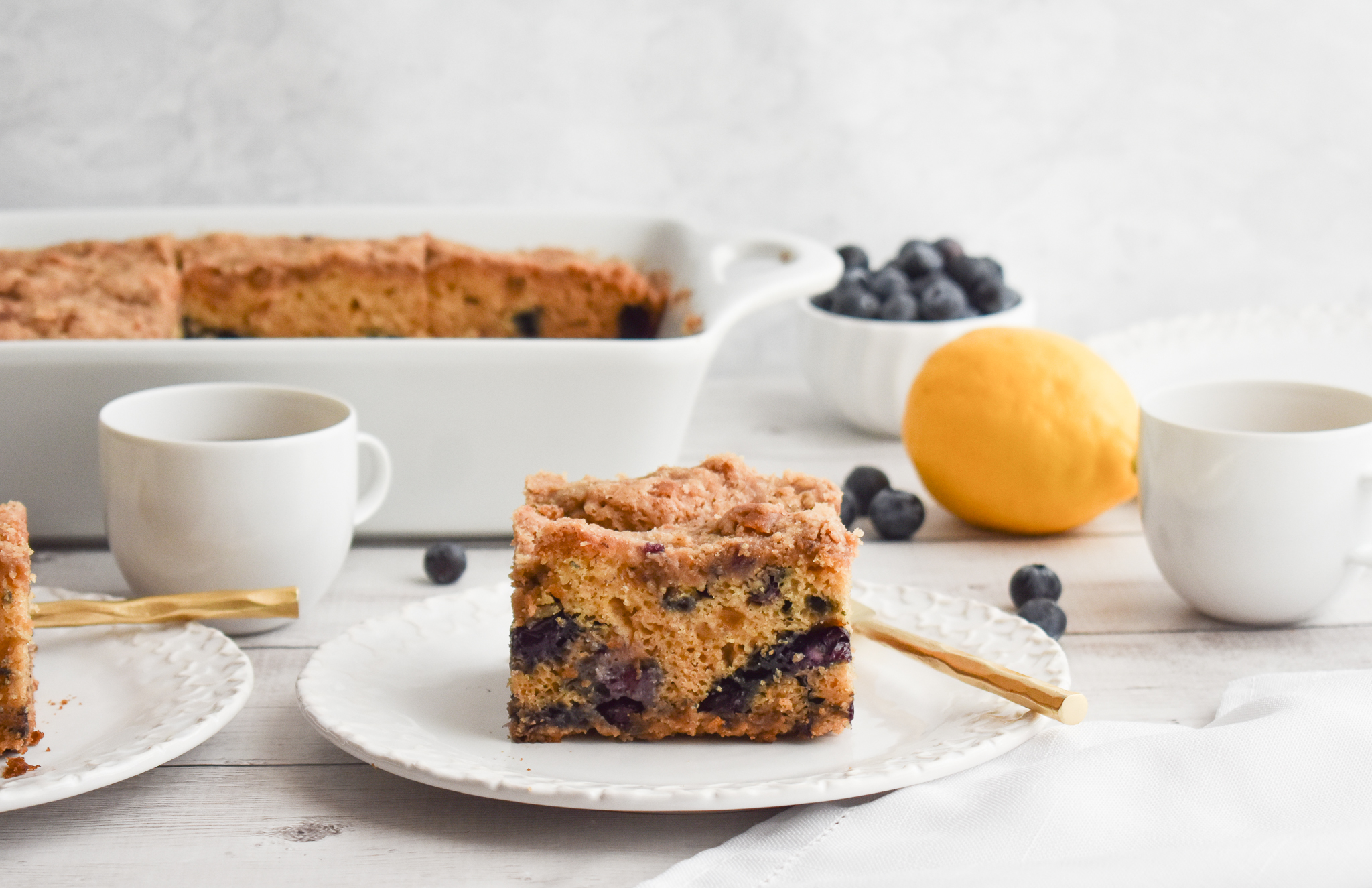 As you all know, I can't get enough of streusel/crumb toppings.  I adore its flavor and texture on cakes and muffins, but I don't stop there.  In fact, I have a recipe for crumb topping to put on my yogurt and fruit (See low-FODMAP Crumbilicious Topping/Stir-in).
One of the first low-FODMAP recipes I made was my low-FODMAP Starbucks Copycat Coffee Cake with Cinnamon Swirl. A classic recipe, with a lovely cinnamon swirl middle, and a thick layer of crumb topping.  The success of that cake fueled my desire for more.  I have also shared my gorgeous low-FODMAP Raspberry Almond Coffee Cake, low-FODMAP Sweet Potato Muffins with Streusel Crumble, low-FODMAP Pumpkin Crumb Coffee Cake, low-FODMAP Sweet Potato Cake with Crumble Topping, and so many others 🙂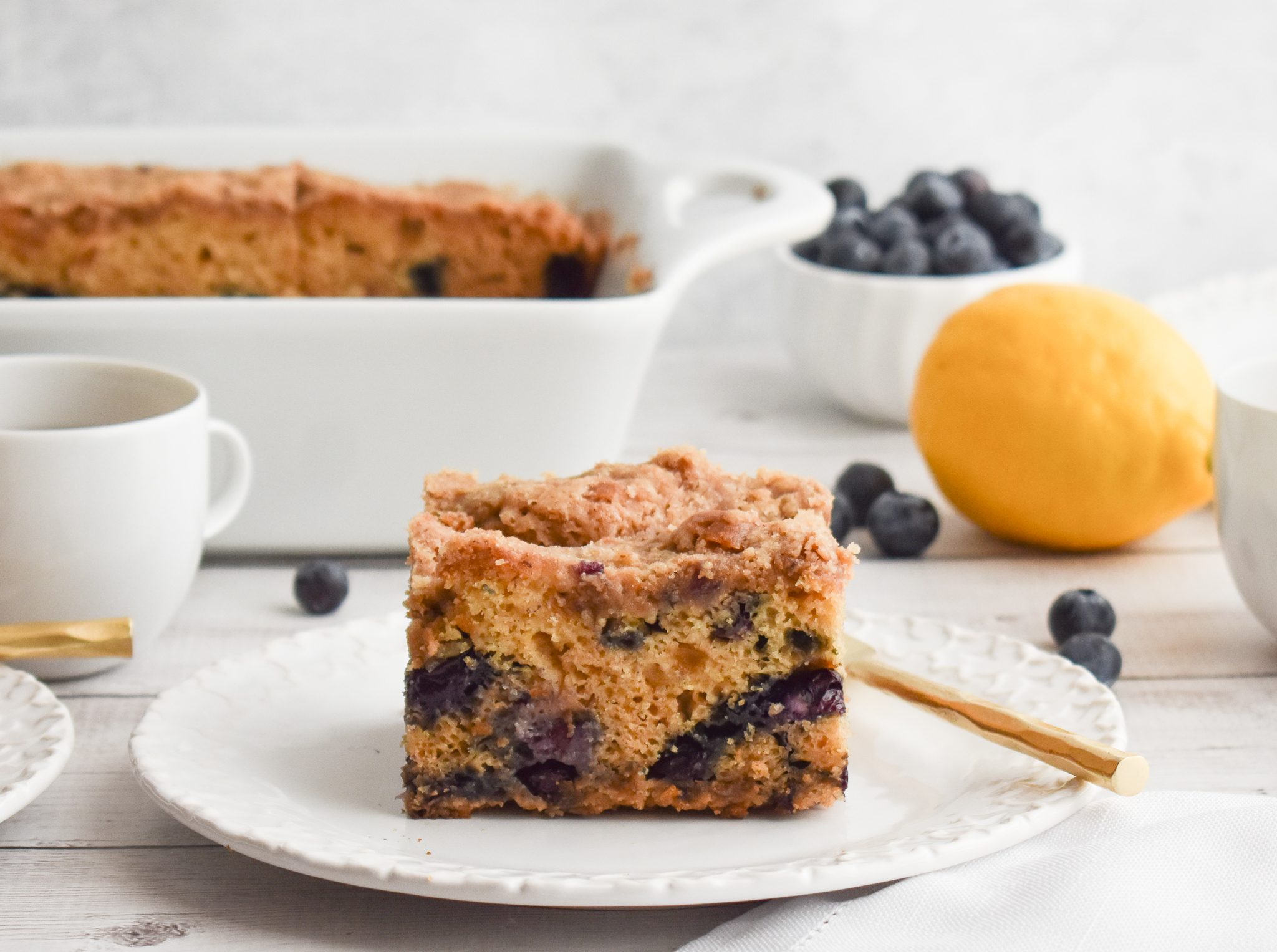 You may also love:
Or check out over 500 more low-FODMAP recipes on the blog.  IBS-friendly!
Be healthy and happy,
Rachel Pauls, MD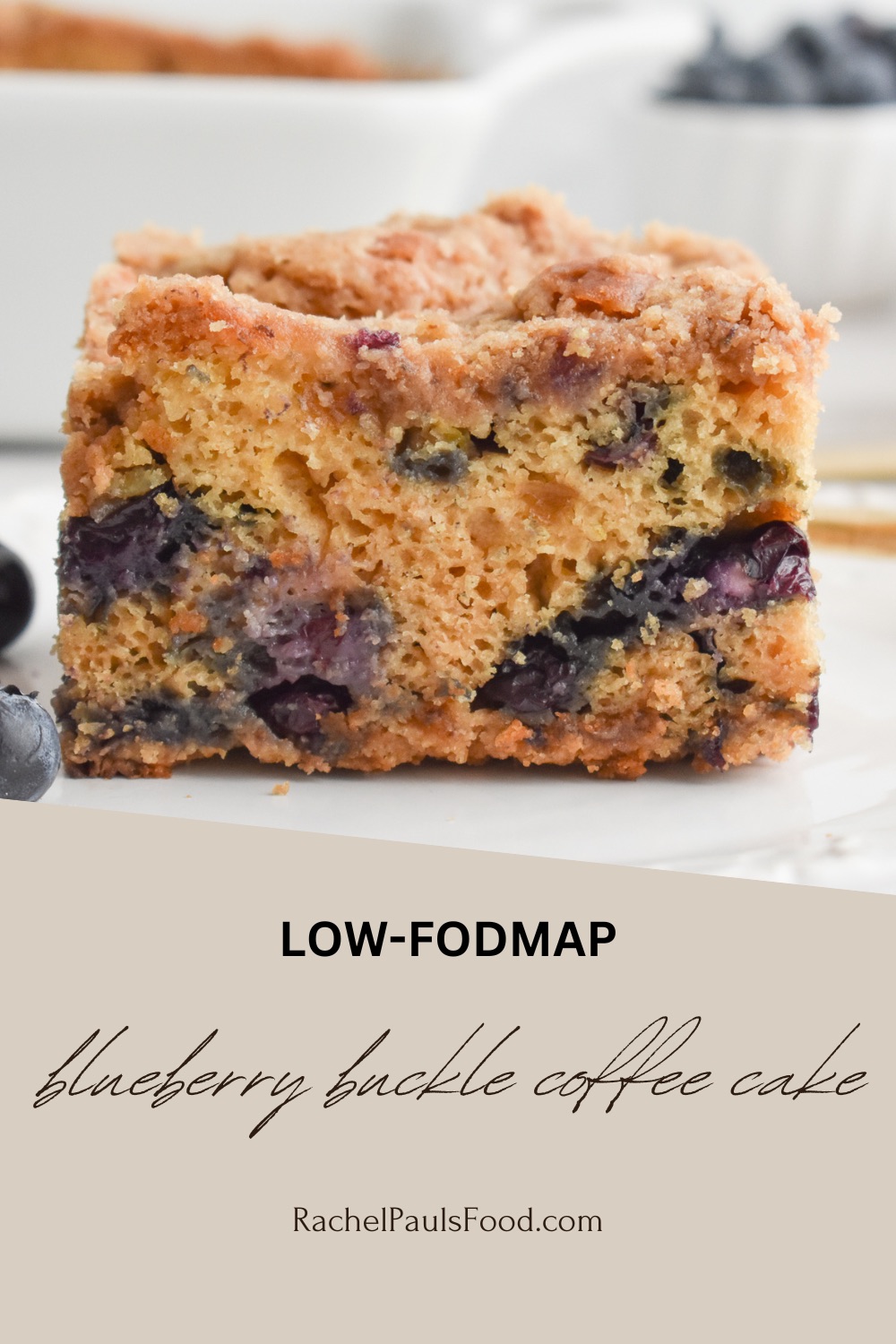 Although this recipe has not been lab tested, a single serving should be low-FODMAP based on the ingredients (using available FODMAP data at time of posting)
Serves 9-12
Prep time: 15M  plus cooling
Bake time: About 1 H *ovens vary, check yours for doneness at 55 min and adjust as needed
Total time: 75 M plus cooling
Bake: 350 F
Equipment: 11 by 7 inch pan
Ingredients:
For low-FODMAP cake:
2 cups plus 2 tablespoons low-FODMAP, gluten-free flour; divided
1 & 1/2 teaspoons baking powder
1 teaspoon baking soda
3/4 teaspoon xanthan gum
1/2 teaspoon salt
2 large eggs, room temperature
1 cup sugar
2 teaspoons vanilla extract
1 cup lactose-free sour cream, full fat
1/3 cup canola oil, or other oil such as melted coconut oil
1 tablespoon freshly grated lemon zest (about 1 lemon)
2 cups (283 g) fresh blueberries, plus extra for serving

125 g is one low-FODMAP serving based on recent Monash updates!

Baking spray, vegetable shortening, or low-FODMAP Magical Cake Pan Release Paste, for greasing
For low-FODMAP streusel topping:
3/4 cup low-FODMAP, gluten-free flour
1/4 cup white sugar
1/3 cup dark brown sugar
1 teaspoon cinnamon
1/8 teaspoon salt
8 tablespoons butter or coconut oil, chilled
Directions:
Preheat oven to 350 F and position rack in center of oven. Grease a 11 by 7 inch pan
Whisk 2 cups low-FODMAP, GF flour, baking powder, baking soda, xanthan gum, and salt together in a small bowl. Set aside
Prepare the streusel by combining your LF flour, white and brown sugar, cinnamon, and salt in a medium bowl
Work in the chilled butter or coconut oil until the mixture resembles wet sand, set aside for now
Beat eggs in large bowl of electric mixer with flat paddle until well-blended
Add sugar, 1 tablespoon at a time, and beat until thickened and light yellow in color
Add vanilla and oil, and beat at medium-low speed for 30 seconds
Add your lactose free sour cream and mix to incorporate. Then add your flour mixture a bit at a time until incorporated but not over-mixed
Gently toss blueberries with the 2 tablespoons of your flour (so they don't sink in the batter)
Fold the blueberries and lemon zest in the batter and spread batter into prepared pan
Sprinkle the prepared LF streusel mixture over the top of the cake
Place cake in center of oven and bake for about 60 minutes, or until toothpick inserted in center of cake comes out clean and the top is firm to touch
Remove cake from oven and let cool in pan on a wire rack
Serve directly from pan, garnished with fresh blueberries if desired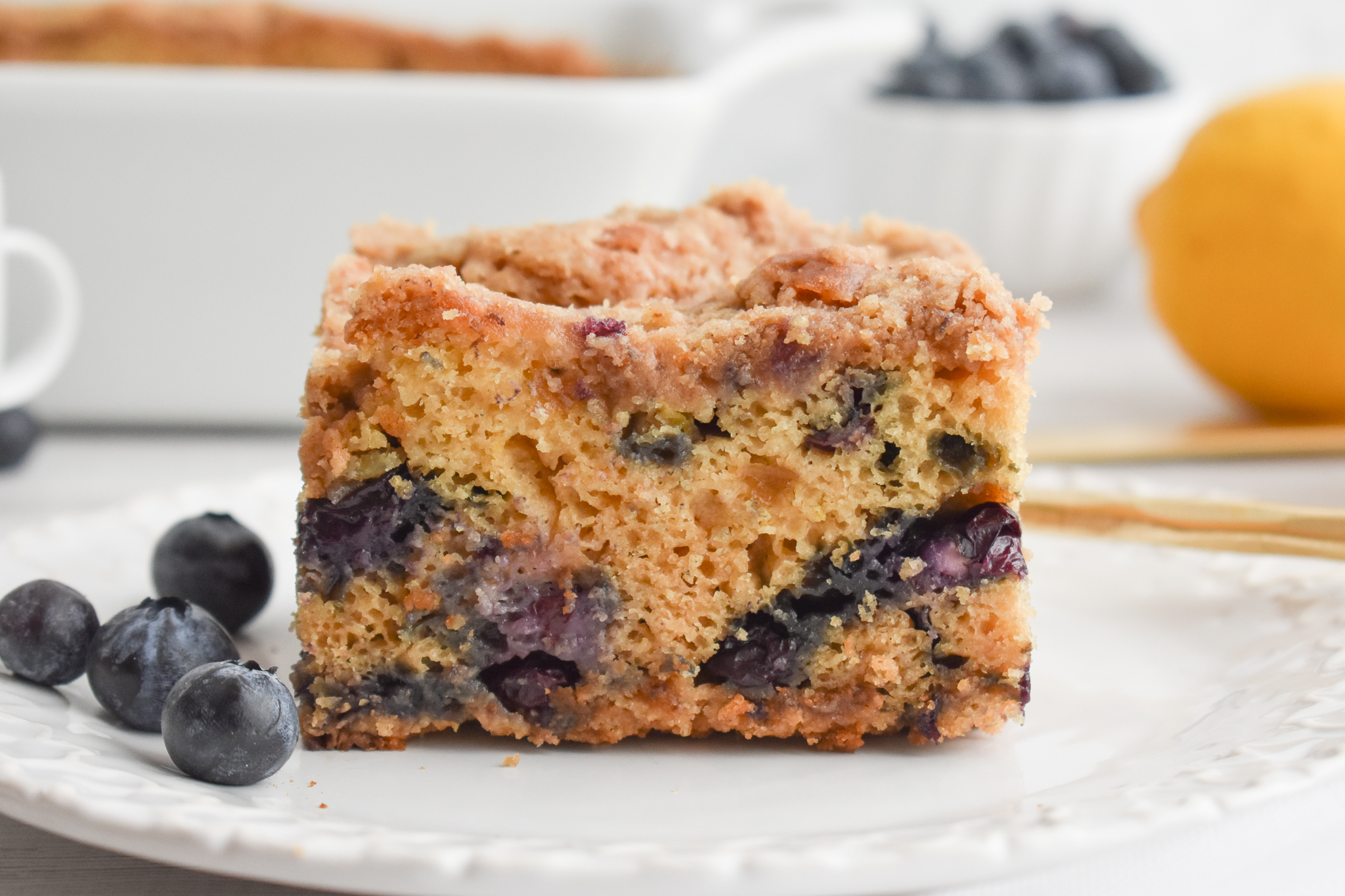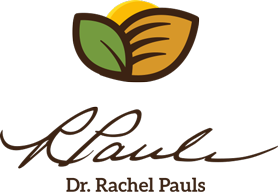 Printer Friendly Version
Comments Rating
( review)