Amazing Low-FODMAP Cheesy Pizza Fries; Gluten-free, Vegetarian
February 13, 2020
Printer Friendly Version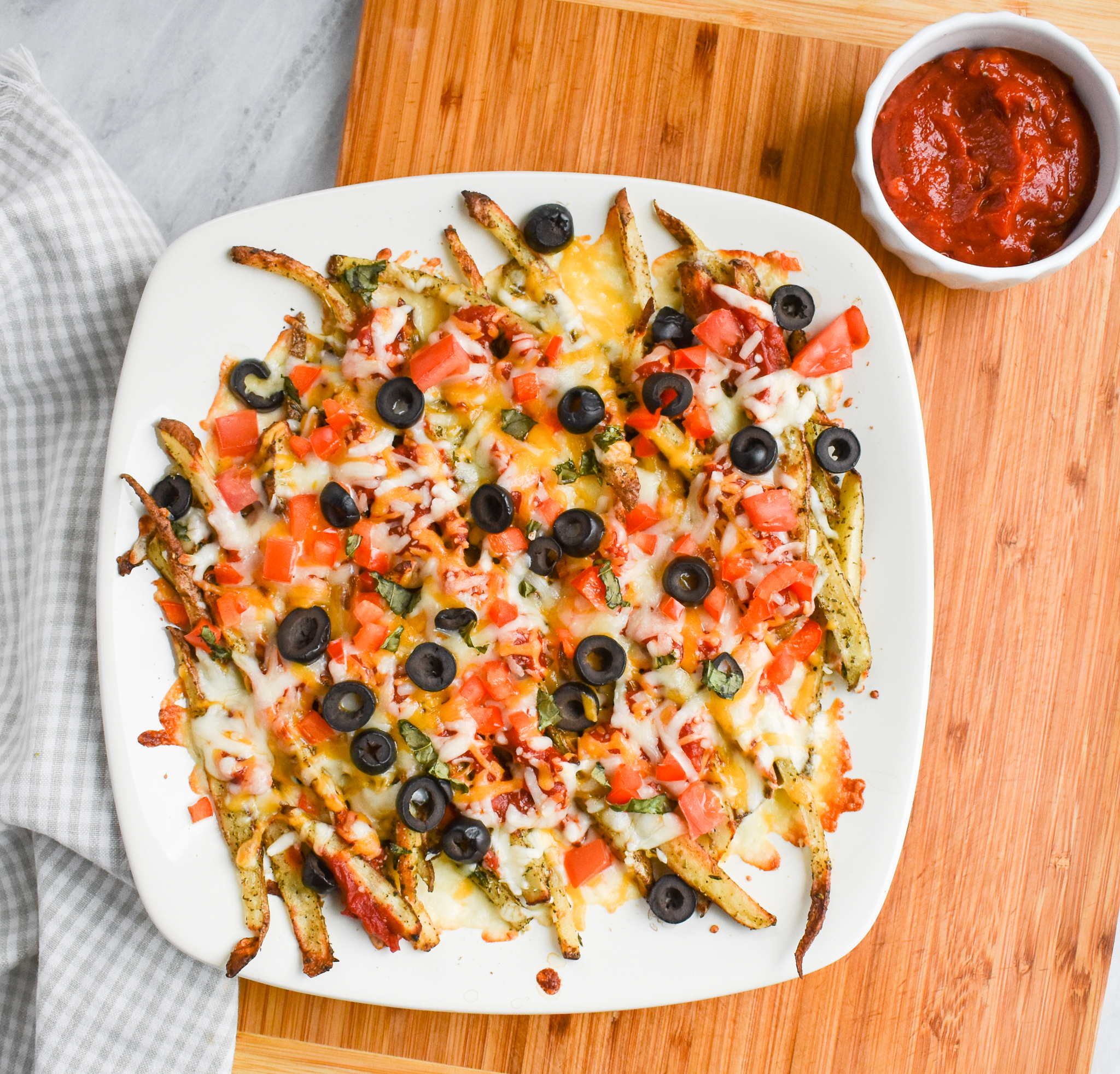 CHEESE.
PIZZA.
FRIES.
Three of the most loved foods.  Together at the same time.
Absolutely amazing.
My low-FODMAP Cheesy Pizza Fries recipe will guarantee you are the best host for any party, football game, or family event.
It is also terrific as an after-school energy boost, your kids will really enjoy 🙂
Baking the potatoes ensures lower fat in these fries, and this delicious snack is packed with fiber, protein, vitamins and minerals.
These low-FODMAP Pizza Fries are easily modifiable for added ground beef, veggies and any other topping you love.  Dip them in my low-FODMAP Pizza Sauce for a tangy and delicious flavor.
Everyone will appreciate this low-FODMAP recipe is both gluten-free AND IBS-friendly.
FODMAP fact: Following a low-FODMAP diet does not mean you can't consume any dairy.  Many higher fat dairy products are low enough in lactose (since lactose is a carbohydrate) to allow safe consumption.  This includes butter and cheeses.  Most cheeses are low-FODMAP in servings of about 40 g or 1/3 cup. Check out my low-FODMAP Happy Gut Guide for more information!
You may also love my:
Or check out over 300 more low-FODMAP recipes on the blog!
Be healthy and happy,
Rachel Pauls, MD
---
Amazing Low-FODMAP Cheesy Pizza Fries; Gluten-free, Vegetarian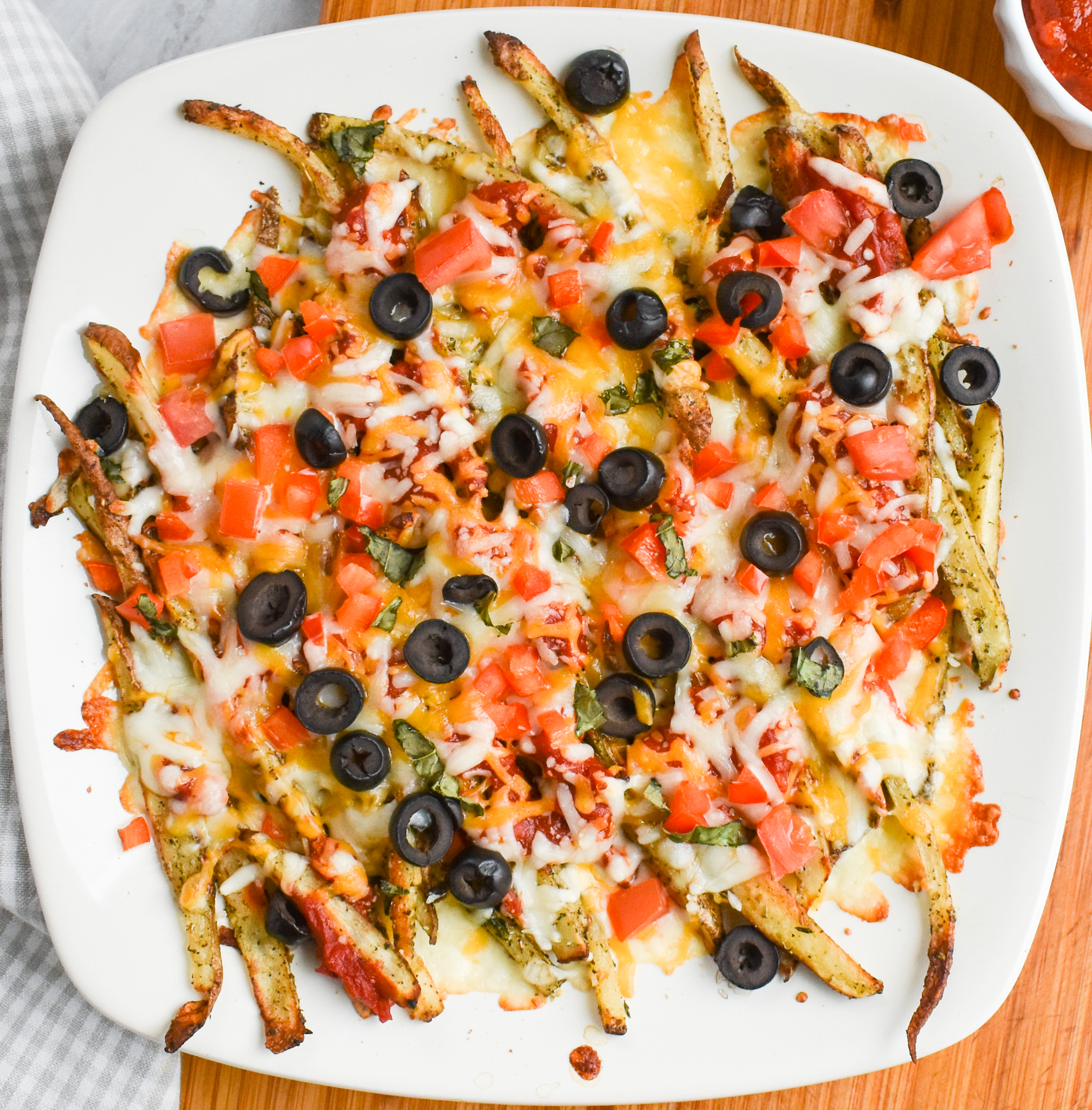 Although this recipe has not been tested, a single serving should be low-FODMAP based on the ingredients
Serves 4
Prep Time 15 min
Cook Time 25-30 min
Total Time 45-50 minutes
Ingredients
1 & 1/2 pounds russet potatoes, scrubbed (this is about 2 large potatoes)

Can also substitute frozen French fries, if you tolerate the small amount of gluten these often contain

1 tablespoon garlic infused olive oil (for tips on shopping for these oils, see my low-FODMAP recipe swap blog)
1 teaspoon kosher salt
1 tbsp chopped chives or green scallion tips
1/8 teaspoon black pepper
1/4 cup shredded sharp cheddar cheese
1/2 cup shredded mozzarella cheese
1/4 cup shredded Colby jack cheese
3/4 cup low-FODMAP Pizza sauce, prepared; divided
Finely chopped pizza toppings (pick your favorites.  I used red pepper, tomato, olives and basil):

1/4 cup chopped red pepper
Small amount banana or jalapeño peppers
1 small ripe tomato
1/4 cup black or green olives, chopped
Cooked and crumbled bacon, deli turkey or cooked ground beef (for non vegetarian)
Fresh pineapple chunks
2 teaspoons fresh basil, chopped
Directions
Preheat oven to 475ºF and place rack in center of oven
Prepare a large baking sheet with parchment paper, aluminum foil (spray foil with baking spray if using this option) or silicone liners
Cut each potato into wedges, shoestrings or thinner per your preference

If you cut thicker wedges then the bake time will need to be longer
Thick slices hold the sauce better, but I love a thinner French fry 🙂

In a medium bowl, toss potatoes with infused olive oil to thoroughly coat slices
Add seasoning, chives, salt, and black pepper, tossing again to distribute spices evenly
Place potatoes on prepared baking sheet, spreading them out and making sure they don't touch or overlap to allow for even and faster baking
Bake potatoes for about 10-12 minutes, then stir and spread them out again

If you use packaged frozen fries, then skip steps 3-5.  Bake per package directions and sprinkle with seasoning after baking (you will likely not need the additional salt or oil)

Bake about 12 minutes more, you want them to be pretty crisp and to your preferred taste (I like mine very crispy, so it took a little longer)
Once baked, remove from oven and cluster the potatoes in the center of the sheet, or transfer to a smaller, oven safe platter
Drizzle with 1/2 cup sauce, cheeses and other desired toppings (you can also opt to add them after baking)
Return the low-FODMAP Pizza fries to the oven for about 5 more minutes, to allow the toppings to warm and the cheese to melt
Serve with remaining low-FODMAP pizza sauce for dipping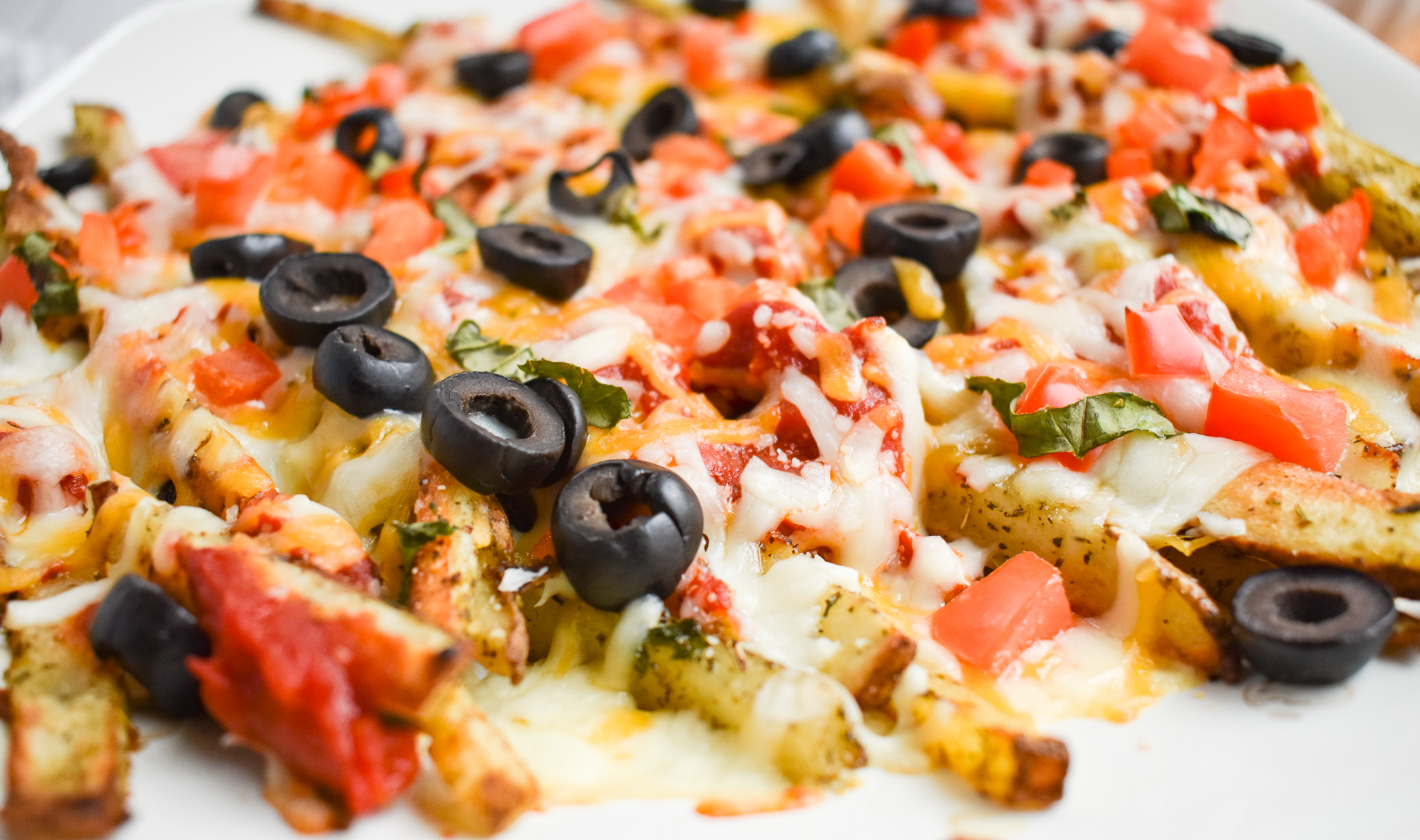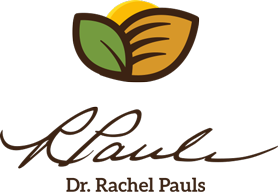 Printer Friendly Version
Comments Rating
( reviews)